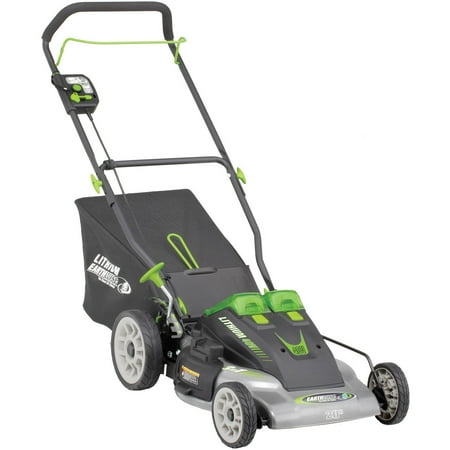 Earthwise 20-inch electric lawnmower with 40 volt lithium ion power. Features three-in-one functionality with side discharge, mulch and rear bag options. Cutting height easily adjusts with a single lever from 1.5 to four inches. Lightweight, easy to remove batteries and LED battery monitor. Easy...

Coming from a company named "Earthwise," the marketing compass for the cordless 60420 Electric Push Mower points in a fairly obvious direction. Casting off absolutely no chemical emissions hardly sets this model apart from any other similarly powered competitor, but I haven't encountered many mowers this compact and "green" that match this little guy's efficient, slick cuts. While I have no qualms about speaking highly of its durability, dependability and the meticulously manicured state of my lawn after trying one out, I would also be remiss if I didn't urge Earthwise to rethink some of the questionable design choices that currently set their consumer reputation apart from more experienced and critically acclaimed manufacturers. Performance issues apart from its fairly impressive cutting are just about the only things holding it back from being considered an undisputed steal under $375.
Key Features
Three disposal options for clippings: bag with the included easy on-off receptacle, mulch or side-discharge
Weighs under 55 pounds
Choose from seven deck height settings with a single lever
Ergonomic foldable handle
Steel 20-inch deck
Dual 40V lithium-ion batteries each power 45 minutes to nearly an hour of mowing
Performance
I wouldn't recommend letting the Earthwise 60420's 53-pound frame fool you. It is "heavier" than it looks, and that's where the chain of design issues begins. The 20-inch steel deck is pretty damn dense, much more so than the lighter composite materials that normally make up many push electric mowers' bodies. While it's easy to appreciate the durability advantage of having enough apparent heft to survive a collision with a compact car, that also begets this mower's chief problems: first off, having seven-inch front wheels and a nine-inch pair in the rear on a mower this heavy feels like trying to drive a Ford F150 with wheels designed for a tricycle; second, in addition to possibly benefitting from wheels one to two inches taller in both the front and rear, its bulk is such a chore to shove around, you may justifiably wonder why Earthwise didn't simply repurpose it as a self-propelled mower. Its horribly awkward maneuverability renders it unfit to be used anywhere near a significant slope.
It does have its upsides, few of them exactly unique among electric mowers. For starters, never having to buy fuel or oil again comes with the bonus of belching no further toxic gasses into the air while you cut. Its included dual-mounted 40V lithium-ion batteries will each power an impressive 45 minutes to nearly an hour of whisper-quiet mowing and recharge fully in no more than two hours. One topped-off battery will typically suffice to get through up to one-third acre, certainly among the upper tier of energy efficiency among electric mowers. Each should last anywhere from two to five years of regular seasonal use before performance and maximum capacity starts to diminish. The Earthwise 60420 also comes equipped with a handy LED monitor built into the body to let you know roughly when it will switch automatically from one battery to its counterpart.
Ease Of Use
In this instance, there isn't much to cover here for which the Earthwise 60420's overall performance doesn't speak volumes. To be fair, a number of manufacturers could take lessons in ergonomic consideration from the immensely comfortable handle, which also folds down conveniently to save storage space. Be advised, should you decide to bag your clippings, dragging around another 20 pounds of shredded gas doesn't make a stubborn-maneuvering mower any easier to turn. Expect to take grass-dumping breaks early and often if you want to finish a bigger lawn within your batteries' limits.
Cut Quality & Options
This is a first for me: the Earthwise 60420 may be frustrating to move, but it's difficult to argue with my healthy, evenly manicured lawn after almost two hours of cutting. Even when mulching fallen leaves and smaller twigs, this mower's pound-for-pound power stands up well to some of the undersized gas mowers out there. That certainly makes a case for the density of its frame but makes me wonder even further just how effectively it could have been as a self-propelled model. The engine will adjust the blade's speed accordingly to conserve battery power if it hits a heavy workload, a feature many more electric mowers could and should employ in the interest of general efficiency. The Earthwise 60420's seven cutting heights range from as short as 1.75 inches up to four inches and adjust within the perfect range using a single easy-to-use lever in seconds. When it comes to dealing with clippings, you would probably do best to stick with either mulching or discharging them to the side instead of adding more dead weight to haul around while bagging.
Maintenance
Here's the obvious warning: the Earthwise 60420 certainly has the muscle to deal with wet grass in short order, but steer clear of damp conditions. For obvious reasons, electric mowers tend to be severely allergic to water.
Naturally, that makes cleaning the deck a bit of a chore. For some reason, it seems to practically magnetize dirt, mud, debris and clippings. Meanwhile, a number of users have recommended swapping out its 19-inch blade for a 20-inch replacement, and I can't help but agree. For everything else, you'll have to fall back on what I could consider an underwhelmingly short two-year warranty.
Safety Features
I don't think any wayward tyke is going to be accidentally starting an Earthwise 60420. In addition to a standard bailing lever that must be held down to keep the motor running, firing it up requires both the button and key mechanism.
Cost Effectiveness
Despite its several stand-out flaws, I can't say that the Earthwise 60420 isn't a cost-effective electric mower. By virtue of using no gas whatsoever, you already eliminate any future spending toward fuel, oil or spark plugs with a mower that retails around $355. Like many of its competitors, its regular maintenance consists mostly of keeping the underside clean and the blades sharpened. As long as its clumsy handling isn't a bother, it actually cuts superbly. I wouldn't place this at the top of the list for physically limited owners who are still able enough to handle and prefer a push mower, but the finished product it leaves behind acquits a good many of its flaws for anyone else.
One of the best electric mowers
PROS
Zero toxic emissions, extremely quiet
Sensible storage
Two fast-charging batteries good for almost an hour each
Seven cutting heights
Exceptionally comfortable handle
Quality cutting
CONS
Avoid wet conditions
Iffy handling
Too heavy not to have self-propulsion
Needs bigger wheels
Add your review

Earthwise 60420 Cordless Electric Push Lawn Mower Review