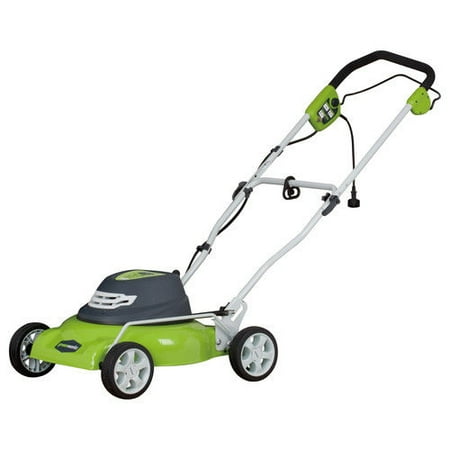 Keep your yard and the environment lush with the Greenworks 18" 12 Amp Corded Lawn Mower, 25012. The strong steel cutting deck provides the strength you need to handle unruly growth. This electric-powered lawn mower has reduced cleanup time provided by the rear bagging and mulching capabilities....

Like all Greenworks lawn mowers, the 25012 does not leave a carbon footprint by releasing harmful toxins into the air. With an electric mower like this one, you won't be breathing in or releasing nasty carbon emissions. No more driving to the gas station to get gas for your lawn mower and spilling it on the porch or driveway. And with an included four-year warranty, which is double the industry standard, you know you'll be getting a product of the highest caliber that will always be reliable.
The 25012 is a corded electric mower that's on the smaller side but packs a powerful punch. This 46-pound mower is lightweight and ideal for smaller-sized lawns (such as little lawns in a big city) but also works pretty well for any average-sized lawn. It has 7-inch wheels all around and a metal cutting deck. It may not be the fanciest mower in the world–not a lot of bells and whistles–but it can mulch grass, it's sturdy, and it's highly maneuverable. The mower is not self-propelled, which isn't a big deal since it's lightweight.
Key Features
12-amp motor offers plenty of power and can cut any type of grass
18-inch cutting deck made of tough steel for swiftness and efficiency
2-in-1 feature offers option to mulch grass or use side discharge capability
7-position height adjustment allows for cutting heights that range from 1-¾" to 3-¾" for an even and perfect cut on all types of lawns
7-inch front and back wheels make maneuvering easy even around rocky ground and flower beds
Performance
The 25012 electric mower is ideal for small- to medium-sized yards and may not cut thicker plant stems or weeds as well as it cuts grass. If grass grows too tall, mowers may have to go over it again. Still, it's a powerful little lawn mower that is quiet and provides a good cut for most any type of grass, and it can mulch grass and leaves, a great option to have in the fall.
Ease of Use
I've been in this business a long time and can set up a mower and start using it right away with the best of them. But I realize that some folks may find the included instruction manual for the 25012 electric mower to be somewhat lacking and hard to decipher. You won't see all the mower's features in the manual (though can get that here), and it could do a better job of relating the simple steps on how to put it together (though all it basically requires is attaching the handles). You'll also need to purchase an extension cord for it. I'd recommend a 16-gauge or a 12-gauge one.
Having said all that, this mower is easy as pie to set up and begin using right away. Greenworks mowers all have similar start mechanisms–you just push a button and, while holding it, pull a lever toward the handlebar.
Cut Quality & Options
The strong 12-amp mower on an 18-inch deck allows the 25012 to cut through heavy grass with ease. With its light weight, it's fine to use on new sod and lawn seed that is just sprouting up. It won't tear up new grass or messily rip it out. The 2-in-1 option allows you to either mulch your yard or let the grass clippings emit from the side discharge. I like the handle of the mower, which is designed ergonomically and is foldable, allowing for easy storage. The handle also contains easy-to-start controls and has some cushioning on it for comfort. As mentioned, the wheel are all 7 inches and can easily be adjusted to multiple heights with a quick shift of one lever.
Maintenance
As I said in the beginning, electric mowers are great in the sense that you don't need to use gas and they don't stink up the atmosphere with smelly emissions. You don't have to change the oil, spark plugs, air filter, or any gaskets on the 25012. Just make sure the blade is sharpened at least once or twice a season and that you have an extension cord that will allow your mower to reach all areas of your yard. When mowing, you might try putting the cord over your shoulder so that you won't run over it. With foldable handles, it's also very easy to store this mower anywhere–a shed, a garage, or even just leaving it outdoors.
Special Features
Though it may not have all the bells and whistles, the 25012 electric mower from Greenworks has seven cutting heights and adjustable handles. It can mulch grass and is powerful and durable. The 7-inch front and back wheels are on the small side, so maneuvering around uneven or rocky yards, or other "obstacles" such as mailboxes, trees, or flower beds, is no sweat.
Safety Features
All Greenworks mowers require that you push a start button and then pull a bail lever to the handlebars, which prevents you from hitting the bail and accidentally starting the mower. So that's a good safety feature. The mower also has a guard at the rear to ease the flow of potential pebbles and rocks flying out of the back. The mounted mulch plug and discharge chute are also well built.
Cost Effectiveness
Available online, I find this to be a highly economical mower, especially given its size, durability, and power. That price is comparable to some gas-powered mowers and other electrics. Be sure to factor in the cost of the extension cord as well, and keep in mind that the cord can also be used for other functions besides just your mower.
A little machine great for small yards
PROS
Doesn't release harmful emissions into the air
Easy to set up and no gasoline, oil, spark plugs, or tuneups
Powerful motor and easy to start
Single-lever adjustment for wheels
Solid metal deck
Quieter sound compared to a gas-powered mower
Small size for easy maneuverability
Four-year warranty is twice as long as that of most other companies
CONS
Included manual could be better
May not cut hardier vegetation such as plant stems or weeds
Multiple passes on thicker grass may require touch-up
Not as compatible for large-sized yards
Extension cord required
Not as effective on hills or rough terrain
Add your review

GreenWorks 25012 18″12 Amp Corded Electric Lawn Mower Review