$

129.00
13 used from $91.50
1 new from $129.00
in stock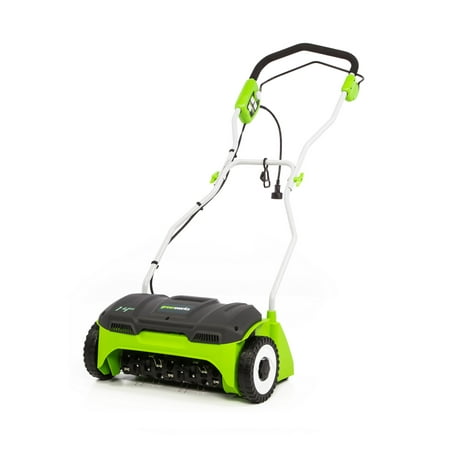 Greenworks offers a wide range of electric outdoor equipment options to fit any homeowners needs. The 14" Dethatcher features a powerful 10Amp Universal motor to handle small to medium sized lawns. Lightweight and easy to maneuver at only 26 lbs. Stainless steel tines stay sharp longer.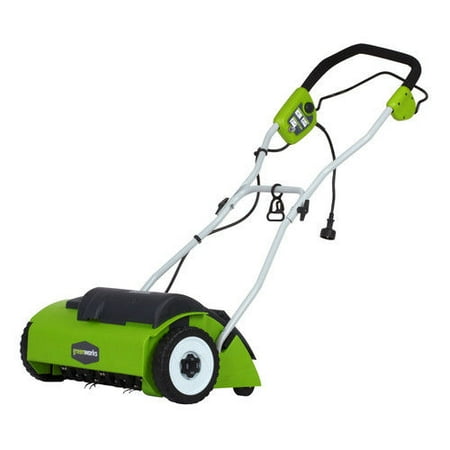 Greenworks 27022. Features: Stainless steel tines stay sharp longer for reliable performance. Three position tine depth adjustment provides greater control. Ergonomic padded grip and bale switch for added comfort and control. Integrated cord lock prevents cord disconnects.

Overview of Dethatching
Come spring and fall, Greenworks 10-amp dethatcher is a mighty handy tool to have for keeping lawns healthy. Many mowers may be dedicated to keeping their lawn looking great but know nothing about the importance of dethatching. So what is thatch, and why should you dethatch? Thatch is naturally occurring yard debris such as leaves and roots that accumulate between grass that is growing and soil. Though it may seem as if such organic matter is healthy for your lawn—and a little of it is indeed okay—for the most part that's not true. Too much thatch in your yard reduces moisture, promotes moss, draws insects, and harbors diseased organisms, essentially sucking the life out of your grass
And that's where this machine can help. Cut out a small area of your grass to see how much thatch you've accumulated. If it's more than a half-inch, it's time to get dethatching so that your lawn can grow thick, strong, and have a lush look. Dethatch at least once a season, but if you're on the lazy side when it comes to dethatching, do it at least every two years. Dethatching will help buds grow at the bottom of grass stems, which will nix the dead grass and give your grass fresh life.
Key Features
Stainless steel tines stay sharp longer for reliable performance
Comfortable padded grip and bale switch for added convenience and ergonomics
3-position tine depth adjustment for removing matted layers for healthy lawn growth
Integrated cord lock prevents cord from disconnecting
Performance
This is a simple-to-use tool that is also efficient and effective at getting rid of nasty thatch by bringing it up to the surface where you can rake it away into oblivion. The Greenworks Dethatcher contains a slew of moving vertical tines that pull up the thatch from the top layer of the soil.
My Greenworks dethatcher has been used extensively. The first time I took it out for dethatching I probably used more than five large bags to store the cleaned-up thatch—but it was worth it because my yard had a much-needed thinned out look afterward. I confess to sometimes missing a season of dethatching from time to time, but nonetheless, I've never accumulated more than five bags of thatch after that first time. Now it's more like two bags each time I dethatch.
Here are some less-than-desirable qualities: This machine doesn't work as effectively on super-thick lawns, but it still will do the job. Also, it has quite a rattle to it, and after a while these two wing nuts that hold a rubber flap tend to rattle themselves loose and fall out. I've discovered that it's best to just not use the flap, which is designed to prevent debris from flying. But what happens is that the flap actually keeps the thatch within the machine, causing things to gunk up. Without the flap, thatch spits right out onto the yard, which is fine by me. The machine's intense vibration has also affected a few other screws, so you'll want to make sure that they're tight each time, especially the longer you own it.
You'll notice that many of our reviews talk about 3-in-1 features of lawn mowers that offer bagging, mulching, and side discharge. Well, this machine doesn't offer bagging, so you'll have to collect the debris after dethatching your lawn. Sure, it's a bit messy, but think of how messy it was within the soil, which you couldn't see beforehand but will definitely notice afterward, when it's clean. Just rake it all up and you'll see right away how much better and less gunky your yard looks.
Ease of Use
The 27022 Corded Dethatcher is ergonomic and super-simple to use. If you can stand in back of a lawn mower and push, then certainly you can push this (approximately) 30-pound machine. With easy push-button starting, you don't have to worry about a starting cord that can sometimes be a hassle. The provided manual is outstanding and offers lots of detailed instructions on getting started and how to use the machine.
Also, because it's made by Greenworks, you're gonna need an extension cord. I'd highly recommend a 100 or 150 foot cord so that you're not feeling restricted as you dethatch. Pay attention to that gauge number on the cords so that you have the power you need to run your machine smoothly and efficiently.
Special Features
Though not the most powerful motor within its product category, the included 10-amp is pretty dang impressive, especially if you're using the machine on smaller-sized lawns. The 3-position tine-depth provides dethatching versatility, and there are additional tines included. I also like how the handle on the machine folds over easily, so it fits like a glove in a small space of my shed, and I can also transport it easily in a car or truck. The well-designed wheels allow for topnotch maneuverability, and they roll fine even atop rough, sinewy surfaces.
Cut Quality & Options
This machine cleans lawns up efficiently with a respectable 10-amp motor, a 14-inch dethatching path, and adjustable cutting tines. The tines are constructed of stainless steel and are durable. You can set them to depth adjustment positions of 1, 3, 10 … whatever you need to serve the purposes of giving your lawn a nice haircut.
Maintenance
When making needed adjustments to the dethatcher cylinder, unplug the unit and wait until the cylinder is fully stopped. Wear gloves and be sure to replace the cylinder as needed. You'll need to replace the tines, though the machine does come with 36 extra ones, so you should be good to go for a while. Don't clean the machine under running water or use hard, pointed objects to clean it. Store your dethatcher in a dry, closed room where it's not accessible to children. When not in use, move the depth adjustment knob to the highest position and lift the machine when moving it over areas such as floors, tiles, etc. I'd recommend cleaning the bottom of the machine after each time you use it, especially since you likely won't be using it that often each mowing season. Be sure to closely look at all the tines and cartridges carefully and replace them when needed. When your dethatcher finally goes kaput, you'll need to get rid of it according to local regulations and not through your garbage man.
Cost Effectiveness
Why pay a gardener to keep your yard dethatched and nicely manicured when you can do it yourself with this machine? That's my two cents. Additionally, you get a full replacement set of 36 times, which saves money in the long term.
Robust Motor Gets Work Done Faster
PROS
14-inch detaching width
Push-button start
Lightweight
Durable tines
User-friendly and ergonomic
Zero emissions
Nicely designed wheels
4-year warranty
CONS
No collection bag
Power is limited
Heavy vibration
Requires extension cord
Add your review
|
Read reviews and comments

Greenworks 27022 10-Amp 14" Corded Dethatcher