$

172.49

$199.99
2 used from $172.49
in stock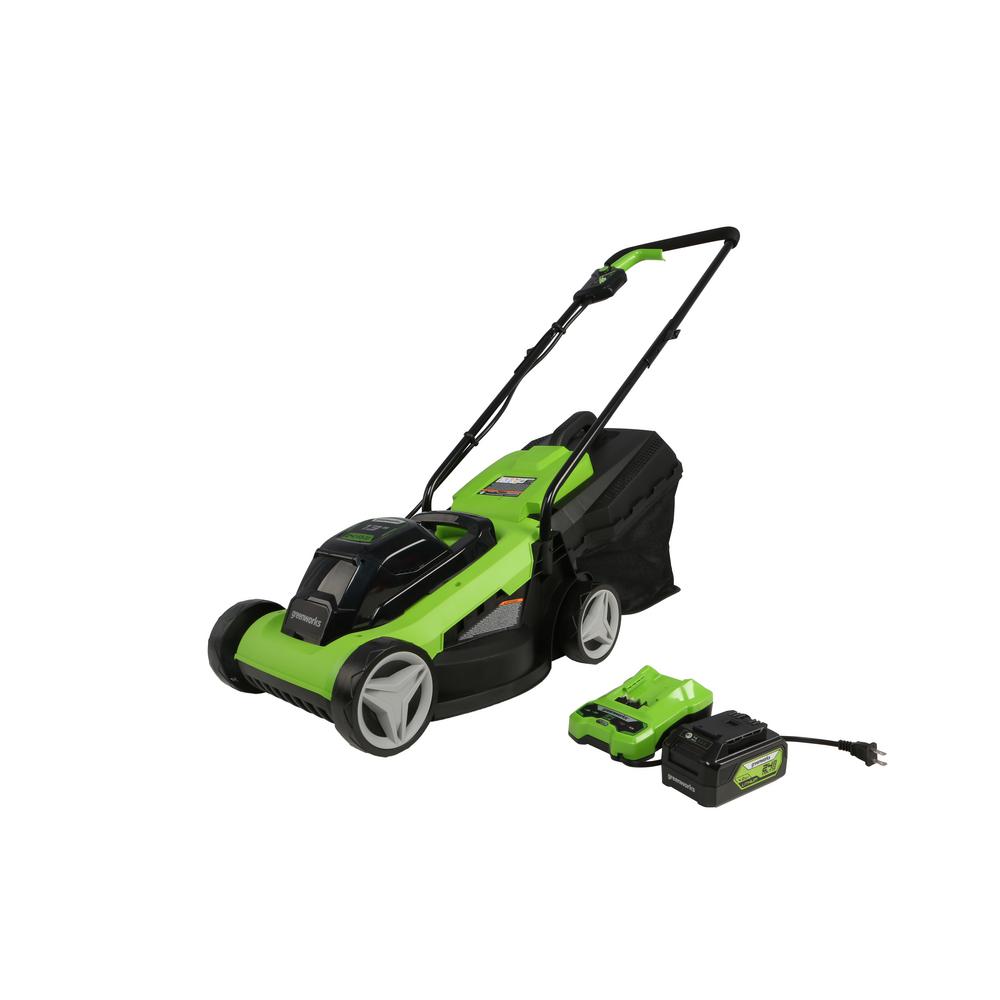 The Greenworks 24V lithium-ion platform powers over 50 indoor and outdoor products, including lawn mowers, blowers, string trimmers, chainsaws, power tools, and more. The 24V lithium-ion battery provides 20% more power and 35% more run-time, and delivers fade-free power with no memory loss after...

The Greenworks MO24B410 is a 24-Volt cordless electric lawnmower that was engineered to handle small suburban lawns. It has a 13-inch mower deck which helps you make tidy turns and work into small areas around landscaping features and trees.
It comes with a 4 Ah lithium-ion battery which prevents the memory loss reduced charging problems you often get with lesser battery systems. They even make it a point to include a compatible smart charger in the initial purchase. This keeps the charger from accidentally overcharging the battery which could damage it, and shorten the lifespan. When fully charged it can mow up to a quarter-acre or an average run time of around half an hour.
Of course, this isn't the only place where Greenworks was sophisticated with the electrics. They even include a 2400 mAh USB power port that lets you use the lawnmowers onboard power reserve to do things like keeping your phone or MP3 player charged while you mow.
The 13-inch cutting deck can be set up as a mulching mower or as a bagger. All the necessary attachments are included in the initial purchase. There are multiple height settings available, which lets you cut your grass to the ideal height for the prevailing conditions.
The Greenworks MO24B410 is backed by a robust 3-year tool warranty. This is a statement of pride in their materials, engineering, and manufacturing processes.
Key Features
24-Volt electric cordless lawnmower
13-inch rust-resistant cutting deck
2-in-1 mulcher or bagging mower
Lithium-Ion battery and charger included in the purchase
2400 mAh USB power bank for charging a phone or MP3 player
3-year manufacturer's tool warranty
Performance
The 24-volt electric mower with 4.0 Ah lithium-ion battery does a good job of power the cutting blades. The bagger even feels very comfortable and doesn't lumber when full. The mulcher that it comes set up as out of the box can sometimes clog up the discharge port when you are cutting thick, moist grass like St. Augustine. So, you will want to wait for a truly dry day if you have a tropical grass in your lawn.
Ease of Use
This lawnmower is very light and nimble, which makes it easy to use even in tight quarters. The charger has smart technology built into it, so you don't have to worry about accidentally overcharging the lithium-ion battery. When you are done mowing it's light enough that you can even put it away on a heavy-duty garage shelf.
Cut Quality & Options
When you first look at the Greenworks MO24B410 the 13-inch cutting deck might look at little small, and that might be true if you are cutting a large, wide-open yard. If you have a yard with a lot of twists, turns, trees, and tricky landscaping features than the 13-inch cutting deck really shines, as it makes the Greenworks MO24B410 very nimble.
It comes set up as a mulching mower, which essentially minces the grass clippings into tiny pieces that are more likely to decompose quickly to feed your turf. Larger grass clippings tend to dry out into thatch which can clog and even choke off your turf leading to dead spots or additional costs for seasonal aeration.
When cutting very thick, moist grass the chute from the mulcher can sometimes clog up. You don't have this problem as much when you attach the bagger. This lets you feed your compost pile while virtually preventing thatch buildup.
Maintenance
Like a lot of cordless electric lawnmowers, there isn't a lot of maintenance to the Greenworks MO24B410. The mulcher can sometimes clog with thick moist grass clippings, so take an extra minute or two to clear away any residual material before putting it away. The same goes for the bagger. The last thing you want is lingering grass clippings to start molding while in storage.
When the blades start to get older and lose their naturally sharp edge, you might want to simply order brand new ones from Greenworks. The metal of the blades is a little on the thin side, which makes it difficult to sharpen with a mill file or angle grinder.
The charger that comes in the initial purchase has smart technology to prevent overcharging, the 4.0 Ah lithium-ion battery. Still, you don't want to leave the battery on the charger for days on end, as this could cause a small heating problem, which could shorten overall battery life in the long-term. Instead, it's best to remove the battery from the charger within a few hours of reaching full charge.
Safety Features
The Greenworks MO24B410 comes with all the hand control safety features you expect in a walk-behind push mower.
Special Features
The smart charger and the 4.0 Ah lithium-ion battery reduce the chances of problems from overcharging and memory loss.
The 2400 mAh power bank USB port is a really nice touch. It lets you keep your smartphone or MP3 player charged up while you mow. This is something that you usually only see on large riding lawnmowers. Just keep in mind that it is stealing a miniscule amount of charge from the mower's overall performance. So, your functional runtime might be shaved down by a few minutes.
Cost-Effectiveness
Cordless electric lawnmowers like the Greenworks MO24B410 are always more cost-effective than traditional gas-powered push mowers. This one takes things a step further by coming set up as a mulching mower right out of the box, which reduces your chances of suffering thatch buildup problems in the turf. Not to mention the fact that the nitrogen of finely mulched grass clippings can feed the soil to help your grass grow better without having to spend more money on fertilizing the lawn.
You also have to tip your hat to Greenworks for backing this electric lawnmower with a robust 3-year tool warranty.
PROS
Lithium-ion battery to prevent memory loss
24-Volt electric motor
Battery and charger included
3-year warranty
Mulcher or bagger
USB charging port
CONS
13-inch cutting deck is small
Mulching discharge is prone to clogging
Only half an hour run time
Add your review

Greenworks MO24B410 24V 13″ Battery Walk-Behind Push Lawn Mower Review