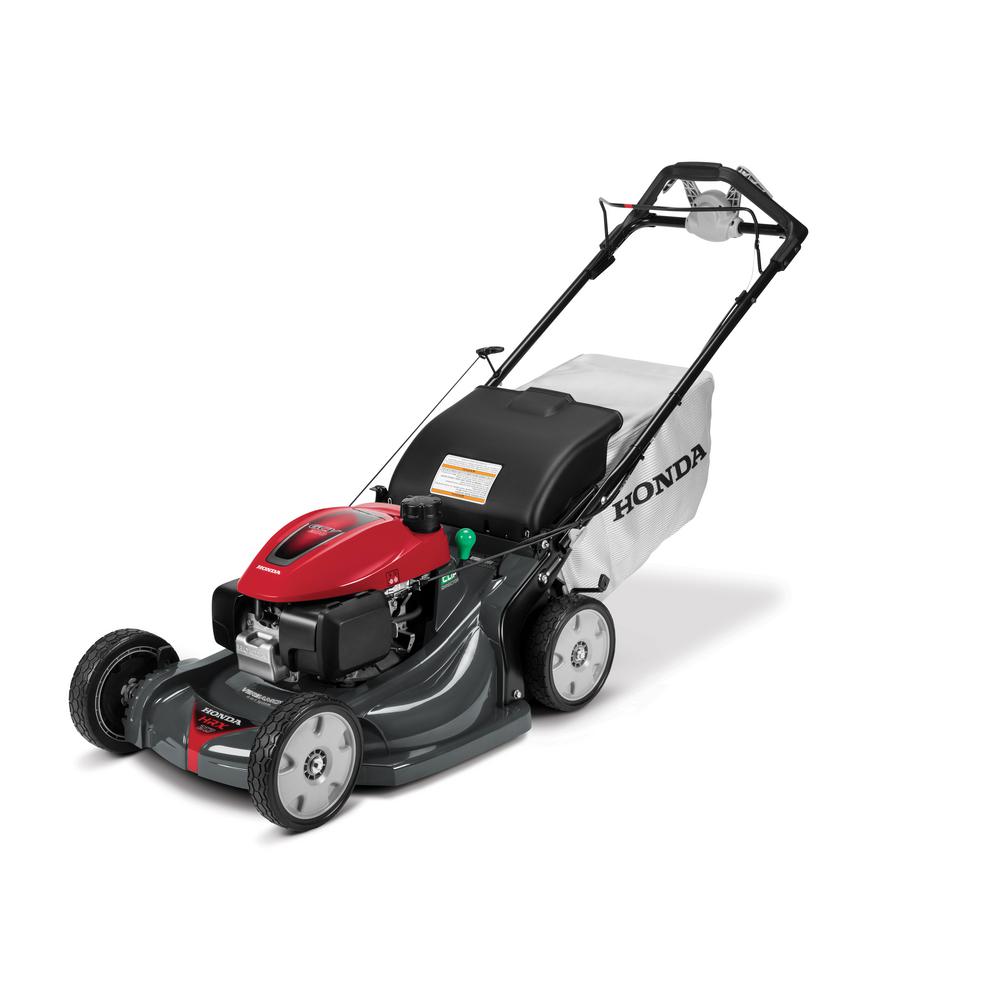 Honda 21 in. NeXite Variable Speed 4-in-1 Gas Walk Behind Self Propelled Mower with Select Drive Control

There isn't much general praise I could heap upon Honda's self-propelled HRX217K5VKA 4-in-1 Mower that wouldn't apply to virtually every product developed under the vaunted Japanese manufacturer's banner. This gas-powered mower delivers exceptional grass-grooming performance year upon year with a body that can take the nastiest beatings ¼ to ¾ acre of moderately hilly terrain can dish out. Granted, plenty of self-propelled gas mowers could offer similar boasts, but few could back them up with quite the same versatile adaptability.
Key Features
Limited lifetime warranty protecting the deck; five-year warranty covering the mower
Twin-blade MicroCut system
Versamow allows you to switch between shredding, mulching, discharging and bagging your clippings
21" NeXite base
Set your perfect cutting pace using Select Drive with adjustable speed control
Ease Of Use
Weighing in at a downright sprightly 96 pounds, the Honda HRX217K5VKA's rear-wheel drive maneuvers the power of its four-stroke GCV 190 engine and five-setting automatic transmission as smoothly up and across inclines as it does lawns as flat as paper. Even less physically able owners will have no trouble with its easy pull start, which I would count among the least frustrating cords I've ever yanked. Once it comes to life, you may want to kiss the courteous engineer who positioned the unintrusive Variable Drive thumb lever so conveniently in the middle of the handlebar and spare a wet one for whoever optimized the perfect sensitivity of the pressure-sensitive propulsion controls.
Prepare yourself for some moderate frustration when adjusting deck height. In lieu of one simple lever to raise and lower them all, each wheel gets an aggravatingly small individual lever. Given this mower's all-around performance, I could hardly call it a deal-breaker to any buying decision. Still, it strikes me as an inexplicable mechanism when there is a proven-simpler way to switch between the seven height settings between three-fourths and four inches.
Performance
The cleaner you cut your grass, the faster, stronger and more healthily each blade will heal as it regains its former length. That's just one reason why the immaculate velvety finish Honda's twin-blade MicroCut system leaves behind is so much more than an aesthetic boon to your yard's lush splendor.
Those same surgically precise slices also happen to complement the performance of the Honda HRX217K5VKA's Versamow clipping-disposal system. If you choose to bag your remnants, the two blades' ultra-fine cuts reduce your clippings to the most minute slivers possible, allowing you to fill the slightly oversized 2.5-bushel bag with an incredible payload of grass before you need to stop and dump it. On the other hand, the superb mulch produced is practically invisible. Although there's virtually no shredding clippings any thinner with anything comparable to this mower's efficiency, the side-discharge mode doesn't eject grass quite as smoothly as I would like, but that's only a noticeable drawback if one completely fixates on that one function.
Can't decide whether to bag or mulch? No problem. Versamow allows you to do both and custom-measure the percentage of clippings you want to save and dump and the portion you want instantly returned to your grass as nutrients while you cut.
Select Drive is nothing short of a revelation in regards to perfecting a self-propelled mower's pacing. Start by rotating the speed dial to your preferred setting up to 4 mph, whatever suits your stride. Once you hit the sweet spot, engage Select Drive and go forth at the steady clip conducive to the even, ideal cutting quality you want. Your speed can and probably will drift slightly but dialing it in once more is a snap.
Maintenance
There isn't much to say in the way of maintenance notes. If you follow standard protocol for caring after any gas-powered push mower, Honda's do-it-all dynamo should provide your lawn with years of excellent manicuring. Even if something goes wrong, the impact-resistant and exceptionally durable 21-inch NeXite deck is covered by a limited lifetime warranty on top of the five-year warranty protecting the mower itself.
One minor gripe: no deck-washout port. Why this wouldn't be standard on virtually every mower under the sun by now, I have no idea. It's a mechanism that reduces cleaning out the deck and blades to hooking up a hose the mower and starting it. Who wouldn't want that?
Safety Features
For the most part, you won't any failsafes here that every other self-propelled mower won't offer, including an instant emergency shutoff. Sadly, the Honda HRX217K5VKA once more lacks a feature I believe should be standard for every lawnmower with an engine: a blade brake that kills the cutting system while keeping the engine running.
Cost Effectiveness
First off, there's no disputing any Honda design's toughness. From lawn mowers to automobiles and motorcycles, everything they make is geared toward squeezing the utmost value out of an intended superior longevity. More than that, the Honda HRX217K5VKA sips fuel and passes famously stringent "California-compliance" emission standards with flying colors. If and when you eventually have to pick out a mower to replace this one, don't be surprised if its Jack-of-all-trades skill set compels you to buy an exact twin.
Does The Job At A Price That Can't Be Beat
A fantastic work horse mower that will surpass all expectations
PROS
Quick, Super Easy Start
Great Mulching
Wide Bagging System
Long Warranty
Exceptionally Reliable
User Friendly
CONS
Small Gas Tank
Select Drive System At Low Speeds
Add your review

Honda HRX217K5VKA Variable Speed 4-in-1 Versamow Gas Self Propelled Mower