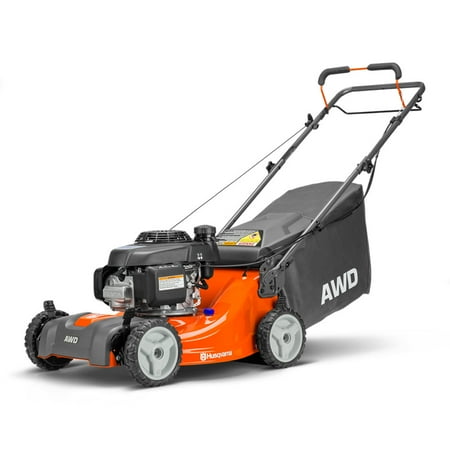 Get a little mo' power while mowing with a lot less weight and hassle when you fire up the Husqvarna L221A Honda 21-Inch Self-Propelled Walk-Behind Mower.Designed to be light and compact, this self-propelled mower is everything you need without the frills. It weighs just 70 pounds, and with a...


The Husqvarna L221A is part of their wide line of gas-powered, self-propelled lawn mowers. This particular unit is fitted with a highly reliable Honda 160cc engine. It takes a step up over other competitor models in this category with it's all wheel drive self-propulsion system. The wheels are also specially engineered to provide superior traction on damp, or uneven ground.
The mower deck itself is designed to produce a 21-inch cutting path. It's made from heavy duty 15-gauge steel for added durability.
The bagging system can also handle a lot. It also does a very good job of picking up cut blades.
Key Features
160cc Honda engine known for its reliability
Heavy duty mower deck with a 21-inch cutting path
Large capacity bagger and efficient collection system
All-wheel drive self-propulsion system
Performance
The reliability of the Honda engine really gives it the power it needs to be able to produce a clean 21-inch cutting path, while also being able to power the self-propulsion system without lag. The specially engineered tread on the wheels is also nice. It helps ensure that you are getting every last possible bit of torque and traction out of the all-wheel-drive system.
Ease of Use
There are a few minor foibles with the Husqvarna L221A when it comes to ease of use. For starters, the handlebar and hand controls are a little hard. There is no padding or really comfort built into them, which over the course of a long mowing session can leave your hands a little tired, if not even a bit sore. If you have some gardening gloves with a little padding, you should consider using them when you mow the lawn.
At the same time, the self-propulsion system doesn't have any adjustment to it. One the one hand this is kind of nice, as some of Husqvarna's other speed adjustment systems were fiddly. On the other hand, it can take a little bit of getting used it.
You should expect it to take you a few mowing sessions to get your walking gait perfectly in synch with the mower's propulsion system. Fortunately, it's not geared to pull away from you. Still, if you are going up a slight hill or incline, you might be tempted to give it a nudge along the way.
The all-wheel drive of the self-propulsion system is nice for when you want to mow along in a straight line, on even ground. If you have a lot of trees to go around, or some tight spots in your landscaping, you might find yourself wrestling with it a little. There are moments where you feel like you are teaching a teenager to waltz.
Cut Quality & Options
The power the Husqvarna L221A puts down to the mower blades does a great job of making clean cuts. This isn't always the case with some of the competitor mowers in this class, which can sort of mangle a blade of grass, which could invite certain law diseases later on down the line.
The 21-inch cutting path is just about the right size for a medium lawn. You wouldn't want to go smaller than this if you have more than say half an acre of grass that needs to be cut once a week. The bagger system is also impressive with just how well it picks up the cut blades of grass. This really helps cut down on excess thatch, which can be caused by stray grass clippings.
Maintenance
The Husqvarna L221A comes with oil and a high-quality air filter. Just make note of the air filter's part number. You can clean it out by hand a good dozen or so times. After that, the pores in the filter might be clogged to the point where you need to buy a new one to make sure that the engine is getting fed all the oxygen it needs.
Perhaps the biggest selling feature of this lawnmower is the Honda engine, which carries the brand's usual reputation for reliability.
Safety Features
The hand controls are a little firm. To the point where they might make your hands tired when using it. This could even tempt you to say tape them down in run mode. If you go this route, the mower essentially has no other safety features to speak of and could potentially run away from you!
The 15-gauge steel mower deck might not really seem like a safety feature at first. However, thinner gauge mower decks can potentially rush through in places as time goes on, which could then allow an accidental rock to penetrate through. This is long-term protection that you might not think of, but it's still a mark of quality.
Special Features
The all-wheel-drive self-propulsion feature, with its special traction wheels, might not matter much if you have a perfectly level lawn. If you have some inclines here and there, lumps and bumps, or even clay soil that can get a little boggy, then the all-wheel-drive system really comes through.
Cost Effectiveness
The 21-inch cutting path will save you some time and money if you have a small to medium sized lawn. The power of the reliable Honda engine will also go a long way toward making the most out of the high-speed blade rotation as well as the all-wheel-drive system. You just need to accept that it will take you a while to really get a feel for its pace and handling.
Self-propelled lawnmower with Honda reliability
PROS
Durable and Reliable 160 cc Honda engine
Very efficient rear bagging system
All-wheel drive self-propulsion
Wheels engineered for maximum traction
Heavy duty 15-gauge mower deck
CONS
Can be difficult to maneuver around trees
The handlebar is hard and stiff
Bagger can be heavy to dump out
No electric start feature
One constant speed
The air filter has a limited lifespan
Add your review

Husqvarna L221A 21″ 160cc Honda Walk Behind Self-Propelled Gas Mower Review