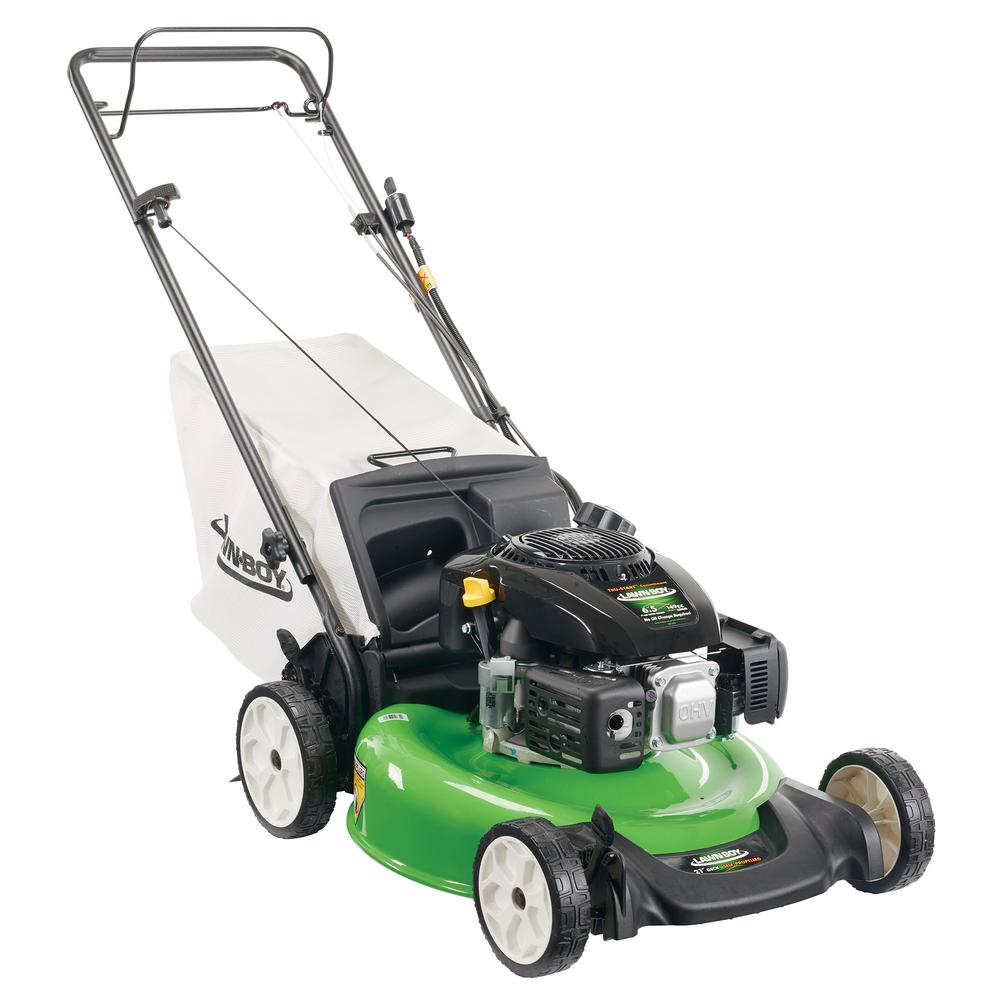 21 in. Self-Propelled Electric Start Gas Lawn Mower with Kohler Engine (CARB Compliant). For homeowners seeking a reliable mower that is budget-friendly and has features that make mowing easier. Lawn-Boy is easy to handle, but hard to beat.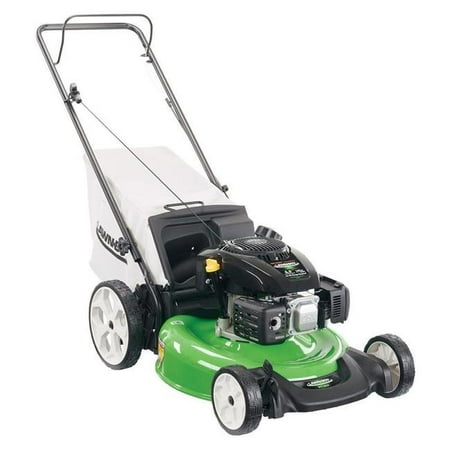 21 in. High Wheel Push Gas Lawn Mower with Kohler Engine (CARB Compliant). For homeowners seeking a reliable mower that is budget-friendly and has features that make mowing easier. Lawn-Boy is easy to handle, but hard to beat. FeaturesTri-cut cutting system, the 21 in. steel deep dome deck is...
$

285.25

$370.96
out of stock

As low-budget gas mowers go, anyone could do far worse for a first purchase than the Lawn-Boy 10734. It may be short on frills, but this push-propelled model weighs in on the small side for its class, starts up reliably in a snap, cuts artfully as a master sushi chef and handles smooth as butter. Unfortunately, the further a lawn measures past a quarter of an acre and the thicker or higher the grass, the more its underpowered engine limits its effectiveness. Still, that's more a matter of purchasing a mower only with realistic expectations for what its specs can handle than anything else.
Key Features
21" Deck
Three switchable clipping-disposal modes
Two easy-to-adjust deck height settings
Large clipping bag empties easily
Tru-Start Commitment: Honda GCV 160 OHC engine will start with no more than two pulls
Performance
On a fairly even lawn up to a little more than a quarter-acre, the Lawn-Boy 10736's 11-inch rear wheels will glide it through practically every pass. This may not be an all-powerful heavyweight machine, but I can't overstate how impressed I am with its solid, durable build. Although I wouldn't put it to work on a yard filled with hills and more stubborn, thick greenery sprouting up everywhere, it can handle the odd bumpy patch or two without giving you any trouble and make short work of smaller jobs under ideal conditions.
Ease Of Use
The Lawn-Boy 10736 tips the scales at a measly 75 pounds, making it a perfect fit for youngsters handling a mower for the first time and less able-bodied adult users. The easy electric starter brings this plucky little machine to life in seconds but comes backed by a traditional pull-cord mechanism to turn to in the event its battery fails.
Adjusting deck height is conveniently reduced to twin levers in the front and back of the 21-inch deck that adapt the Lawn-Boy 10736 easily to taller grass or bumpy ground in one smooth motion. Unfortunately, that brings up another performance limitation: while I can appreciate how simple Lawn-Boy made raising or lowering the deck, having only two settings to choose from definitely sets a low ceiling on its versatility. Nothing is more frustrating than having to choose between damaging grass by cutting it too short and wasting time by not being able to clip it low enough.
On the other hand, I could also understand the argument that such a small, basic mower is only designed for fairly straightforward mowing jobs in the first place and thus not really as important a candidate for four or more levels to choose from at a time.
Cut Quality & Options
Despite lacking the muscle to take on a savannah rising outside your door, the steel deep-dome deck and Tri-Cut cutting system together deliver plenty of well-engineered finesse. The 160cc engine might generate only 6.25 pounds of gross torque, but the fine ribbons they cleave and shred from each swath speak to the slick, surgical slices that make for a velvety finish and continuous healthy regrowth from each mow.
I'm all for three-in-one mowers if for no other reason than because I would rather have a handy feature and not need it than to experience a sudden pressing use or just a burning desire for it and not have it. The Lawn-Boy 10736 lets you switch between an effective side-discharge dispersal, bagging with a sizable receptacle that snaps on and off without a hitch, or taking advantage of the impressive mulching its spacious dome and precision cutting system instantly creates with every pass. Some owners have rightfully complained that clippings can fly back and stick to the rear wheels. However, I wouldn't call that a significant enough drawback to dissuade anyone from a purchase.
Maintenance
Lawn-Boy has always left me impressed with their standards for service. The three-year Tru-Start Commitment promises that the manufacturer will repair the engine on their dime if it takes more than two pulls of the cord to start. Beyond that, you have the additional backing of their two-year comprehensive No Worry Warranty covering all additional repairs.
Safety Features
In addition to simply being as easy as possible to use in general, you can kill the engine and blades at any time just by releasing the safety bar that must be pressed down while the mower is in operation. Should you come across a hazard in your path, that will shut the Lawn-Boy 10734 down entirely in three seconds.
Cost Effectiveness
Provided you aren't trying to extend the Lawn-Boy 10736 beyond its ideal quarter-acre threshold, this quiet, California-compliant mower is a gas-sipping wonder. Between Honda and Lawn-Boy, you couldn't ask for many more dependable combinations of manufacturers driven by performance and durability. In the event you do need to call upon either the No Worry Warranty or Tru-Start Commitment, expect a dedicated sense of urgency to rectify any defects as immediately as possible. Take good care of this little guy, and it will take great care of you and your lawn.
Excellent Value, But Engine Could Use More Power
PROS
Honda Engine
Easy pull-start or electric start
Great on uneven terrain
Cuts grass even
Rear wheel drive
CONS
Front axle held together with plastic
Small engine
Lacks mulching power
Plastic parts
No choke or throttle
Add your review

Lawn Boy 10736 21-Inch High Wheel Push Gas Powered Lawn Mower Review