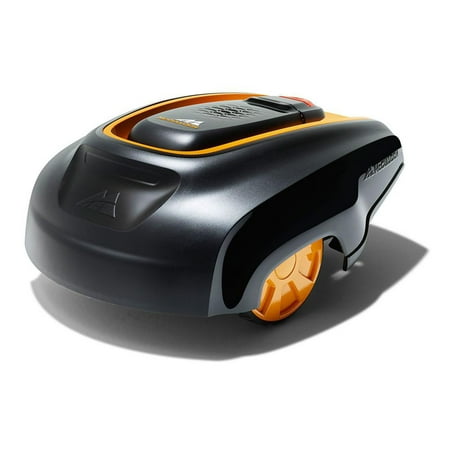 The new McCulloch Robotic Lawn Mower ROB 1000 is designed for lawn areas up to 0.25 acre. ROB is programmable and comes with everything you need to install on your yard without having to buy additional accessories. Included in the box is ROB, a charging station, 3 metal cutting blades, 656 ft....
$

967.74

$1,299.99
out of stock


The McCulloch ROB 1000 (hereafter referenced by its more popular nickname, The ROB) is not an ineffective mower. On the contrary, it cuts remarkably well, sets up far faster than the vast majority of robotic mowers and operates effectively within an unexpectedly large area. The trouble isn't the way it does its job. It fails miserably by offering disappointingly few of the time and effort-saving features now increasingly commonplace among lower-priced automated models at an inexplicably massive price.
Key Features
Built to manage lawns up to a quarter-acre
Maintains balance on inclines up to a 25-percent grade
Virtually silent operation
Audible anti-theft alarm
Three pivoting ultra-durable blades
Fully programmable scheduling and routing
Performance
There's hardly a cross word to utter about The ROB's performance itself. Quite the opposite, in fact. Being entirely battery-operated, it generates zero emissions. A measly 57 decibels of noise pollution makes it perfectly feasible to operate in the dead of night without disturbing even the lightest-sleeping neighbor. Not many mowers can match its balance and agility on up to a 25-percent slope. On top of all that, its realistic capacity to mow up to one-fourth of an acre within a single charge of its lithium-ion battery is certainly on the high side for a robotic model, especially when considering that the power pack quickly refreshes its juice in barely under an hour – just enough time for a bite of lunch and a frosty beverage – and the automatic reaction to send The ROB scurrying back to its dock when the charge runs critically low.
Ease Of Use
Exactly the same drawback will accompany any robotic lawn mower available today: the setup process takes hours before your automated lawn jockey can actually get anything done. The ROB is absolutely no exception. In actual use, the owner's active role mostly ends with programming its schedule, pin and various settings using the 15-button onboard keypad. However, that's more of a finishing step. First, you can expect to spend anywhere from 30 minutes to around an hour positioning up to 400 stumpy stakes and just over 656 feet of wire to establish The ROB's mowing boundary. It shouldn't be a deal-breaking inconvenience, and that is admittedly much less time than many robotic mowers require, but I do root for the day an elegant and less time-consuming approach pares the undertaking down even further.
We'll assume you devote roughly a half-hour each week to trimming your lawn during the spring and summer months and the same amount of time once a month throughout fall and winter. For the most exceptionally neat lawn you could possibly maintain, expect to devote anywhere from three to five times that investment over the course of a year. In the end, that's likely more than 100 hours of service The ROB could shoulder annually while you rededicate a combined approximate four full days of your life to any fulfilling pastime you like. Embark on a coast-to-coast road trip across America. Explore a new hobby. Watch the extended cuts of the "Lord of the Rings" cinematic trilogy 10 times each. Fly to Honolulu and spend two days alone on a picturesque beach. All the while, your lawn will be in good hands.
At the same time, The ROB has some ground to make up on its rival automatons. When I could pay hundreds of dollars less for a competing model in its class and benefit from a free-of-charge remote management app, adaptive algorithms that monitor the height and growth rate of my grass, multi-zone mapping, instinctive capacity to "learn" terrain and unassisted dynamic cut-quality adjustment, that contrast doesn't produce a glowing endorsement for this overly expensive mower's value proposition.
Simply put: it isn't that The ROB is a chore to use. One must simply be aware that there are more effective mowers that are far less costly.
Cut Quality & Options
In all fairness, The ROB grooms every blade of grass beneath it splendidly. Its random pathing produces an immaculately even finish as it guides a trio of finely crafted, durable blades within its operational zone without the scarcest predictable course. As a result, the padded, skidless wheels leave absolutely no telltale tracks in its wake as it trims your yard to the consistency of pristine carpet. The combination of six cutting surfaces ensures each patch of grass is sliced with a scalpel's exactness and that the remnants are returned to your lawn as nutrient-rich mulch as The ROB rolls along. With a range of cutting heights spanning from 0.97 to 1.97 inches, a consummately healthy and attractive lawn is suddenly more remarkably simple to manage than my generation could have ever imagined.
Maintenance
Prolonged setup aside, The ROB is about as close to a maintenance-free mower as you'll find anywhere. The manufacturer kit includes a trio of replacement blades, which already takes knocks a little required effort out of your one item of guaranteed upkeep. Of course, bear in mind that electronic devices tend to be deathly allergic to water. For some reason, The ROB is a $1,000-plus robotic mower designed without moisture sensors that reliably send competing (and lower-priced) models scurrying back to their charging docks automatically upon detecting anything greater than a given overall degree of condensation. Knowing that, you may have to personally order it back to its home if conditions grow a bit too damp for comfort.
Safety Features
Is The ROB safe? If I could, I would let this thing babysit my grandson. This mower is completely useless without its individually paired charging station and the audible anti-theft alarm raises a pretty conspicuous ruckus that's hard not to hear even from indoors and silences only after entering a unique PIN. Any mower this lightweight and pricey had better raise some hell if someone decides to tuck it under an arm and run. When at work, the blades shut down instantly if anything tilts even one of its wheels off the ground. Your children and pets would be closer to harm's way around a good many adults I've met than in The ROB's company. Mowers that intuitively know when not to cut…what a time to be alive.
Cost Effectiveness
Is The ROB a cost-effective mower? Let's put it this way: with its $1,200 price tag, I'm somewhat disappointed it didn't offer to babysit for an evening. After all, it doesn't do a great deal that a number of other mowers can't match for several hundred bucks less. Don't get me wrong: The ROB cuts superbly. The precisely manicured turf left in its wake after every mowing excursion would stop a professional landscaper's heart with admiration. It is, without a doubt, one the safest and most worry-free lawn mowers anyone could possibly own. Unfortunately, despite its autonomy being a life-changing time-saver, it could take a great while before it truly "pays for itself." I would only recommend choosing The ROB over any other robotic lawn mower if you can somehow find a brand-new unit for significantly less than its list price. Even then, anyone would still do well to spare some time for comparison shopping.
Excellent, but long set-up
PROS
Zero emissions and virtually silent
Uniformly clean cutting
Perfectly safe for use around children, pets
Massive mowing area
Remarkable stability on hills
Excellent mulching
CONS
Lengthy setup
No moisture sensors
Not recommended for wet conditions
High price for relatively sparse features
Add your review

McCulloch ROB 1000 Programmable Robotic Lawn Mower Review