$

599.69
4 new from $599.69
in stock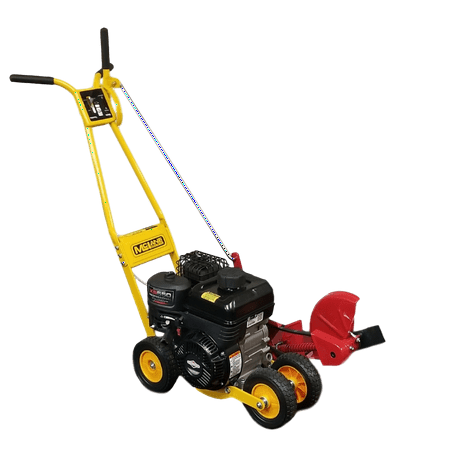 Maintain a neatly trimmed lawn using the McLane 4-Wheel Edger with Heavy-Duty All-Steel Chassis. The four wheels roll along easily, while the spring steel blade spins and cuts at either a vertical or a horizontal angle. Adjust the depth and blade clutch with a single convenient lever and...

If you have retaining walls, flower beds, or a lot of complex landscaping features in your lawn, then chances are good you are in the market for a fast and reliable edger/trimmer combo. While there are some electric string trimmer units on the market that can do a good job trimming around trees, a gas powered edger/trimmer tends to get the job done faster.
The McLane 101-4.75GT-7 Edger/Trimmer has a gas-powered engine that produces an impressive 5.50-foot pounds of gross torque. It has a pull start opposed to an electric start. However, McLane made it a point to design the recoil to be very easy to use.
This power is then delivered to the 2' X 9" heavy duty spring steel wheel. The orientation of the wheel can be adjusted vertically to use the 101-4.75GT-7 as an edger or horizontally to use it as a trimmer.
The McLane 101-4.75GT-7 has a single level blade clutch, which also helps you with precision depth control. The manual throttle in intended to run the edger/trimmer in high when in use, then shift it down to low when you need to idle.
McLane is proudly made in the United States. As such it was specifically designed to meet all current US safety standards
Key Features
Can be set up as an edger or trimmer
5.5-foot pounds of torque
Gas powered engine
Meets all US safety standards
4 wheels for easy maneuvering
Easy to use pull start
Single lever blade clutch
2" X 9" spring steel blade
Performance
Chances are if you have used a string trimmer/edger in the past, then you have likely filled a swear jar or two while dealing with line tangles that defy our current understanding of geometry. The 2" X 9" spring steel blade of the McLane 101-4.75GT-7 spares you the hassle of tangled lines, while also giving you the power to cleanly edge even hard packed or overly dry soil.
One minor complaint with this unit is the oil level. The gauge is very hard to read, and it can be hard to tell if you have sufficient oil in it. Putting in too little could gradually start to damage the engine, and possibly sear a piston. Putting in too much can bog down the power and causes it to smoke like a toxic barbecue. With a little trial and error, I think you will find that 75% of a quart of oil is just about the "Sweet Spot."
Ease of Use
It's clear that when McLane was designing the 101-4.75GT-7, they knew that a pull start would draw a few grumbles from people who have wasted a few afternoons in the past trying to pull start a stubborn lawnmower. Thankfully, they designed the pull start on this unit to be smooth and easy, which you don't always find with competitor edger/trimmers.
It weighs in at just over 66 pounds, which is a little bit on the heavy side. However, it does come with four wheels standard. This spares you some of the backache and sweat that you might find with a three-wheeled gas powered edger/trimmer.
Cut Quality & Options
Designed and made in the United States the McLane 101-4.75GT-7 technically meets all current safety standards. At the same time, it doesn't have a true "Neutral" setting. When you are using it as an edger or trimmer, it is meant to saw right along at it's highest RPMs. If you need to stop to say move a tree branch out of the way, you are supposed to move it to the lowest setting to simply idle.
Depending on where it's sitting, the blade might still move a little even at low idle. This could be a major operator safety issue if you aren't careful. If you do need to step away from the controls for any reason, make sure that there is sufficient distance between you, the blades, and the object you need to move. If for some reason something gets jammed up in the blades, such as an unknown tree root or string, you should turn the unit off before you free it.
Maintenance
The McLane 101-4.75GT-7 is easier to maintain than wrestling with a stubborn trimmer string SNAFU. However, you do need to keep an eye on the oil level, as it can burn a little oil from time to time. From the get-go, around 75% of a quart of oil, which is 24 fluid ounces, is just about right.
If you notice that the oil level is a little low, you can add a small amount and then start it. Just make sure you give it time to level out before checking and measuring more.
Safety Features
Technically the McLane 101-4.75GT-7 meets all US safety standards for this type of equipment. Yet the lack of a true neutral setting in the throttle control raises an eyebrow about just how thorough US safety standards are for gas-powered edger/trimmers. Just give it some space if you need to step away from the controls to move something, and of course, never leave it running unattended.
McLane also offers an accessory "Curb Wheel" which might help you stay dead-on when you are working along with a garden or flower bed.
Special Features
On the face of it, the "Easy Pull Start" probably doesn't sound all that special, but it really is much easier than other pull start and recoil systems.
Cost Effectiveness
Compared to the cost of replacement trimmer string, and time lost to tangles, the McLane 101-4.75GT-7 will probably pay for itself in the long run.
A powerful gas trimmer and edger in one
PROS
5.5-foot pounds of torque
2" X 9" heavy duty spring steel blade
Single lever blade clutch
Easy to operate pull start
Made in the United States
Meets current US safety standards
Versatile as an edger or trimmer
CONS
A little on the heavy side
Oil level can be a little hard to read
The blade can possibly move at low idle
Curb wheel is an optional accessory
Add your review


McLane 101-4.75GT-7 9-Inch Gas Powered Lawn Edger Review