When it comes to a self propelled lawn mower, the Powerworks® 21-inch 40v Lithium Self-Propelled Mower is perfect for making sure your lawn is properly mowed without using gas. Electric lawn mowers are the latest green innovation. The lawn is something that every homeowner needs the right tools...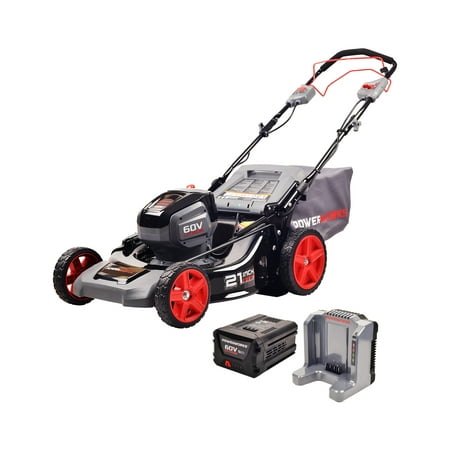 POWERWORKS 60V 21? Brushless Self-Propelled Mower - Performance through Power ? POWERWORKS 60 Volt tools are designed to get the job done! Our 60V Self-propelled mower is the most revolutionary battery-operated system delivering powerful performance and durability. Our self-propelled mower makes...

The POWERWORKS MO60L512PW shares a lot in common with other successful battery-powered lawnmowers in their line. Though it takes another convenient step forward by including a self-propulsion system.
It has a 21-inch cutting deck to really chew through the square footage of a lawn. The robust steel cutting blade is powered by a 60-volt brushless electric motor. Not only does this make for quiet operation, it also helps make the most out of the battery charge. From max, the 5.0 Ah lithium-ion battery can last up to 70-minutes of continuous runtime. Depending on the characteristics of your lawn it can mow half to three-quarters of an acre on a single charge.
The POWERWORKS MO60L512PW was designed to be very versatile. It's a true 3-in-1 cordless electric lawnmower. You can leave it for side discharge if you prefer or you can set it up to bag the grass clippings in the large heavy-duty cloth grass collector.
If you've had problems in the past with thatch buildup from excess grass clippings, you might want to set it up to mulch. This mode employs Smart Cut Technology to essentially mince the grass clippings into little pieces that quickly decompose back into the soil. Though this mode does draw a little bit extra power to rev up the RPMs of the cutting blade, which will shave down the total runtime.
The cutting deck can be adjusted to 7 different height settings. This lets you dial it down low to keep up with your lawn when the grass is growing vigorously or set it higher to leave the grass long to help preserve soil moisture during dry times of the growing season.
The POWERWORKS MO60L512PW was also designed for convenient storage. When you're done cutting the lawn, you can quickly collapse the handlebar controls down into a relatively small package. Though this lawnmower is probably a little too heavy to hang. Still, you can save a lot of square inches in the garage by simply standing it on end.
It's also worth noting that the 5.0 Ah lithium-ion battery can be used with a few other tools in the Powerworks and Snapper line.
Key Features
60-Volt brushless electric motor
Engineered for quiet running
3-in-1 functionality
Mulch, bag or side discharge
21-inch cutting deck
7 height settings
70-minute maximum runtime
5.0 Ah lithium-ion battery
Self-propelled
Designed to store vertically
The battery can be used in some other tools
Performance
The brushless 60-Volt electric motor really applies superior torque to the 16-inch cutting blade. At the same time, the self-propulsion system takes most of the effort of pushing the battery-powered electric lawnmower. When set for bagging or side discharge the 5.0 Ah lithium-ion battery can provide up to a 70-minute runtime. This is enough to handle between a half to a three-quarter acre lawn.
When set to mulching mode Powerworks "Smart Cut Technology" ramps up the RPMs of the 21-inch cutting blade. While this does a great job of breaking the grass clippings down into tiny pieces, it also does rob a little bit of the overall runtime. Just how much depends on the type and length of the grass.
Ease of Use
The POWERWORKS MO60L512PW was designed with ease of use in mind. It's surprisingly nimble for a self-propelled lawnmower. When you're done cutting the grass the handlebar controls fold down into a compact package. They even designed it to be stored vertically to take up less space, which is handy if you have a small garage or tool shed.
Cut Quality & Options
The POWERWORKS MO60L512PW's 21-inch cutting deck can be adjusted to 7 distinct height settings. This means you can dial it into the condition of your lawn. If periods of rain and sunshine have sparked a massive growth spurt in your grass, you can dial the cutting deck down low to stay ahead of the game. If the grass has grown long and there's a long dry stretch in the forecast, you can set the deck higher to keep things trimmed up, yet still, preserve enough soil moisture to keep the turf from going dormant.
Maintenance
POWERWORKS MO60L512PW's was designed for minimal maintenance. operation. When you are done cutting the grass, you just need to clean away any clogged-up grass clippings in the bagger or the discharge chute. Then place the lithium-ion battery on the smart charger and take it off when it reaches maximum.
Safety Features
The POWERWORKS MO60L512PW's has the standard handlebar controls, as well as a secondary on-off switch.
Special Features
The mulching system with its Smart Cut Technology speeds up the RPMs of the cutting blade. This minces the grass clippings into tiny that decompose easily back into the turf.
This battery-powered electric lawnmower was designed to store vertically. You simply collapse the handlebar controls and stand it on end. This saves precious square inches in the garage or tool shed. Just keep in mind that it's probably too heavy to hang from a wall.
Cost-Effectiveness
As a battery-powered lawnmower, you're already saving money because you don't have to hassle with spark plugs, oil, and gas. The large 21-inch cutting deck also allows you to harvest more grass in a single sweep than a lot of other electric lawnmowers.
The 5.0 Ah lithium-ion battery this mower runs on is a little spendy to replace. Yet this cost is offset by the fact that it's compatible with a lot of other Powerworks and Snapper 60-Volt tools, which gives it value beyond just being a lawnmower battery. So, if you're a fan of Powerworks and Snapper tools, chances are you already invested in a spare battery or two along the way.
Powerful battery powered lawnmower with 3-in-1 functionality
PROS
3-in-1 versatility
Brushless 60-Volt electric motor
Quiet operation
Up to a 70-minute runtime
Can be stored vertically
"Smart Cut Technology"
CONS
Too heavy to hang
Bagger extends a little too far
Hand controls are a little stiff
Add your review

Powerworks MO60L512PW 60V 21″ Brushless Electric Battery Lawn Mower Review