When it comes to a self propelled lawn mower, the Powerworks® 21-inch 40v Lithium Self-Propelled Mower is perfect for making sure your lawn is properly mowed without using gas. Electric lawn mowers are the latest green innovation. The lawn is something that every homeowner needs the right tools...

$

615.01
1 new from $615.01
in stock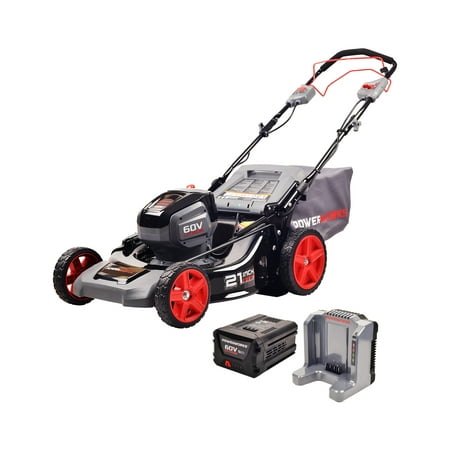 POWERWORKS 60V 21? Brushless Self-Propelled Mower - Performance through Power ? POWERWORKS 60 Volt tools are designed to get the job done! Our 60V Self-propelled mower is the most revolutionary battery-operated system delivering powerful performance and durability. Our self-propelled mower makes...

Powerworks is a fast-growing tool company that has exploded onto the scene in the US marketplace. The POWERWORKS MO60L513PW cordless electric lawnmower has a 60-volt brushless electric motor that really delivers a superior level of torque to the durable mower blade. Yet it's also surprisingly quiet, thanks to the brushless engineering. On a single charge, the 5.0 Ah lithium-ion battery can provide up to 70-minutes of run time. This is usually enough to mow between a quarter to a half-acre lawn.
The 21-inch deck is large for a battery-powered electric lawnmower, so you know that you are harvesting more blades of grass in a single pass. It's really handy for lawns that have a lot of wide-open spaces. There's also a single lever that controls the height of the cutting deck through 7 distinct settings
The POWERWORKS MO60L513PW is also a 3-in-1 lawnmower. You can use it as side discharge, a mulching mower or a bagger. This is very handy for lawns that frequently have problems with thatch buildup, or if you just want to be able to feed some quick nitrogen to a compost pile.
Powerworks even took the time to think about storage. The POWERWORKS MO60L513PW folds down quickly and was designed to store vertically. Just keep in mind that this mower is a little bit on the heavy side, so it's meant more to stand up rather than hanging from a robust fastener.
Powerworks also stands by the quality of their product. The MO60L513PW is backed by an impressive four-year warranty, which is a full step more than many of the competitors in this niche that typically offers two or three years of warranty coverage.
The 5.0 Ah lithium-ion battery that comes with the purchase can also be used in other Powerworks and Snapper 60-Volt tools.
Key Features
60-Volt brushless electric motor
5.0 Ah lithium ion battery
70-minute average run time
21-inch cutting deck
7-height positions
3-in-1 versatility
Smart Cut Technology mulcher
Bagger, mulcher or side discharge
Can be stored vertically
Battery is compatible with other tools
Backed by a 4-year warranty
Performance
The 60-Volt electric motor imparts a lot of torque to the cutting blade. Yet the brushless engineering also makes it much quieter than many of the POWERWORKS MO60L513PW's closest competition. The 70-minute average runtime from the 5.0 Ah lithium-ion battery is impressive and you'd be hard-pressed to find something significantly better.
Ease of Use
The bagger for this battery-powered lawnmower is surprisingly easy to connect and disconnect. While that might not seem like a big deal on paper, if you've ever wrestled with a stubborn bagger you'll enjoy this one. Though the bagger does stick out a ways off the rear of the mower, and there will be times when you are essentially stubbing your toe on it.
Cut Quality & Options
The POWERWORKS MO60L513PW has a 21-inch cutting deck that really takes down a lot of grass in a single pass. Yet this battery-powered electric lawnmower also has the nimbleness to work around landscaping features and trees without feeling clumsy.
This mower is a 3-in-1, which means you can use it for side discharge, as a mulching mower, or as a bagger.
The advantage of mulching is that it essentially minces the grass clippings into tiny bits that then settle into the upper layers of the turf. This encourages them to quickly decompose, adding nitrogen back to the soil, and preventing thatch buildup near the root line. When you set it up to mulch Powerworks special "Smart Cut Technology" ramps up the RMPS of the cutting blade. Though this does shorten the overall runtime a little bit.
When you set it up as a bagging lawnmower, the harvested grass clippings are stored up in the large, rear-mounted cloth bagger. You can then add them to your compost pile to give it a nice boost of nitrogen.
Maintenance
Powerworks designed the POWERWORKS MO60L513PW specifically for low maintenance operation. You don't have to worry about the gasoline, oil, and recurring spark plug problems you often get with a gas-powered lawnmower.
All you really have to do is clean away any clogged-up grass clippings in the bagger or the discharge chute. Then put the 5.0 Ah lithium-ion battery on the smart charger. When it reaches the maximum, take the battery off to prevent overheating.
The 21-inch steel blade under the cutting deck is relatively robust. If you know your way around a fine-toothed mill file you could probably sharpen it yourself.
Safety Features
The POWERWORKS MO60L513PW has the standard handlebar controls, as well as a secondary on-off switch.
Special Features
The Smart Cut Technology is essentially the mulching system. When engaged it ramps up the RPMs of the cutting blade. This minces the grass clippings into fine particles that decompose easily to help refeed the turf.
It's also worth noting that the POWERWORKS MO60L513PW was designed to store vertically. You simply collapse the handlebar controls and stand it on end. This saves precious square inches in the garage or tool shed. Though it's probably too heavy to hang from a wall.
Cost-Effectiveness
Right off the bat, you are saving time and money by not having to hassle with gas, oil, and cleaning a carburetor as you do with a gas-powered lawnmower. The 21-inch cutting deck also means you are harvesting more grass in a single pass than a lot of other electric lawnmowers. The steel of the cutting blade is also robust enough that you can possibly sharpen it yourself, rather than buying a replacement blade every year or two.
If there's an area that might drive up the cost of ownership with the POWERWORKS MO60L513PW it's the 5 Ah lithium-ion battery. While it's designed to stand the test of time, all batteries have a finite lifespan and the 5.0 Ah lithium-ion battery this mower runs on is a little spendy to replace. However, this cost can be offset by the fact that it's compatible with a lot of other Powerworks and Snapper 60-Volt tools, which gives it value beyond just being a lawnmower battery.
Battery powered electric lawnmower with compact vertical storage
PROS
3-in-1 versatility
Brushless 60-Volt electric motor
Quiet operation
Up to a 70-minute runtime
Can be stored vertically
"Smart Cut Technology"
CONS
Too heavy to hang
Bagger extends a little too far
Hand controls are a little stiff
Add your review

Powerworks MO60L513PW 60V 21″ Brushless Battery Lawn Mower Review