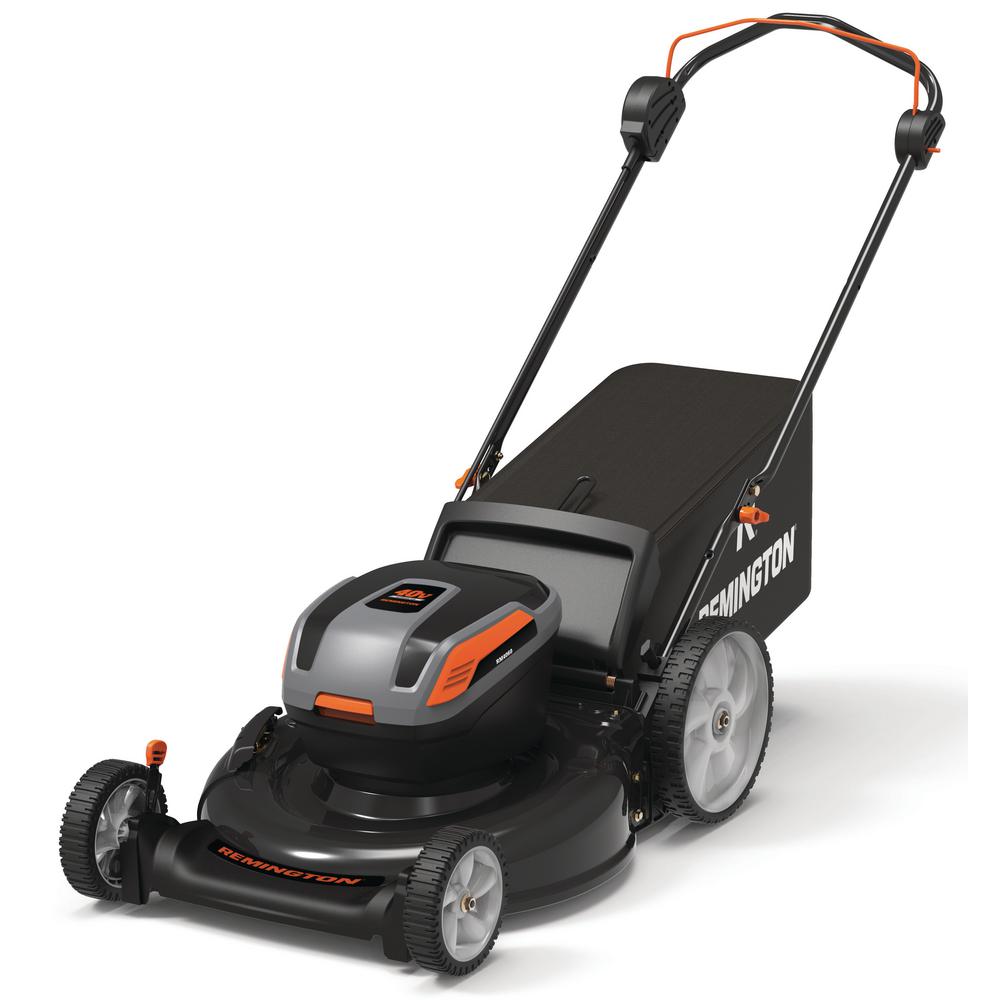 Save time and effort with this 40-Volt battery-powered 3-in-1 mower. Tame your yard and then choose your weapon for managing the clippings - mulch, side-discharge or rear bagging. And because it runs on a powerful 40-Volt battery, you never need to worry about running out of gas.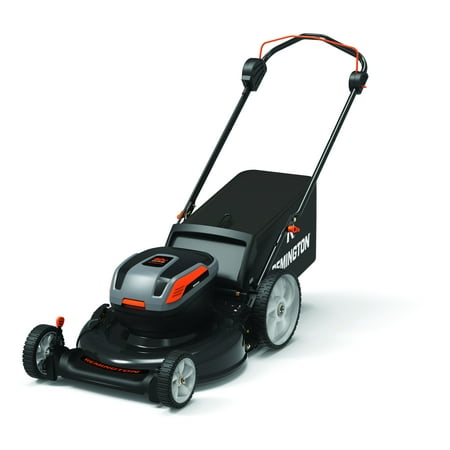 Save time and effort with this 40V battery-powered 3-in-1 mower. Tame your yard and then choose your weapon for managing the clippings - mulch, side-discharge or rear bagging. And because it runs on a powerful 40V battery, you never need to worry about running out of gas.

Boasting a clean look that shows it's all business, the Remington RM4060 40-volt keeps yards looking sanitized as well. It's an electric-start beauty that cuts a solid path as you walk behind it–21 inches to be exact. Made for flat land of up to one-fourth of an acre, the RM4060 will appeal to a wide range of homeowners who want a clean cut, who don't want the hassle of nasty fumes and spills, and who are looking for a cutting-edge mowing machine with intuitive controls and impressive results.
Gas is a thing of the past with the RM4060, but don't think you're getting cheated out of power. This machine has a specialized battery-power function that has all the power of a gas engine.
This 3-in-1 mower offers bagging, mulching, and side discharge options. It comes with a charger and three-year limited warranty.
Key Features
Powerful 40-volt battery capacity for gas-free operation and a precise cut
21-inch deep-dome cutting deck that is rust resistant
Mulching, bagging, and side discharge mowing options
Easy push-button starting to get going right away
Sturdy, large wheels, including ball-bearing rear wheels, with tough tread to handle unpredictable landscapes
40 x 24 x 18 inches
84 pounds
Performance
With the simple push of a button and the engagement of the lever on the handle, the RM4060 is ready to mow. Its powerful battery slices through the thickest of grass with ease, making your lawn look nice and landscaped in no time. A 21-inch cutting deck that rust won't touch is large enough that you won't have quite as many passes as you would on a more compact mower, and the dual-lever height adjustment has six cutting options depending on what type of grass or unforeseen debris you may have on any given day. It's also great not to have to breathe in the smelly exhaust fumes that result from bursts of smoke coming out of the side of the mower. This is a lean and clean mower that also has heavy-duty components to it.
Ease of Use
A cutting-edge mower like this one is bound to have some easy options for users, so let me list them here. We've got easy push-button starting, so there's no priming to worry about or a cord to pull; dual-lever height adjustments with six cutting heights to choose from; and an adjustable and comfortable handle. The durable bag clips on and off easily, should you choose to bag, and those large, 11-inch all-terrain wheels in back are a thing of beauty as they roll atop yards, making navigation much simpler when the terrain gets weird. These are wheels that crunch leaves below them like they're nothing and may even snap a few twigs as the 84-pound mower is pushed onward.
Cut Quality & Options
Springtime is here and homeowners have begun mowing again. For the most part, grass right now comes in a bit thinner as it grows, oftentimes with little patches throughout the yard that are taller than the rest of the greenery. There's also those residual pesky leaves that somehow survive winter and continue to be scattered throughout yards. I bring these early-springtime conditions up because the RM4060 40-volt is a 3-in-1 mower that gives you mulching, bagging, and side discharge options. That's great to know when you're entering into a new season and have to gauge how you want to take care of your yard. You can choose your mowing weapon, so to speak.
The wheels on this mower are durable and large, measuring in at 8 inches in the front and 11 inches in back. I used the left side of this mower to slip into a divat on the side of my yard, backed it up, and then used the right side of the mower to do the same thing. Both sides of the divat were cleanly cut, not scalped thanks to one of six cutting-height options that was spot on, and I could tell this was a machine that handles pretty well on imperfect terrain, though make no mistake, it's best for terrain that doesn't have slopes.
The motor on the RM4060 is as impressive as what you'll find on a gas-powered mower, so expect to cut through those tall patches with no problem. People of all sizes can use this machine standing tall and proud thanks to the adjustable handle. No back pain here, thank you very much.
Maintenance
Though there's less maintenance overall on a battery-powered mower compared to gas-powered ones, you definitely have to maintain it to make sure it lasts a long time like you want it to. So clean it, check the blade regularly, make sure the ventilation slots are free of debris, and check to make sure all the mower's fasteners, including on the wheels are as tight as they can be. Vibration and rough terrain can loosen them over time.
Your battery for this mower will require maintenance as well, so check the owner's manual for tips on keeping it–and the rest of the RM4060–in tip-top shape during the mowing season and when you need to store it long term. This mower comes with a three-year limited warranty.
Safety Features
For safety purposes, the RM4060 requires a two-stage start-up process in which the button on the side of the handle must be depressed, and following that, operators pull in the lever on the handle to engage the mower.
Special Features
The clean-cutting power of the RM4060 40-volt is perhaps its most impressive feature. Give it a charge with the included charger and you'll see–gas and oil are smelly, sloppy methods of power that you won't miss. Other great features include:
A 21-inch deep-dome 3-in-1 cutting deck
11-inch all-terrain rear wheels
A dual-lever, 6-position cutting-height adjustment
Comfortable handle
Cost Effectiveness
Battery-powered mowers like this one ooze with cost-saving and time-saving enticements. The time-saving elements come in via the 3-in-1 mowing options–mulching, bagging, and side-discharge–each of which has its own benefits and uses during different times of the season. The powerful 40-volt battery ensures that gas payments are nonexistent, and meanwhile, you won't have to worry about pesky maintenance to-do items such as checking the oil, replacing the spark plug, or inspecting the air filter to see how dirty it is. At the center of the action is the rust-resistant deck that is built to help mowers with their task in a quick and efficient manner.
PROS
Cordless
Push-button start
Large rear-wheels
Big, rust-resistant deck
3-in-1 mowing options
Adjustable, ergonomic handles
CONS
Not self-propelled
Plastic parts
Add your review

Remington RM4060 40-Volt 21-Inch Cordless Battery-Powered Push Lawn Mower Review