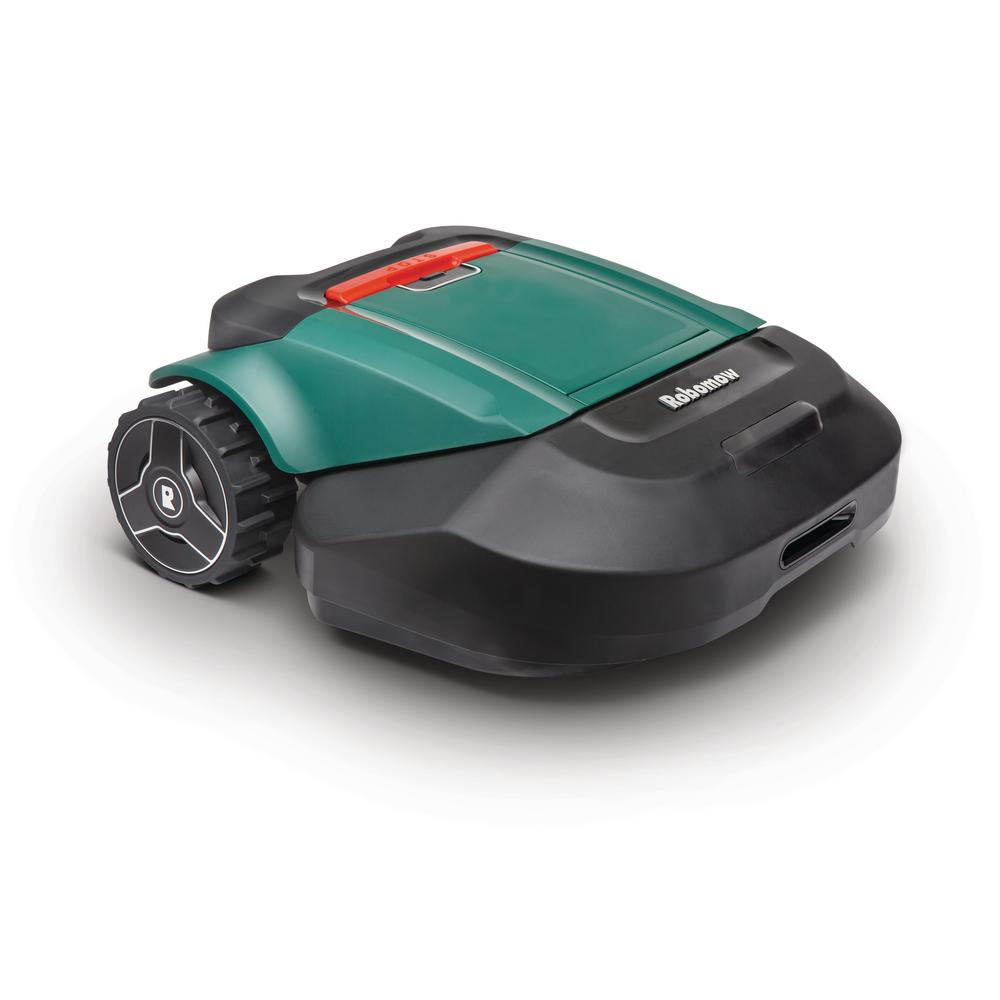 Robomow RS630 22 in. Twin Blade Battery Powered Electric Robotic Lawn Mower (Up to 3/4 Acre)

One question will almost always quickly decide in minutes whether a robotic lawn mower such as the Robomow RS630 justifies a higher upfront price tag: how much is it worth to never again compromise more free time and money in favor of a pristinely manicured yard?
In due course, that breaks down into a set of smaller questions. How much do you spend every 12 months on oil, gas, filters and spark plugs? What's the total when you add the cost of your mower itself? What else could you be getting done during the weekend hours you spend mowing? How do you appraise the value of more time for the things you want to do?
In terms of technology, the Robomow RS630 might be a step or two behind more autonomous, innovative and feature-rich competing robotic mowers. Seemingly every advantage it offers comes with some minor caveat. In the end, however, its handful or so of drawbacks seem trivial compared to independence from spring and summer landscaping duties.
Key Features
Handles slopes up to 35 percent
One knob adjusts height in seconds
Multi-zone mapping
Rain sensors halt operation and return mower to dock upon sensing wet conditions
Exceptionally wide dual blades reach farthest inner edges of 22-inch deck
Remote control with Bluetooth connectivity lets you directly adjust the mower's schedule, dispatch it instantly, double-check battery life and direct it toward areas needing additional attention
Performance
The Robomow RS630 genuinely shocked me with its rugged movement. For one thing, a 22-inch deck isn't huge among walk-behind or riding mowers. As robotic mowers go, that's a surprisingly big body and the 44-pound mower's premium drive wheels are more than up to rampaging right through some surprisingly rough stuff. Robomow claims this plucky guy can handle up to a 35-percent incline, and I can happily vouch that they didn't exaggerate in the least. It didn't slow down a beat going uphill or down and turned on a dime as if driving on perfectly horizontal ground. It dances in and out of tight spaces and briefly kills the cutting system's motor while it reroutes after coming across something bumpy like a tree root or larger pinecones. Don't worry about leaving the job half-finished, either. Since it navigates randomly while cutting, the Robomow RS630 will likely circle back later and finish the job.
There's a give-and-take to the Robomow RS630's battery life, one that's quite common among robotic lawn mowers. Here's the good news: the 26V 6.0 AH Lithium Bromide battery feeding its 400W motor charges in a mere two hours. The bad news? You have about 50 to 70 minutes of working time before the mower needs to retreat and refresh for a bit. Keep in mind, however, that the battery has an overall life expectancy of 5,000 full charges over an estimated three to five years before its performance and working time begin to drop off. In terms of noise pollution, the 74 decibels the Robomow RS630 emits are far less than the noise pollution almost any walk-behind or riding mower cranks out, but is a bit on the loud side among robotic mowers.
Ease Of Use
Don't expect me to ever give up pointing out how long it takes to set up any robotic lawn mower's wire boundary.
After placing the base charging station somewhere fairly sheltered on your lawn, you will draw a border surrounding your yard with green perimeter wire that routes an electrical current along the edges of the Robomow RS630's intended mowing area. The multi-zone mapping feature allows it to store up to four separate regions isolated by paths or areas you don't intend for the mower to cut, but a more detailed map of your lawn also makes for a more intricate, time-consuming mapping process. Again, I don't make note of this to set this model apart from its peers. Quite the opposite, in fact: it's an inevitable one-time inconvenience in exchange for enduring freedom from having to shove around or drive a mower around your yard when you would rather watch baseball or drink in some quality time with your family. The wires need to remain flush to the ground and fairly straight a fixed distance from the edges of your mowing zones. Make sure to align the boundaries carefully around obstacles so that the mower knows just how to navigate and cut closely around them.
Color me impressed by the Robomow RS630's onboard calculator. Its sensors and software allow the mower to estimate the expected time needed to complete its scheduled mowing. All you have to do is enter the approximate square footage of your lawn. One variable or another might trip up its actual working time a bit, but the unit I tested consistently nailed its estimate within about 15 minutes over the course of a month. That's a whole new dimension of reliability.
The Robomow RS630 is one of the most completely weatherproofed robotic lawn mowers I've ever had the pleasure of testing, but it isn't impervious to moisture. In fact, it gets stuck easily traveling through watery patches. Fortunately, the sensitive automated rain sensor will tell the RS630 to high-tail it upon sensing excessive wetness and allows you to manually tweak the degrees of dampness it will and won't work through. You could even theoretically allow it to keep cutting amidst a light rain instead of retreating to its charging base, but I would not recommend it. Electronics tend to be highly allergic to water.
Finally, the app-based remote control suite swiftly manages most key aspects of the Robomow RS630's performance directly from the iOS or Android device of your choice. You will not only see your mower's progress while it works but be able to control it personally at your discretion while checking its battery life and reviewing its schedule. In the absence of increasingly common algorithms that permit robotic mowers to independently monitor your lawn's growth and make their own mowing plans accordingly, this is still a pretty nifty convenience that never fails to please me.
Cut Quality & Options
The hinge technology of the Robomow RS630's floating deck allows its twin arrays of three triangular steel blades to cut cleanly and evenly along a broad cutting path, even over rugged ground, by preventing the base from rising with the wheels. Instead of a lever, a single concealed knob adjusts the cutting height from less than an inch to just over three inches in seconds. Mowing in an entirely random pattern within any given set of boundaries ensures that surgically precise slices leave behind an immaculately neat, carpet-like finish that has to be seen and felt to be believed. That degree of finesse is matched only by the cutting system's deceptive power. Smaller sticks don't stand a chance against the astonishingly strong blades and the clippings left behind are of a perfect size and consistency that degrades quickly and returns nutrients to your lawn as closely as possible to the roots of your turf.
Last but not least, Edge Mode is a revelation. Careful engineering pushes the blades as close as possible to the wheels and and edges of the deck to maximize the Robomow RS630's cutting swath, but Edge Mode plots a course specifically along every edge of your lawn before shifting into its normal mowing functionality. Alternately, you can forego edging and start the mower in its ordinary mode. Toggling between the two options or sending the mower straight back to its dock is as quick and easy as pushing a button.
Maintenance
"Maintenance?" What maintenance? You could find more than a few robotic lawn mowers with more dazzlingly advanced software than the Robomow RS630. Let's be honest, I've recommended plenty of them myself. You won't find very many as physically durable and thoroughly weatherproofed as this one. If there's a drawback worth noting, it might be the blades. Granted, you couldn't cut much more expertly if you repurposed a surgical laser to trim your lawn, but maintaining that peak quality might mean replacing the blades annually. At the very least, you will want to swap in a new set every two or three years, but do assess their efficiency and your lawn's finish at the end of every season to decide whether to change out or merely set aside some time for a little sharpening. Fortunately, you can replace any of the snap-on blades with no tools whatsoever fairly quickly.
On a somewhat related note, it's a good thing the Robomow RS630 is built to last. A brief one-year warranty for any lawn or garden tool is a joke.
Safety Features
You would be hard-pressed to find many mowers in any class as safe to operate around children and pets as the Robomow RS630. Upon even the slightest contact with any unexpected obstacle in its path, from an inanimate object to an animal or human body part, it instantly stops cutting and turns itself around to resume along an unobstructed path. Between its intuitive redirection, dependable child lock and adaptive speed control, this mower is as accident-proof as any model of its kind gets.
Cost Effectiveness
At last, we circle back to that debatable bottom line: the Robomow RS630's cost effectiveness is in the eye (and wallet) of the beholder. A smaller riding lawn mower available for around the same price will probably be nicely sized to navigate three-fourths of an acre, roughly the biggest yard this autonomous-trimming dynamo should be tasked to handle with a fully charged battery. The former also doesn't require a second thought about operation in a light rain or whether the grass has grown too thick or high for it to handle the job in a single session. Then again, the personal attention a riding or walk-behind mower demands from one season onto the next disappears for the next three to five years as soon as you muster the money bring the Robomow RS630 home and the patience to spend an afternoon carefully setting up its boundaries. If you truly loathe mowing and would indeed give just about anything to spare yourself hours and expenditures that add up fast year after year, this mower certainly belongs near the top of your shortlist based on just how fast it pays for itself.
One of the best robot lawn mowers
PROS
Impervious weatherproofing
Quiet
Surprisingly powerful cutting for its size
Charges fast, long overall lifespan
Pays for itself rapidly with minimal maintenance costs
CONS
Lengthy setup
Brief working time per full charge
Price comparable to riding mower
Potential for yearly blade replacement
Add your review

Robomow RS630 Robotic Lawn Mower Review