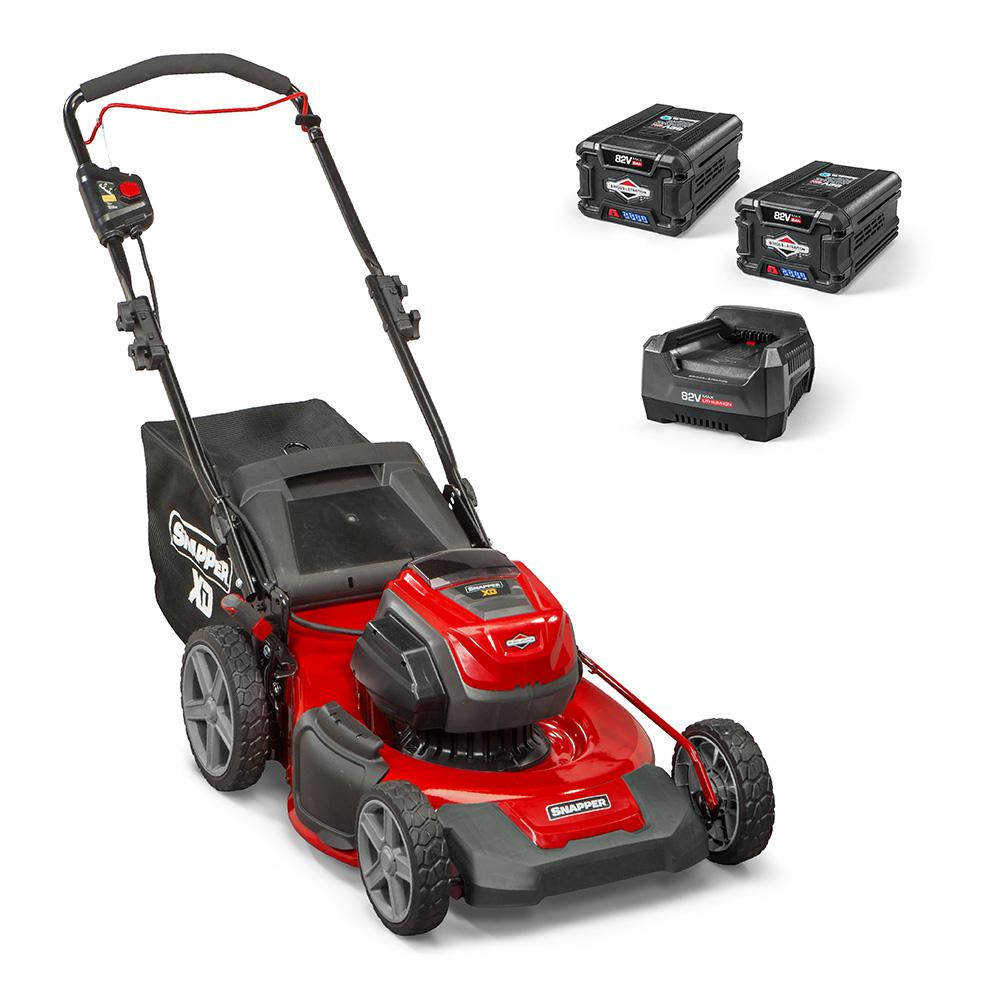 "Model#: 1687884 : Model Name: SXDWM82K Snapper XD SXDWM82K 82V 21 Inch Cordless Walk Mower Kit Battery & Rapid Charger Included. The Snapper XD 82 Volt 21"walk mower kit powered by Briggs & Stratton offers a powerful, durable and reliable battery powered tool that delivers on performance....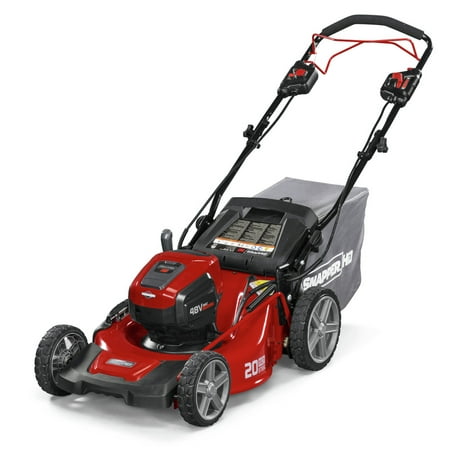 Up to 60 minutes of run time with 5.0 Ah Battery under light loads so you can mow and move on to your next chore3-in-1 mulch/bag/side-discharge options on 20-inch steel deck so you can mow to your preferred styleIntelligent load sensing technology which allows for optimum power levels while you...

The self-propelled Snapper P2185020E makes a compelling that a gas-powered mower engineered for an equilibrium of performance and convenience can sometimes be worth every cent of its price tag and then some. As walk-behind mowers go, its exceptionally powerful engine, ingeniously designed cutting system and seemingly unstoppable drive components allow it to handle daunting spreads of thick, tall grass one might ordinarily employ nothing less than a riding mower to manage. That's saying a mouthful, considering that this titan of turf weighs in closer to the neighborhood of heavier electric mowers than its fuel-gulping brethren.
Key Features
Briggs & Stratton 850 Professional Series 190cc OHV engine with electrical starting system – no priming or choke
Three options to dispense clippings: bag, mulch or side-discharge
Choose from seven height-adjustment options
Trio of rear-wheel drive, variable-speed disc drive transmission and smooth-turn differential sharpens self-propelled maneuverability without compromising cutting quality
Revolutionary 21-inch HI VAC deck with rolled edge inhales clippings as its distinctive blade cuts, leaving behind a smooth finish thanks to a unique suction system
Three-year residential warranty
Performance
You just have to feel the strength of that 190cc Briggs & Stratton 850 Professional Series OHV engine. No gas mower tipping the scales at a lean, mean 90 pounds should pack this much muscle. Far and away America's strongest engine loaded onto a push mower, the P2185020E makes a finely shredded salad of every adversary from wet grass of a more modest growth to anywhere from eight to 10 inches of St. Augustine savannah. Please believe that this Briggs & Stratton's cutting power is equaled only by its astounding durability. I've spoken to longtime Snapper owners who have replaced only two engines on the same mower in just over a decade of steady use.
I'm always impressed when a manufacturer clearly prioritizes agility on par with toughness. Get behind the P2185020E for just one pass, and I guarantee you will have no choice but to tip your cap to Snapper's commitment to this mower's deceptive maneuverability. It can hit up to 4 mph propelled by its rugged 10-inch rear drive wheels fitted with ball bearings for long-lasting fluid mobility, virtually no damage to your lawn and uncompromised quality cutting every inch of the way. When paired with stout Briggs & Stratton brawn, Snapper's signature variable-speed disc drive transmission and smooth-turn differential make tight maneuvering look easy without breaking its pace even on hills that would stall some heavier mowers.
Ease Of Use
The P2185020E operates impressively easily, once you get past its curiously frustrating setup. Your immensely satisfying mowing experience, unfortunately, begins with a surprising degree of assembly required, most of it guided by some of the more frustrating instructional diagrams I've encountered accompanying a powered lawn tool. Before throwing out your receipt, triple-check your included parts against the manufacturer's manifest and hold onto all paperwork until your first few mowing days have passed without incident. Customers have sporadically had to contact Snapper to address broken or missing parts, almost always to more-than-satisfactory resolution.
Otherwise? I always consider "idiot-proof" a somewhat mean-spirited descriptor for ease of use, but the fact is, anybody could fire the P2185020E up in an instant and be manicuring greenery like a seasoned professional in minutes. The electric starter eliminates all need for a primer or choke and should serve as a measuring stick for any gas mower's efficiency. Between abandoning the archaic pull-start mechanism and steady responsiveness of its throttle, this is a sturdy, formidably powerful machine that won't overwhelm physically limited owners.
Cut Quality & Options
You theoretically could choose to side-discharge or mulch your clippings and probably have nary a complaint, but the P2185020E's stamped steel 21-inch HI VAC deck's rolled edge and innovative vacuum system is built for bagging. As the uniquely shaped blade slices with a scalpel's precision and orders of magnitude swifter speed and strength, the cutting system creates tremendous suction that inhales virtually every trace of shredded grass and leaves behind an immaculately tidy finish. Wherever you encounter uneven terrain or unusually thick, tall grass in your pass, the extra-tough rubber wheels all lift or lower swiftly and simultaneously by engaging a single lever that transitions among seven height settings from 1.25 to four inches. This thing doesn't so much "roll" as seemingly "glide" across the grass.
Maintenance
As mentioned above, beware sudden breakdowns. Defects are not quite common enough to discourage a purchase entirely, but they do happen. Be sure to fill the engine with 18 ounces of oil before the mower's first use, as it does not ship pre-filled. Also, tilting the mower onto its side for upkeep tends to be a bad idea, as the P2185020E has a habit of spilling its gas past its carburetor and into the engine, where it floods the cylinder and fills the crankcase.
For all other incidences, Snapper covers their machine with their standard three-year consumer warranty.
Safety Features
Other than an engine that shuts down as quickly as it fires up and the bailing bar customary to nearly any self-propelled mower, the P2185020E doesn't really include any exceptional safety additions.
Cost Effectiveness
Here's the one sticking point that can become a deal-breaker: the price. P2185020E goes for around $200 more than an average self-propelled gas mower. Then again, not every mower is as comparatively light, maneuverable, incredibly powerful or notably durable as this one. Longevity alone goes a long toward making it easy for this model to pay for itself with sheer volume of use before it could finally give up the ghost on any given pass. If you find yourself on the fence deliberating between whether your lawn is too big for a self-propelled mower or too small to justify a lawn tractor, Snapper potentially makes a case for gutting it out with a walk-behind model.
Exceptional cutting power & astounding durability
PROS
Cutting power to spare
Drive system handles hills with ease
Big rear wheels for rough terrain
Fast, easy height adjustment
Superb speed control
CONS
Lots of assembly required
Pricey
Tipping on side for maintenance risks flooding engine cylinder with fuel
Add your review

Snapper P2185020E Hi Vac Gas Powered Self Propelled Lawn Mower Review