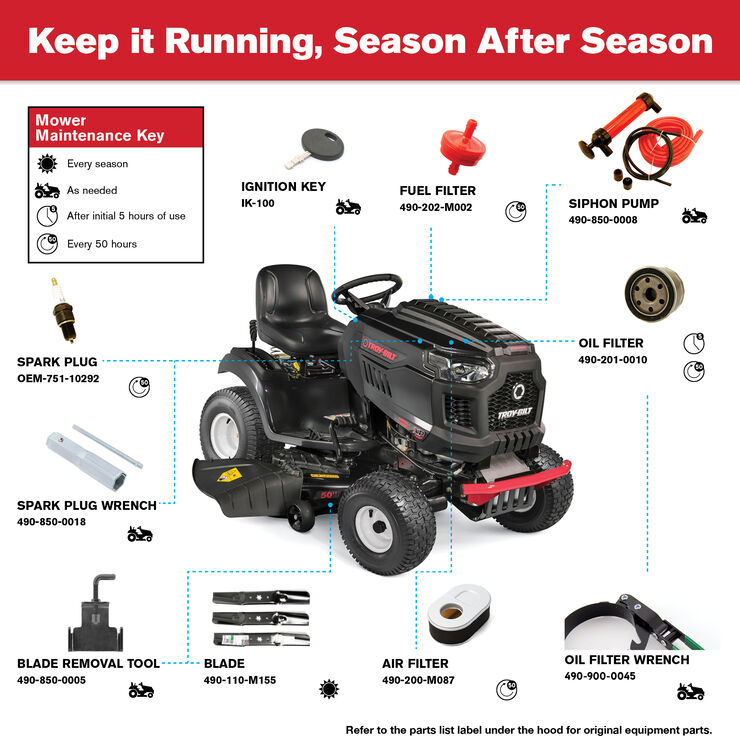 Super Bronco 50 XP Riding Lawn Mower Features
Clean, Precise Cut
50-in deck ,with anti-scalp deck wheels to prevent turf damage, delivers a clean, even cut
Durability
Cast iron front axle for added durability and rugged performance
Ride with Comfort
Ride with more comfort and support with the adjustable high back seat
If you have a large lawn, then chances are you are interested in a riding lawnmower that will show you a full return on your investment. Of course, it's not enough to simply cruise along for a ride and leave the blades to do what they may.
The Troy-Bilt Bronco was designed with comfort in mind. The high back seat is very comfortable. Even the "Soft Touch" steering is designed to turn easily, which can save you a lot of effort if you happen to have a lawn with a lot of trees and complicated landscaping features.
Troy-Bilt's Bronco comes with a 679 cc gas powered engine. This is designed to give it the power to handle the cutting blades, the hydrostatic transmission, and the Soft Touch steering.
The front axle is made from cast iron for extra strength. This also helps in the long term if your lawn has a lot of hard turns that can stress axle components.
The Troy-Bilt Bronco also comes with the backing of a three-year limited warranty.
Key Features
Soft Touch steering for easy maneuverability
679 cc gas-powered engine
Hydrostatic transmission to efficiently distribute the power
High back seat for maximum comfort
The backing of a three-year limited warranty
Cast iron, highly durable front axle
Performance
The 679 cc gas-powered engine has the power you need to drive the Bronco riding lawn mower along, while also making sure that the hydrostatic transmission has the grunt you need to perform as expected. This also makes it easier to climb inclines and make tight turns without bogging down.
Along the way, the comfortable high back seat and soft touch steering help keep you comfortable. This can be a big benefit if you have a bumpy or uneven lawn.
Just make sure that you are properly lubricating the zerk fittings. When the bearings run dry the Bronco has a nasty habit of slipping or breaking belts, which can really inject a whole lot of frustration into what would otherwise be a placid day of mowing.
Ease of Use
The Troy-Bilt Bronco is relatively easy to use, assuming that you maintain it properly. When you start putting low-quality gas in it, or if you forget to properly lube the bearings, or you are lax with changing the oil, it has a knack for coming back to bite you.
The Soft Touch steering and high back seat make it comfortable to operate. You won't suffer from the same backache and numb hands that you tend to get from other riding lawnmowers.
Cut Quality & Options
The Troy-Bilt Bronco has the ability to change mower deck height while you are on the fly. It can be a little awkward if you are going too fast. Still, at a lower rate of speed, you should be able to alter the deck height for a particularly thick stretch of lawn or if you need to tackle an awkward incline. This isn't always the case with the competition.
Cut quality is also a place where proper maintenance matters. If you are using old belts, or you have been lazy about properly lubing the zerks, then it has a nasty habit of letting the belts slip. The end result with random swaths and patches of long grass being left behind. It's exactly the sort of thing that you don't notice when it's first happening, only to spot it at the last minute while you are driving the tractor back to the garage!
Maintenance
As I mentioned before, proper maintenance is critical for avoiding some of the minor faults that can come up to snake bite you with the Troy-Bilt Bronco. Don't get me wrong, it's not a bad mower at all. You just need to make sure you are putting in your due diligence when it comes to oil changes, greasing the pulleys, checking the belts, and giving the air filter a good cleaning from time to time.
One other maintenance item to be aware of is the replacement blades. Troy-Bilt can sometimes be a little short in stock on them in the peak of the season. If you suspect that your old blades might need to be changed in the upcoming summer, make sure to order them in the spring. Once you have them in hand, they are relatively easy to change out.
If you live somewhere that the winter is cold or dark enough to end the growing season for your lawn, then make sure to put in the required amount of fuel stabilizer after your last cut of the season. This will reduce the chances of the fuel separating over the winter.
The Troy-Bilt Bronco is backed by a three-year warranty.
Safety Features
The high back seat on the Troy-Bilt Bronco comes with the usual pressure sensor that you expect with a riding lawnmower like this. The hydrostatic transmission system also helps keep it from running away from you, should you have a slip of the foot.
Special Features
The soft touch steering really is nice. If you have ever fought a riding lawnmower around a yard full of tight turns and landscaping features, you will be pleasantly relieved with the Troy-Bilt Broncos easy maneuverability.
Cost Effectiveness
If you are taking the time to maintain it properly, then the Bronco will take care of you and your bottom line. If you are lax with the kind of basic maintenance that a full-size lawn tractor needs, then chances are it will come back to bite you in special order parts and minor break downs.
Springing the extra money to always fill it with premium gasoline and properly storing it away in the winter will help you recoup your full return on investment in the long term.
Powerful riding lawnmower
PROS
Soft touch steering for easy control
Hydrostatic transmission
High back seat
Cast iron front axle
Back by a three-year warranty
CONS
Needs routine maintenance
Pulleys sometimes slip
Replacement blades can be tough to find
Make sure to winterize properly
Grease bearings in the peak of summer
Add your review

Troy-Bilt Super Bronco 50 XP 679cc Engine Lawn Tractor Review