Yard Force Lawn Mower Reviews
Getting ready to buy a Yard Force mower, but don't know where to start? Our qualified experts have cut through all the details to give you the information that will help you the most in your upcoming purchasing decision. Take a look at what features matter most, and which ones you can live without.
out of stock
as of November 30, 2023 10:34 PM
out of stock
as of November 30, 2023 10:34 PM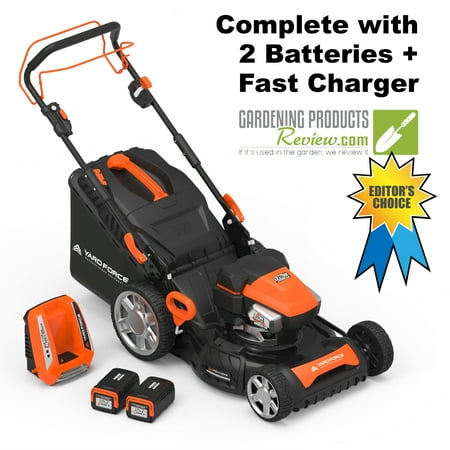 Yard Force sells electric and gas outdoor power equipment, items that cut, trim, clean, split, and chip. Its products have outstanding warranties, and the company prides itself on a premium customer-care center in Kennesaw, Georgia, where the company is headquartered. Yard Force services its products directly, and customers can also go through authorized service centers depending on what the product is and its condition. Additionally, the company has parts and accessories available, which customers can access online. Yard Force service representatives can provide a full list of available parts and accessories.
As an established company, Yard Force sells its products to different markets and countries beyond the U.S. The company has branches in the U.K. and Germany, as well as dealers and partners worldwide.
Yard Force products are ideal for gardeners, homeowners, and landscaping professionals who need wheeled products, pressure washers, and hand-held items. The company's pressure washers are certified by the Pressure Washer Manufacturer Association and meet very stringent standards. Thus, any professionals or discerning homeowners looking for such products would find Yard Force to be a solid brand. Some may find Yard Force's electric items to be a bit more environmentally friendly than its gas-powered ones, and they will appeal to anyone who wants less fumes in the air.
Yard Force sells a nice blend of mowers that are gas-powered, electric, and battery operated. It also offers two reel mowers with 18- and 16-inch cutting widths. One of the reels includes an 8-gallon collection bag. The rest of the Yard Force mowers are heavy-duty items that are orange and black with many great features. A typical gas-powered mower from Yard Force will be able to mulch, bag, and have side discharge. They have adjustable handles, large bags, and wide steel cutting decks. The company's battery-powered mower (the YF6148) is notable for its all-black, modern look. It also has a large collection bag that empties quickly.
Finally, Yard Force has four battery-operated robotic mowers, all of which have cutting heights of under an inch to nearly 2.4 inches and cutting widths of 7 inches.
Along with its high-quality pressure washers, Yard Force sells all sorts of saws, trimmers, blowers and vacuums, and an electric shredder. The company also sells brushless electric motors and lithium-ion batteries. Its well-built products offer state-of-the-art technology and ergonomic designs.
With cutting-edge technology and nicely designed products, Yard Force is a top-of-the-line manufacturer of outdoor power tools. Its products can be bought from retailers in the U.S. and Canada and online. For those looking for customer service and technical support, Yard Force offers a toll-free phone number that people can call during normal business hours Monday through Friday. Customers can also submit an online support request on the Yard Force website.