Your backyard is like a blank canvas waiting for a moment of inspiration to strike. Though like a lot of great artists, you might need a little help to get the ideas flowing. Even once you do have a few ideas in mind, it can be hard to know which ones fit together.
In this article, we will take a closer look at some of the creative concepts to help get your landscaping creative juices flowing. Some of these are standalone features and themes, while others easily work and play off each other.
An Infinity Pool With A Hot Tub
If you have a large backyard and you have kids, then you've probably considered getting some type of swimming pool. Of course, the concern is that like a lot of other things, your kids will inevitably outgrow the pool, leaving you with a lot of annual maintenance for years to come.
Ultimately, if you're going to take the plunge on a backyard swimming pool, then you want it to also cater to adult needs. That way even when the kids are grown up and off at college, you can still get some use out of your considerable investment.
An infinity pool that pours over one or more edges to a collection pool has an impressive look to it. This type of pool also tends to significantly increase the value of the property. Adding a flow-through hot tub can also give you a place for a warm soak, while also helping to gradually heat the larger main pool.
A Koi Pond With A Fountain
Koi are members of the carp family, and as such they tend to be very easy to take care of. Here again, we're talking about a water feature, but not one that's meant for entertainment purposes. Koi aren't as hard to find as you might think. They will even come up and gulp air from the surface, though they will do better with a little aeration.
A simple fountain can help aerate the water to keep the fish encouraged to stay submerged. Though it certainly doesn't have to be simple. An artistic fountain with lights can add striking visual appeal, you can also install a filter system to keep fish waste from becoming an issue. You might even be able to add a little aquatic vegetation.
An Outdoor Fireplace
Fire pits are popular for properties with a fair amount of backyard space. Though even if you don't have a half-acre of unused land, you still can enjoy an outdoor fireplace. It can be a great place to kick back and enjoy a book or have some friends over to sit around the fire on a cool summer's evening. You might even find yourself roasting hot dogs and marshmallows more often.
Most outdoor fireplaces are made from fire rated brick, which makes them too heavy for a conventional wood deck. They tend to be the sort of thing you install at the edge of a patio with a retractable covered pergola providing a little shade and protection from the rain.
An Outdoor Kitchen & Grill Station
Here again, we're looking at a great way to make the most out of an outdoor patio area. You can use a standalone gas or charcoal grill to serve as the beating heart. Though if you prefer something with a little bit more of a permanent feel drop-in grill heads have become much more affordable in recent years.
It's also worth noting that clean-burning, energy-efficient natural gas is available through municipal lines around the country. Having a natural gas line plumbed to your outdoor kitchen lets you make the most out of a state-of-the-art natural gas grill or pizza oven.
Stamped concrete or natural stone countertops also give you extra real estate for prep and serving platters. It's also nice for setting out snacks or letting people dish their own meals family-style.
You might also be pleased to hear that modern technology has now made outdoor refrigerators and freezers stronger and more energy-efficient than ever before. This means you can tuck one away under a countertop and not have to worry about it succumbing to the elements. You can then keep your side dishes and sauces close at hand without having to run back into the kitchen or keeping a clunky cooler underfoot.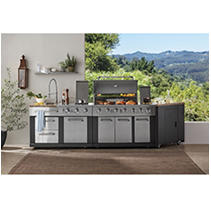 $2,999.00
$3,238.80
in stock
4 new from $2,999.00
1 used from $2,093.94
as of September 28, 2023 12:21 AM
$3,758.37
in stock
4 new from $3,749.00
as of September 28, 2023 12:21 AM
$5,195.00
in stock
as of September 28, 2023 12:21 AM
out of stock
as of September 28, 2023 12:21 AM
out of stock
as of September 28, 2023 12:21 AM
A Four-Season Greenhouse
These days more and more people are growing their own food at home. Not only is it a great way to shave a little off the monthly grocery bill, but it also gives you the opportunity to enjoy exotic vegetables like Asian peppers and heirloom tomatoes that simply aren't available in the produce section.
Unfortunately, seasonal changes and cold winter temperatures mean that most people can only garden outdoors for five, perhaps six months out of the year. With a glass greenhouse and a thoughtful heating strategy you can potentially grow vegetables, flowers, and even dwarf fruit trees 12-months out of the year.
Some of these greenhouses are standalone buildings with their own water lines plumbed to them. However, an attached greenhouse that shares one wall with your house, garage or a heated outbuilding can also do very well, while keeping water and electricity close at hand. Just keep in mind that you will want the most southern exposure possible for the attached greenhouse to get the necessary amount of light your plants will need in the winter.
When it comes to vegetable selection, when most people hear the word "Greenhouse" they get peppers and tomatoes on their minds. Though it's not always the best option in the deepest parts of the winter months. If you talk to some of the most successful greenhouse gardeners they will talk about their seasonal rotation. Many will grow things like radishes, kale, and salad greens in the winter. These plants can tolerate much lower temperatures than heat-loving tomatoes and peppers.
A Zendo Meditation House or Sauna
A Zendo is a place of meditation that is out away from the main living area. It's been used as a sacred place of silence for Zen Buddhists for centuries. Though even if you're not a practicing Buddhist meditating on your Roshi's latest Koan, you still can appreciate having a quiet place to get away from it all. If nothing else you can relax and enjoy a good book without the sounds of your kids playing their video games in the background.
Cedar or redwood construction and design cues from East Asian architecture will give it a striking appeal. An elevated boardwalk can further enhance the theme as would tapestries and bonsai plants. Who knows, you might just find yourself taking increased interest in things like mindful meditation and the occasional yoga session!
Better yet, why not get a portable sauna. They are perfect year round for deep cleaning of the mind and body while relaxing those aching muscles alone or with friends.