$

429.00

$455.27
1 new from $429.00
in stock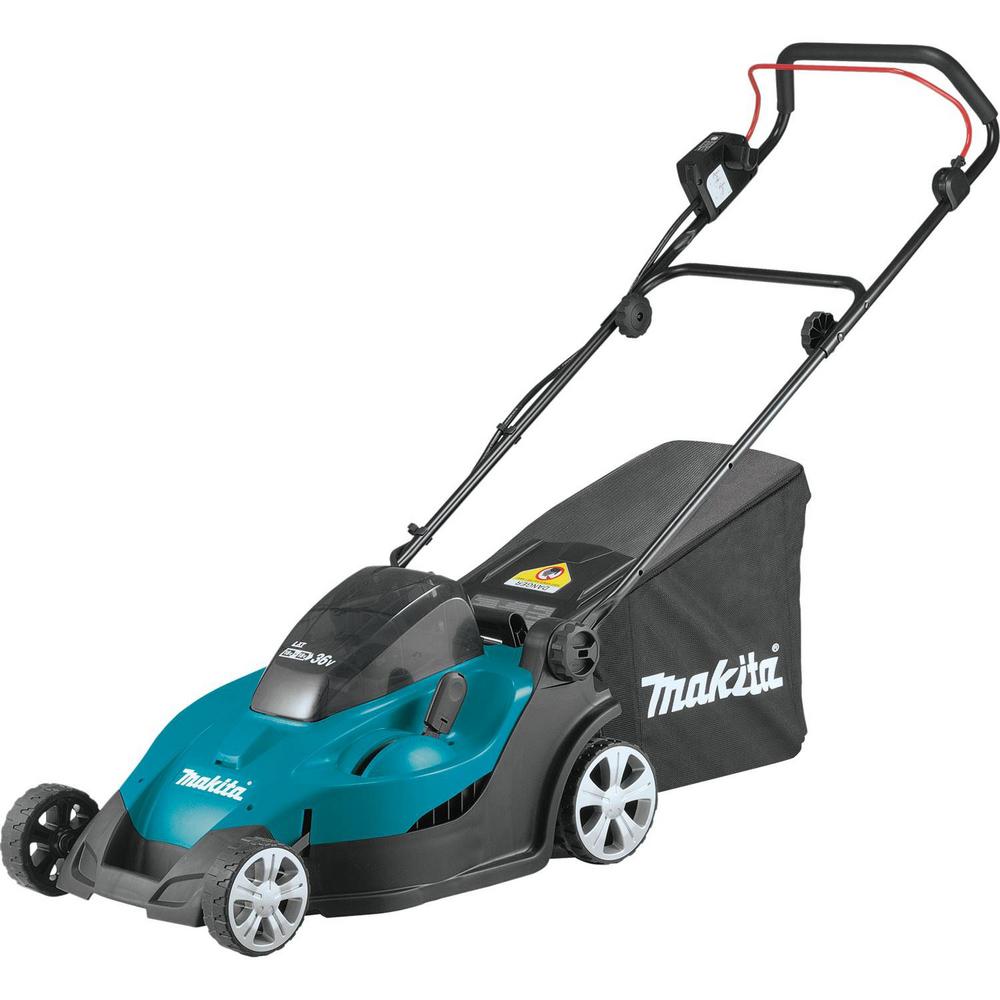 There is increasing demand for more alternatives to gas-powered outdoor power equipment. Makita is meeting demand with an expanding line of cordless OPE that includes the 18-Volt X2 LXT Lithium-Ion (36-Volt) 17 in. Lawn Mower. With zero emissions, lower noise and none of the maintenance...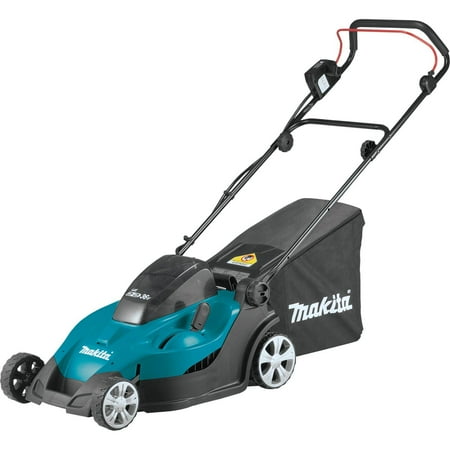 Take charge of that jungle you call your lawn with raw electric power and say goodbye to the hassle of dealing with gas cans and oil changes with the Makita 36 Volt LXT Lithium Ion Electric Lawn Mower.When equipped with 2 18 volt LXT lithium ion batteries (not included), this mower delivers up to...

The existence of the Makita XML02Z LXT cordless electric mower is somewhat difficult to justify at either of its standard price points. It doesn't exhibit any disastrous defects beyond seemingly flimsy plastic fabrication and a questionably fragile blade. I have no complaints about the evenly groomed results of my two recent test runs. Makita's gravest mistake was an evident failure to size up their underpowered urban mower's resume against competitors within a comparable price range and ask themselves, "How do we convincingly argue in favor of paying for substantially lower value?" In this case, shooting the moon instead of either revamping their product or knocking at least $100 off their asking prices backfires miserably.
Key Features
Runs for 30 minutes on two 18V LXT 5.0Ah BL1850 lithium-ion batteries
Proprietary motor delivers 3,600 RPM of cutting power
Single-point height adjustment lever with 13 settings
Designed to extend gear life with soft-start jolt suppression
Aerodynamic cover and built-in ball bearings reduce required pushing force
Weighs only 40.8 pounds with batteries installed
Improved dust and water resistance thanks to Extreme Protection Technology (XPT)
Electric blade brake
Limited three-year warranty
Performance
Bear with my redundancy, but this will not be the last time I offer this observation: there is very little "wrong" with how the Makita XML02Z LXT does its job. In fact, for a mower built with lawns absolutely no larger than one-fourth of an acre in mind, Makita's proprietary motor cranks out a surprisingly robust 3,600 RPM of power. A brushless motor might have made for more power delivered with equal-if-not-greater efficiency, but I can see how it might have compromised Makita's focus on building the most potent mower possible at the lowest reasonable weight. Given its maximum weight of 40.8 pounds with batteries on board, there wasn't much need to make the Makita XML02Z LXT somehow even easier to push, but the reduction in required force made possible by a nifty aerodynamic shell and built-in ball bearings should serve as an inspiration to makers of heavier mowers much more in need of improved maneuverability. The same certainly goes for the protective Extreme Protection Technology (XPT) that so successfully elevates this model's resistance to water and dust.
Who knows? Perhaps the Makita XML02Z LXT's greatest contribution to its industry amounts to offering fantastic ideas other manufacturers could easily perfect at more reasonable costs.
Ease Of Use
At the very least, the Makita XML02Z LXT is far from frustrating to use. In fact, despite the frustration that dual 18V LXT 5.0Ah BL1850 lithium-ion batteries provide a mere 30 minutes of runtime, I appreciated both the twin LED power indicators and the jolt-suppressing soft start system engineered to both ensure the smoothest push-button startup possible and prolong the motor's gear lifespan. The rubberized soft-grip handle made the Makita XML02Z LXT a joy to handle, but I can't help but wonder if its cheap-feeling plastic body wouldn't have benefited from a few added pounds of heft for the sake of smoother mowing over knotty, bumpy ground.
Cut Quality & Options
The Makita XML02Z LXT cuts nicely. It does nothing remarkable, but you will not come away disappointed by a roughly trimmed, disheveled lawn. Quite the contrary, in fact: thanks to a single-point height adjustment lever with an incredible 13 settings between 13/16 and 2 5/16 inches, this mower should groom your yard to a dependably neat finish every single time, though I would suggest timing your mowing carefully to finish before cutting power tapers off around the 25-minute mark. That being said, I hope you don't mind bagging your clippings. For this much money, I don't think the option to mulch or side-discharge freshly cut turf would have been too much to ask, but I apparently don't see eye-to-eye with Makita's design team. Equipping the 13-gallon catcher bag with a fill meter on top was a nice touch, though. "Thank Heaven for small favors" is a bit of a theme with this one.
Maintenance
Every small rock or exposed tree root the Makita XML02Z LXT hits rolls the dice on potentially shattering the bafflingly frail blade. I cannot begin to explain why Makita would pair such a small-but-powerful motor with what appears to be the most vulnerable cutting apparatus money could buy. Though they did not present any immediate problems during my hands-on tests, I also have no trouble understanding why some customers have complained about the infirmity of the Makita XML02Z LXT's ultra-light plastic wheels. They simply never feel like they provide any substantial traction and left me frequently concerned that rocky or rutted ground might loosen their fastenings. Fortunately, Makita does extend a limited three-year warranty with both packages, but do read the terms and conditions carefully to understand the several key ways you could unwittingly void their repair or replacement obligations.
Safety Features
Credit where it's due, I love the Makita XML02Z LXT's electric blade brake as a means of instantly halting the cutting system without killing the motor. If you need to shut everything down at once, simply release the bailing lever.
Cost Effectiveness
The tool-only Makita XML02Z LXT package goes for around $350. Alternately, the package including the required pair of batteries and a charger tacks on another $100 or so. If you want to extend the paltry runtime, I would suggest adding an additional battery set. Assuming you stick with Makita-branded products in the interest of not voiding your warranty, expect to shell out another $70 to $100.
In the end, the most satisfying value proposition goes to consumers who already own Makita tools using the same battery specs and can utilize the power sources interchangeably. Otherwise, as long as you don't mind absorbing the additional maintenance expenses and can also accept the inherent noise and air pollution accompanying it, you could own a relatively small gas mower with a larger deck and more dense cutting power for the same cost as a Makita XML02Z LXT with a charger and both batteries included. Though I understand the appealing finer points of switching to an electric mower, the latter would likely prove more durable and versatile in the long run.
Again, the Makita XML02Z LXT is not a "bad" mower, but may be considered egregiously overpriced for the performance it provides.
Powerful Motor + Interchangable Batteries
PROS
Maneuverability
Extremely light
Phenomenal height range and easy adjustment
Easy to push
Smooth start
Decently powerful motor
CONS
Expensive
Short runtime
Delicate blade
Bagging is only disposal option for clippings
No mulching or discharge
Add your review

Makita XML02Z LXT 36V 17″ Cordless Electric Lawn Mower Review