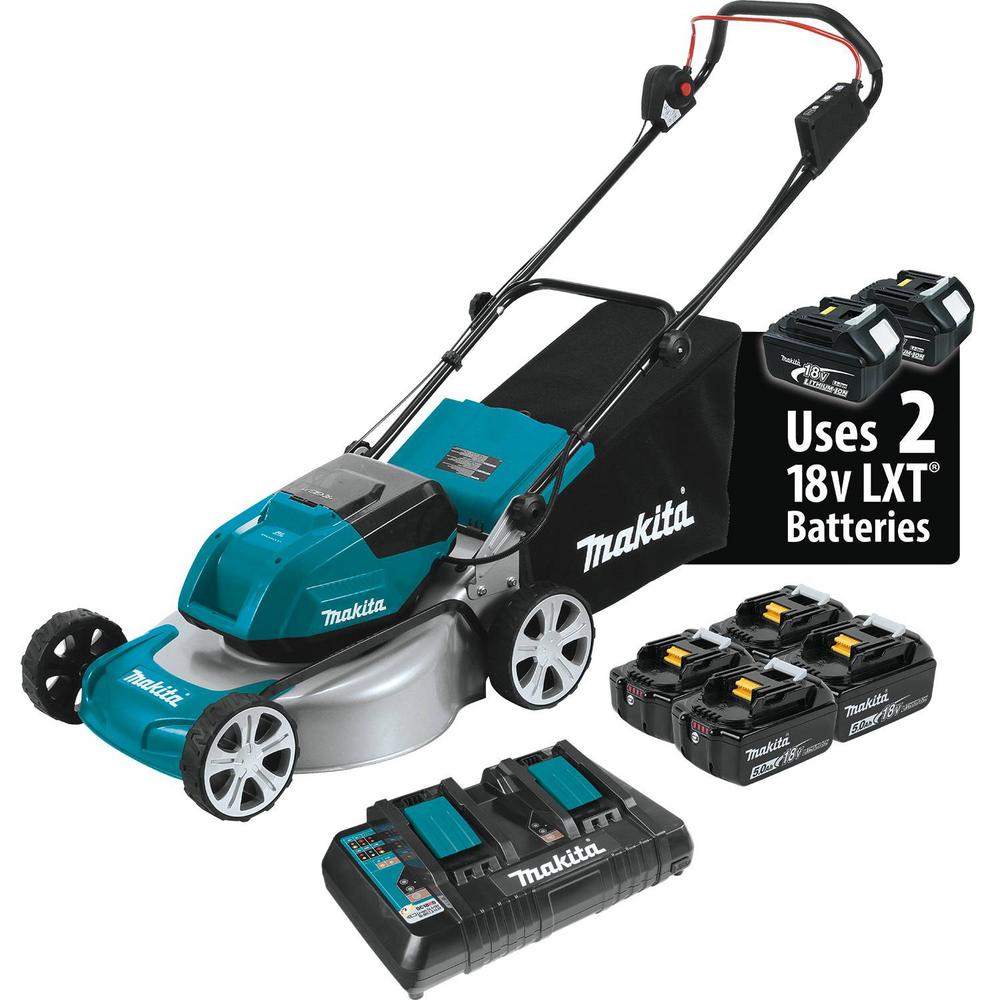 Makita is expanding the line of cordless OPE to include the 18-Volt X2 LXT Lithium-Ion (36-Volt) 18 in. Lawn Mower. With zero emissions, lower noise and reduced maintenance, the 18-Volt X2 (36-Volt) Cordless Lawn Mower is a welcome solution for efficient grass cutting. Its powered by two 18-Volt...

Makita is a well-established name in the power tool industry with high-quality products throughout multiple industries. Their XML03PT1 18″ Electric Lawn Mower Kit is designed to run on two 18 Volt batteries at a time to create a powerful 36 Volt cutting system. They also include two extra lithium-ion batteries for a total of four.
The Makita XML03PT1 has an 18-inch cutting deck made out of heavy-duty steel with 10 manual height adjustments. This lets you control the height of the cut from as low as 13/16ths of an inch up to 2-and-15/16ths of an inch. The brushless electric motor inside the cutting deck runs between 2,500 to 3,300 RPMs. This includes a "Quiet Mode" feature that runs the blades at a consistent 2,500 RPMs
Two batteries will power the blades for up to 7,300 square feet on a single charge. However, this package comes with a total of four batteries. When all four are fully charged, you can swap them out for up to 14,600 square feet on a single charge. This is near the top end range for electric mowers at this price point.
The Makita XML03PT1 comes with a dual-port Rapid Optimum Charger. It's also IPX4 rated for weather and water resistance. This essentially means that the seals on the electric components are essentially "Splash Proof" to the point where they can handle accidentally passing through a small puddle or even enduring a light summer rain. It also helps prevent dust from invading the electric components and moving parts.
Just keep in mind that the Makita XML03PT1 is not waterproof enough to handle a soaking with a garden hose, or even being left out in a heavy summer downpour.
This package also comes with a 16 gallon "Grass Collector" or bagger. Many competitors in this range tend to offer a 12 to 13-gallon bagger. The higher capacity ultimately means fewer stops to have to empty clippings during a long mowing session.
Key Features
Runs On Two 18 Volt Lithium Batteries
36 Volt Cutting System
Four Batteries Included In The Kit
Dual-Port Rapid Optimum Charger Included
18-Inch Heavy Duty Steel Cutting Deck
10 Cutting Deck Heights
Brushless Motor
3,300 RPM And 2,500 RPM Quiet Mode
16 Gallon Grass Collector Bagger Included
IPX4 Weather Resistance Rated
Folding Handles
Performance
The dual 18 Volt batteries for a 36 Volt cutting system give the Makita XML03PT1 the ability to chew through the grass with vigor. The 2,500 RPM "Quiet Mode" is also nice for people who live with neighbors nearby or you simply need to mow near your kid's bedroom window during naptime.
The fact that it comes with two additional 18 Volt batteries also lets you expand your cutting range from 7,300 square feet to as much as 14,600 square feet. It's also worth noting that there are a few other electric lawn care tools in the Makita line that also use the same 18 Volt batteries. Some of them do not come with batteries included. So, if you are brand-loyal to Makita, this package could have added value.
Ease of Use
If there is something to complain about with the Makita XML03PT1 it's the overall weight. The mower itself is not self-propelled and can be a little heavy when pushing up an incline. Especially if the 16-gallon bagger is nearly full.
The dual-port Rapid Optimum Charger is also a nice touch for times when you need to cut a large yard in batches. For example, you could start cutting the grass in the morning before the sun gets high in the sky. Then put the batteries on the Rapid Optimum Charger and trust that they'll be ready to go when you want to finish cutting the yard in the evening.
Cut Quality & Options
The fact that you can adjust the cutting deck height from as low as 13/16ths of an inch up to 2-and-15/16ths of an inch lets you adjust the height of the grass for the seasonal conditions. Though you could argue that this span doesn't necessarily need ten distinct height settings.
Maintenance
Electric lawnmowers like the Makita XML03PT1 are always going to be easier to maintain than their gas-powered cousins of the same size. The most important thing is remembering to recharge the batteries after each use. Then, you will need to replace the blades every two to three years depending on how often you mow and how large your yard is.
Safety Features
The Makita XML03PT1 has the usual hand safety controls that disengage the blade system.
Special Features
The 2,500 RPM "Quiet Mode" is definitely something you'll appreciate if you live with neighbors nearby or you try to get some grass cut while your kids are taking a nap.
The 16-pound grass collector lets you cut for longer without having to empty it. This is exactly the sort of thing you might be looking for if you have a large yard.
At the same time, you shouldn't overlook the IPX4 Water resistance rating. This essentially means that it can endure a surprise summer rain or prevents dust from infiltrating the electric components.
The four 18 Volt batteries and the dual-port Rapid Optimum Charger as also a nice touch that helps you have the charge you need when you want it.
Cost Effectiveness
Just like it's other electric lawnmower siblings the Makita XML03PT1 is very cost-effective. There's no gas, fumes or messy oil changes to deal with. You do have to replace the mower blades every few years, but this is true of just about all lawnmowers.
The fact that you get four batteries with this purchase, and that you can use them with other lawn care tools in the Makita line can also add to the overall value.
Long-Lasting Battery-Powered Electric Lawnmower
PROS
36 Volt Cutting System
Four 18 Volt 5 Ah Batteries Included
Dual-Port Rapid Optimum Charger
2,500 RPM Quiet Mode
IPX 4 Weather Resistance Rated
7,300 Square Feet On Two Batteries
Up to 14,600 Square Feet Total
16 Gallon Grass Collector Bagger
CONS
Mower Is A Little Heavy
Not Self-Propelled
Full Bagger Can Also Be Heavy
Doesn't Need 10 Height Settings
Add your review

Makita XML03PT1 18″ Cordless Electric Lawn Mower Kit With 4 Batteries Review