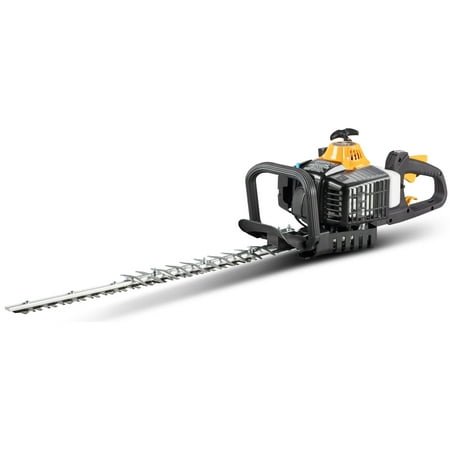 No overgrown shrub is too tough for the all-new PR2322 Poulan Pro Gas Hedge Trimmer. Equipped with a robust engine, it's powerful and very easy to use. Use this two-cycle hedge trimmer for taming all sorts of plants around the yard. Featuring strong, stainless steel, dual-sided serrated blades,...

Maintaining the perimeter of your yard in the same hard working, well-kept fashion you maintain the main portion of your yard might sometimes seem like a hassle. For the average mower, it can often seem like the perimeter of the yard too often needs a much-needed trim, and the same can be said for the grassy areas around trees, sandboxes, mailboxes, and along the edge of fences. Enter the gas-powered, weed-whacking Poulan Pro PR22WT High-Wheeled Trimmer. It takes care of that tall grass around the yard's perimeter as well as scruffy brush with ease, features fully adjustable cutting heights, and works great on large acreage.
The maximum cutting height is 3.04 inches; the minimum is 1.6 inches. With a cutting width of 22 inches, the Poulan Pro covers an impressive amount of ground for a non-mower.
Key Features
Adjustable cutting height adjustable from 1.6 inches to 3.04 inches
22-inch cutting width means large trim jobs get done in less time
Fixed Line Advance uses standard 0.155-diameter trimmer line
Easy-rolling high-rear wheels offer good maneuverability on any terrain
Designed to cut tall grass and small brush
Powered by a topnotch Briggs & Stratton 625 Series engine
Performance
The smooth-rolling 12-inch wheels on this 70-pound trimmer are pretty large and in charge. You don't want to roll them over stumps, stones, ruts, and sharp objects TOO often because of wear and tear, nor do you want to get harmful chemicals on them such as gasoline and oil. But the wheels are solid and provide a steady ride over a typical yard or even terrain that's on the hilly side.
The Poulan Pro starts right up right out of the box (after adding gas and oil), and the braided nylon line stays strong even after whacking things harder than grass or weeds. A guy I know has used this machine to do work on driveways longer than 300 feet, with a fence on both sides, and nary a nick was on the trimming lines. But be warned: You don't want to hit non-vegetation too often or you will need to replace the lines more than you might be comfortable with.
The solid motor provides plenty of power, making this thing a beast on the outskirts of your yard.
Ease of Use
The Poulan Pro comes out of the box mostly assembled, but there are a few parts to put together such as installing the starter rope. Once you're out there on the perimeter of your yard, remember that when the trimmer line gets too short, it will take longer to complete your task. The high-rolling wheels provide great maneuverability around all nooks and crannies. At 70 pounds it's not exactly lightweight, but nor is it overly heavy. The throttle adjusts easily and should be set at lower RPMs for higher weeds and vice versa.
Cut Quality & Options
This thing cuts grass like melted butter when the throttle is in "Fast" mode. However, if you're dealing with tall, thick weeds or grass, pull back the throttle to a slower speed. Using the ends of the lines to do the cutting will keep the lines lasting longer and actually give you better trimming results. Just move slowly through major weeds and you'll get good results. Overall, this thing clears out tough brush in a jiffy, and it's as easy to push as a typical lawn mower.
When trimming along the sides of walls, flowerbeds, or fences, use the left side of the trimmer. These trimmer lines are tough, but both the lines and the bottom of the trimmer head will meet their match when coming in contact too often with asphalt, concrete, and other hard surfaces. So avoid premature wear and tear by using the lines for grass and weeds only, if you can.
Maintenance
You'll need to replace the trimmer line after so much wear and tear. When the trimmer line is worn down to less than half of its original length, it's time to replace it. Don't use a dirty air filter–change it every 100 hours or after every mowing/trimming season. Under dusty conditions be sure to replace it more often, and it's recommended not to wash it. Check out the muffler from time to time, making sure it's not corroded so that it's not a fire hazard. Every year the spark plug should be changed so that the machine starts with ease and operates better. The plug's gap should be set according to manual specifications. For better airflow and engine performance, keep the top of the engine around the starter clear of mucky grass and debris, and make sure to clean the bottom of the trimmer after every use. Oil and gas of course need to be added and the oil maintained. Doing these things will keep the Poulan Pro running at optimal performance. Here's a bulleted rundown of all needed maintenance:
Check for loose fasteners
Clean trimmer
Clean under engine cover
Check drive belt and pulleys
Check and replace trimmer lines as needed
Check engine oil level; check engine oil
Clean air filter
Inspect muffler
Clean and replace spark plug as needed
Replace air filter and paper cartridge as needed
Safety Features
Due to the fact that the PR22WT contains trimmer lines instead of blades, one could argue that it's safer right out of the box compared to a bladed mower or any other type of blade you might use to trim scruff around the perimeter of the yard. The mower head lockout won't fully engage unless the clip is pressed in to allow the lever to fully depress. Releasing the lever locks it out again automatically.
Special Features
If you're getting to the age in which holding a weed whacker is playing havoc with your arms, hands, and back, then this item is for you. Why hold a trimmer when you can roll it easily over tough terrain with no problem? It takes out tall grass with ease thanks to a substantial engine that's also surprisingly quiet, and the speed can easily be adjusted, which isn't the case with all competing models.
Cost Effectiveness
Efficiency is the name of the game with the Poulan Pro thanks to the 22-inch cutting width. With this trimmer, there's no going over trim jobs multiple times like you might with a bulky mower, wasting gas and wasting your time. You'll save wear and tear on your own body as well (see above) thanks to the ergonomic design of this weed whacker, which you don't have to carry.
PROS
Powerful, quiet engine
Durable trimmer lines
Sturdy
Time saver
Good value
Helpful trimmer tips in manual
CONS
Trimmer lines not as durable as blades
Trimmer lines a bit spendy
Heavy vibration
Not as effective on uneven terrain
Numerous plastic parts
Limited warranty
Add your review

Poulan Pro PR22WT High Wheeled Trimmer Review