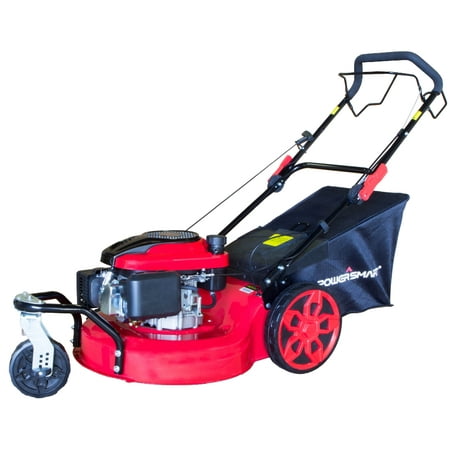 This PowerSmart Gas Self-Propelled Mower will help homeowners keep their grass short and looking nice. Ideal for the smaller yard, the compact unit is easy to operate in tight spaces and features three cutting systems, including a side discharge option and mulching capability, plus a collection...


A compact, non-cookie-cutter, speedy gas lawn mower for compact- to medium-sized yards might be the best ways to summarize PowerSmart's DB8620 gas-powered machine that runs on self-propelled power. At a slim and trim 83 pounds, the mower scoots in and out of tight areas nicely, with rear-wheel drive that gives it a boost on terrain that's uneven or not to your liking. The single front caster wheel makes turning on passes a breeze.
The DB8620 has bagging, side discharge, and mulching options, and in fact, its deep-dome deck combined with a sharp, durable blade produces some finely chopped up mulch that will work great as natural fertilizer. The 20-inch cutting path it makes on passes isn't bad, and you can adjust the cutting height from 1.18 to 3.15 inches depending on conditions. After about 15 minutes of assembly time and some oil and gas, the PowerSmart DB8620 should be ready to go. Pull the start cord and let 'er rip–no choke or throttles to deal with.
Key Features
Powered by recoil-start 196cc 4-stroke overhead valve single-cylinder engine with forced air-cooling system
Front caster wheel for zero-degree turns on passes
20-inch cutting path
8 cutting-height positions (1.18 to 3.15 inches)
Self-propelled with rear-wheel drive
Big, rear-mounted 18-gallon container with easy release
Large rear wheels
32 x 22 x 17 inches
83 pounds
2-year limited warranty
Performance
The cool-looking red and black DB8620 starts on one pull and is a breeze to walk behind and can manhandle the thickest of grass. Once you get the wheels adjusted to where you want them, you'll find that it cuts precisely and evenly. It moves fast, too, and the zero-turn front caster wheel makes the ride seem even faster. I mentioned above that the machine's self-propulsion helps on uneven terrain, and that's true. At the same time, there are moments when this mower feels like a two-wheeled trimmer if the ground gets too rocky. It does do well on hills, though, and is a well-designed mower that moves with an assured swiftness despite shallow treading on the wheels. If you find the DB8620 swinging to the side on hills due to the front wheel, you'll probably want to mow in an up and down fashion rather than side to side. Also, watch those holes with this mower because that single wheel up front can tend to get caught up in them.
This thing will get up close and personal alongside fences to cut down the annoyingly long grass that tends to shoot up near such areas. I'm not saying it totally cuts this type of grass down, but it does do a good job at trimming edges and inside hard-to-get-to corners. It's nice not to have to do wheelies in such tight areas thanks to the single wheel up front. You can roll around instead of pushing the mower up on two wheels or backing up constantly to get in and out of areas. The plastic chute on the right side does jut out a bit and has been known to come off, so keep an eye on it and take care to not knock it around too much.
Ease of Use
With its light weight and self-propulsion, the DB8620 will work for many people since it's not a burden to push and because it is highly maneuverable. It runs fast, which means it's an efficient machine that should get the job done quickly. The zero-turn maneuverability of this mower, thanks to a single front caster wheel, makes it even more efficient and fun to drive … er, mow. The bag is easy to remove should you choose to go the bagging route. Overall, this mower has a pretty effortless feel.
Effortless when you have it ready to go, that is. I should mention that when you're preparing this mower for first-time use on your yard, assembling that valuable front caster wheel is a bit time-consuming because of the screws, washers, and nuts that have to be secured.
The handle folds down with ease thanks to levers on each side that release the tension. This makes moving the mower or storing it very easy.
Cut Quality & Options
Whether you choose to bag, mulch, or use side discharge, your yard should come out looking like carpet. The first two options are especially effective for a pristine-looking yard. It mulches to a point that you can't see the clippings, and bagging, of course, makes clippings totally go away. Select from eight cutting heights that range from 1.18 to 3.15 inches depending on what your yard looks like. Cuts on slopes and in between nooks and crannies and debris nicely.
Maintenance
All adjustments should be checked at least once each mowing season. Make sure to check all fasteners to make sure they're properly tight. Areas to check include the deck and blade as well as parts such as the air filter, spark plug, and carb. See the owner's manual for maintenance tips and troubleshooting advice.
Safety Features
This mower has an engine start/stop lever that prevents unintentional starting for safer operation. If you release the lever, the blade will quickly stop. Releasing the drive control bar will stop the mower.
Special Features
Perhaps I haven't said enough about the DB8620's zero-turn capability made possible by a single front caster wheel. It's fun for guys like me to be moving along at a brisk pace on an open yard and then come to the end of a pass and simply turn on a dime to begin the next row. I like a brisk, powerful engine, and the DB8620 has got that. The handle is comfortable and easy to adjust, and overall this is a nicely designed mower that has a different look that I appreciate. What might put this mower over the top is if it had variable speed control, but alas, it doesn't and is still a solid machine.
The 3-in-1 mowing functions of the mower give you some nice options to work with depending on conditions, and whether you choose side discharge or mulching, you're putting healthy nutrients back into your yard for free.
Cost Effectiveness
Frankly, though this is a lightweight mower, it has industrial-featured aspects to it. For instance, the machine's power comes from the back wheels, whereas many mowers out their for the consumer masses have front-wheel drive. It's got a 196cc engine that you often see on mowers that have a much higher price point. So it's not an underpowered little machine despite its compact look. And the 18-gallon bag container is impressive on a lightweight machine like this one. It'll hold a lot of clippings and won't force you to change it out all that often on a small- or medium-sized yard.
The DB8620 will slice and dice clippings into natural fertilizer with the mulch function, saving you money in that realm. Additionally, it's time-saving and efficient thanks to zero-turn capability, great maneuverability, and a swift speed. If you can keep up with it as you're walking behind it, you may just find it to be one of the best mowers you've ever owned.
Easy to turn 0 degree. Great rear drive power
PROS
Easy to start
Zero-turn capability
Rear-wheel drive
Self-propelled with powerful engine
Bags well; large bag container
Lightweight, highly maneuverable
Solid and well-designed
CONS
Front caster somewhat hard to adjust
Plastic parts
Holes may snag front wheel
Runs fast; non-variable speed control
Shallow wheel treads
Assembly of front wheel time-consuming
Fumes
Add your review

PowerSmart DB8620 Self-Propelled Gas Lawn Mower Review