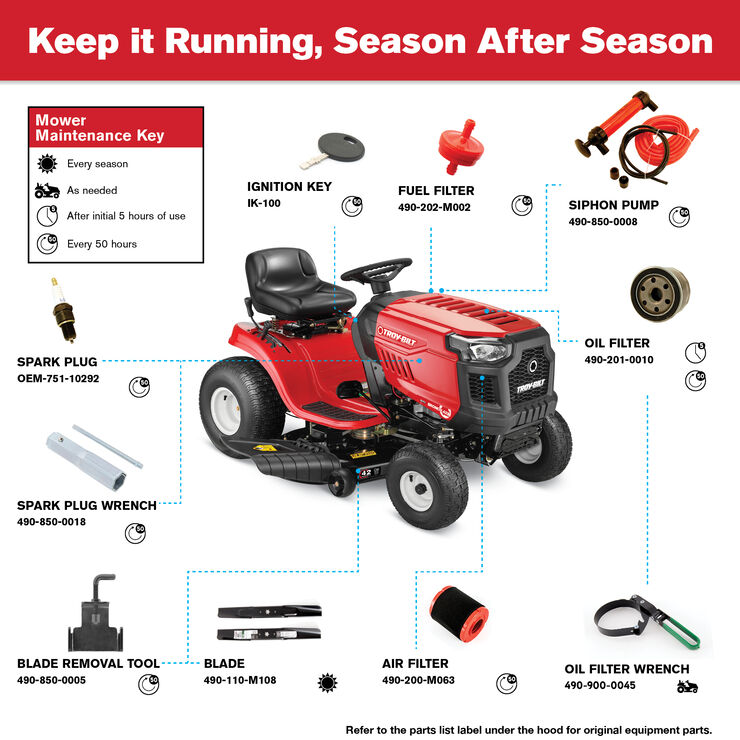 Bronco 42X Riding Lawn Mower Features
Clean, Precise Cut
42-in deck ,with anti-scalp deck wheels to prevent turf damage, delivers a clean, even cut. Mulch kit (sold separately) helps maintain a healthier lawn
Pride
Headquarted in Valley CIty Ohio, our reliable equipment is designed, built and tested right here in the U.S. – from Ohio and Mississippi to Tennessee and Arizona.
Easier Clean-Up
Make yard clean up easier by using a rear bagger to collect grass clippings and leaves for use as compost or bag for disposal (sold separately)

Powerful, dependable 547cc Troy-Bilt single-cylinder OHV engine with electric start
Automatic transmission for smooth and easy operation
42in. stamped steel deck with deck wash that effortlessly cleans the mower blade and underside of the deck
Adjustable cutting height allows you to manicure your lawn just the way you want it
OCR Independent speed and direction control with the ability to mow in reverse

Offers Extra Power, Durability, Features and Comfort.
If you have a big lawn, then you need a big machine, with a lot of power to tackle it. An underpowered or undersized riding lawnmower can become incredibly frustrating if you have a lawn over an acre in size.
Troy-Bilt's "Super Bronco" takes a full step beyond the original standard Bronco in their line, to help people with more than an acre of grass to cut it in comfort. It comes with a 547 cc Troy-Bilt engine. This gives the Super Bronco the ability to cruise around at a rated max speed of 5.2 miles per hour, while also powering the foot controlled hydrostatic transmission system.
The 42-inch mower deck is made from a thick, heavy duty 13-gauge steel. It's intended to be a step-thru entry.
Key Features
Heavy duty 42-inch mower deck
A maximum speed of 5.2 miles per hour
Foot controlled hydrostatic transmission
547 cc Troy-Bilt engine
Comfortable high back seat
Easy, comfortable steering
Backed with a three-year warranty
Performance
The 547 cc Troy-Bilt engine serves as a highly effective power plant. This gives it the torque you need to cut through even the thickest of grass, while also supplying the pressure for the hydrostatic transmission. At full throttle, the Troy-Bilt Super Bronco has been clocked at a top speed of 5.2 miles per hour.
Unfortunately, engine noise is an all too common problem with the Bronco line, and this holds true with the Super Bronco. This isn't the type of mower you want if you have neighbors living close by. This mower is better meant for large yards, where the neighbors might be in view, but not necessarily in earshot.
It's more of a "Country Home" lawnmower, not necessarily for the suburbs and homeowner's association. It might be a good idea to invest in some basic ear protection.
Ease of Use
One of the more common complaints you get with riding lawnmowers and large lawn tractors is the vibration's effect on your hands as well as the backache that comes from sitting in a tiny seat for an hour or more.
Troy-Bilt has done their best to infuse this large lawn tractor with as much comfort as possible. The high back seat lets you lean back, and even spares you a little of the "Butt Soreness" you get with other mowers. Still, you shouldn't expect it to be a placid mowing session.
The Super Bronco was designed to be a step-thru entry. This is a little bit of a misnomer. As you really shouldn't step through from side discharge side of the mower. It's more of a "Step-Into."
Cut Quality & Options
The 42-inch mower deck cuts a large swath of grass with every single pass. The initial purchase comes set up for side discharge. If you prefer Troy-Bilt offers bagging or mulching attachments as an accessory purchase.
To be honest with you, you should pull the trigger on one of these options if you have a lawn with thick blade density of a wide bladed grass like Kentucky Bluegrass.
Over the course of a single summer, thick grass conditions can lead to a build-up of thatch in the upper layers of the turf. As time goes on, this can make it hard for your moisture to fully saturate to the roots, and even choke off healthy blades of grass. Once your turf is in this condition, the only option is to pony up the extra dollars to rent an aerator or have your lawn professionally aerated.
Maintenance
The Troy-Bilt Super Bronco needs all the usual maintenance you need to give any lawn tractor. At the very least you need to grease the pulleys seasonally, as well as perform routine oil changes. You also need to make sure to stabilize the fuel for winter storage.
The Super Bronco's electric ignition system has a reputation for being a little glitchy. So keep an eye on it, if it seems to be struggling to turn over, even with a fully charged battery.
The replacement blades can be a little hard to find in stock as the summer drags on. It might be a good idea to order replacement blades right when you first buy it or order them early in the spring. This will spare you having to get creative with a bench grinder come Labor Day.
Safety Features
The Troy-Bilt Super Bronco has the same pressure sensor in the seat that comes standard with most lawn tractors.
Special Features
The foot controlled hydrostatic transmission might not seem all that "Special" on paper. Still, it's not necessarily standard with all lawn tractors in this price range. The units without hydrostatic controls can be quite a wrestling match at times.
Cost Effectiveness
The 42-inch mowing deck cuts a very efficient path, which is nice for maintaining a large lawn. The Troy-Bilt Super Bronco also has the power to handle pulling lawn carts and small trailers. This can be nice if you say have a hobby farm, need to move large amounts of compost, or you simply need to haul away the fall leaves.
Another way to improve the overall cost-effectiveness of the Troy-Bilt Super Bronco is to include the mulching or bagging accessories in your original purchase. This will help cut back on seasonal aeration costs. The mulcher will help feed the lawn with tiny spent grass clippings. The bagger can give you tons of material for the garden compost pile.
Just make sure to properly maintain the Super Bronco, and it will no doubt pay you back over the course of its lifetime.
Sturdy and powerful riding lawnmower
PROS
547 cc powerful engine
Optional accessories for mulching or bagging
Backed with a three-year warranty
Comfortable seating and handling
Hydrostatic transmission with foot controls
Step through deck
Designed to be durable
CONS
Replacement blades are sometimes hard to find
Electric ignition can be glitchy as it ages
Needs routine maintenance for a return on investment
The engine is a little bit too loud
Mulcher or bagger not included in the purchase
Add your review


Troy-Bilt Bronco 13A878BS066 42″ Riding Lawn Mower / Tractor Review