$

165.00
5 used from $101.91
1 new from $165.00
in stock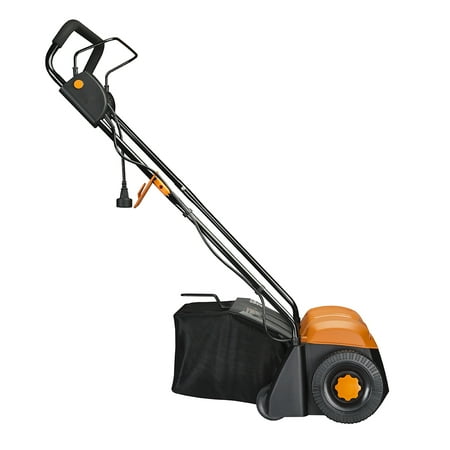 The 14 12A Electric Dethatcher from Worx was made for working over rough patches, or the whole yard. Dethatch dead grass and debris, even roots with 14 wide tines, at 3 different depths: -9mm, -3mm, +3mm. Your lawn will be healthier, greener, and easier to maintain in the future. The handle...

A Great Dethatcher For A Small City Lawn
If you have a small city lawn with trees and tight landscaping, this might be a great way to manage the health of your turf.
Positive
Lightweight and nimble
Friendly price
14 inch deck
PositiveStrong electric motor for the size.
Saves money compared to a lawn care company
Negatives
Only good out to 50 feet
No cord lock or cord management
Sparse warranty
A good dethatcher like the WORX WG850 is your best line of defense against the dead spots and choked-out turf caused by dried grass clippings. When they are left too long a serious thatch layer can start to build up, preventing water and essential nutrient from soaking down into the deeper layers where the roots truly need it.
It does this at a very reasonable price, while also being lightweight enough to push around easily on the average lawn. The 12 Amp electric engine is run off a standard extension cord. This will give you effective performance out to 50 feet. If you need to go beyond that without losing any performance, then a commercial-grade electrical extension cord is called for.
The deck creates a 14-inch path that picks up thatch at various levels. You can set it deeper to help improve aeration in the mid to upper levels of the turf, which is handy for spring or fall lawn care. This wide of a cutting path tends to be best for urban and suburban small lawns. Since it is so lightweight and nimble the WORX WG850 might be one of the best dethatchers for a small "City" lawn with several trees or tight landscaping features.
Key Features
Multiple depth settings
14-inch wide decks
12 Amp electric motor
Dethatcher & milk aerator
Designed for small city lawns
Lightweight
Nimble for dealing with trees & landscaping
Performance
The performance of the WORX WG850's 12 Amp electric motor is tied directly to the type of electrical extension cord you use. A standard residential-grade extension cord is only really effective at delivering power out to 50 feet.
If you connect two of them together the WORX WG850 will still run, but you will likely notice diminished performance. This is simply related to the cord's ability to maintain a proper electrical flow. If you want to go beyond 50 feet from the nearest outdoor electrical outlet, then you need to upgrade to a thicker commercial grade extension cord.
When properly powered the WORX WG850 is capable of dethatching and aerating the turf layers all the way down to 9 millimeters below the effective surface of your lawn. This is usually more than enough to pull up all the thatch and other organic materials, as well as helping to aerate the mid to upper levels of the turf.
Ease Of Use
Like a lot of other corded lawn care appliances, the WORX WG850 is relatively easy to use. You simply set the tines to the best depth for your lawn's conditions. If the thatch is thick, or the recent weather has been particularly dry, then you need to push it a little slower to let it make the most out of every pass.
The cord on the WORX WG850 is also something that you need to be mindful of. There isn't much in the way of an extension cord lock, which can be a little bit of an issue if you are pushing the WORX WG850 to the limit of the extension cord. It can also lead to an accidental run-over if you aren't careful.
Special Features
The collection bin on the back of the WORX WG850 is a handy feature that is made special by the fact that you don't always see it on 100% of the nearest competitors at this price range. It is great for removing thatch and other organic material without having to worry about it simply falling back onto the turf after it's been loosened.
Cut Quality & Options
The 14-inch wide path that the WORX WG850 works in a single pass would probably be considered a little narrow if you were trying to dethatch a larger lawn. Though it really shines through for smaller "City" lawns, especially those with tight landscaping and a few trees that need to be danced around.
The fact that you can set it to dethatch at a depth of up to 9 millimeters is handy for providing some additional aeration, without having to actually pull soil plugs out of your lawn. It isn't a deep aerator, but if you use it to remove thatch and keep the upper layers of your turf loose with spring and summer dethatching, you shouldn't need soil plug aeration.
Maintenance
Cleaning is probably the most maintenance-intensive component of the WORX WG850. The tines need to be thoroughly cleaned after each and every use. Then the collection bin needs to be emptied and all organic matter wiped away. This will help prevent corrosion and mechanical issues in the future.
Safety Features
The WORX WG850 has all the typical hand controls that you expect to see on an electrical lawn care device. Though if there is a minor complaint with the WORX WG850 it's that it doesn't come with any sort of cord lock or extension cord management brace.
It's not a big issue, so long as you are mindful not to run over your own power cord when you make a pass, or you are thoughtful about not pushing it to the 50-foot limit of your residential-grade extension cord.
Cost-Effectiveness
A lot of people with urban or suburban "City" lawns scoff at the cost of having a professional lawn care company come in to dethatch and aerate their lawn. Especially when you consider the outrageous price tag they tack onto the relatively simple process.
Yet if you simply ignore the thatch buildup on your relatively small lawn, it will likely start to develop dry spots, dead spots, and an even higher risk of soil-borne diseases. So, you need to do something about managing your lawn's thatch and turf. Especially if you don't have a bagging or mulching lawn mower.
Sitting in a comfort zone of price, cost-effectiveness and size, is the solution to this salient problem in the form of the WORX WG850 dethatcher.

WORX WG850 12 Amp 14″ Corded Electric Dethatcher review