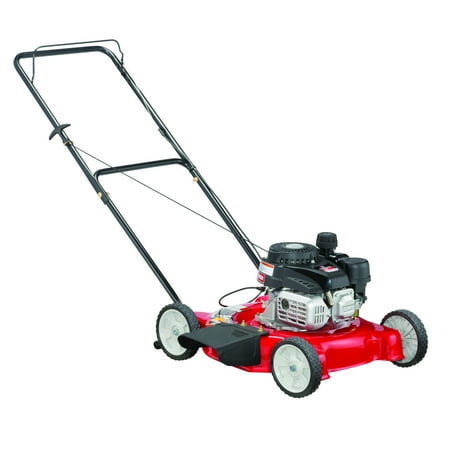 Get the job done with this side discharging 20, Gas Push Lawn Mower from Yard Machines. This Yard Machines push mower is powered with a 132cc OHV Powermore engine and equipped with 7-inch front and rear wheels that make it best suited for small to medium size yards. An easily adjusted bolt...


The gas-powered Yard Machines 11A-02SB700 lawn mower lives up to its name in the most rudimentary sense. Its engine starts, the blade rotates and it does, in fact, cut grass. Here's the problem: it has one job to do and fails to do it particularly impressively. This is about as barebones as a value proposition gets. If you unconditionally must have a gas mower, that's technically what this is. However, unless you have a chokehold-tight budget, I have a hard time believing that you couldn't find a more feature-rich, efficient mower for even $50 more than what Yard Machines asks for what amounts to something your grandfather might have shoved around his lawn decades ago.
Key Features
140cc OHV engine
Three cutting positions
Steel 20-inch deck
Limited one-year warranty
Performance
When looking over the 11A-02SB700's specs, I had to read the wheel measurements twice. My eyes didn't deceive me: this stripped-down mower rolls on a quartet of seven-inch wheels, smaller than what you would find on many motorless push reel models. To my surprise, they didn't exactly hold back its maneuverability. Weighing only 50 pounds, this curious throwback handles impressively weaving in and out of close squeezes and could conceivably be a breeze to push across a flat, small to medium-sized yard. Just don't expect much if you should happen to take a measure of its durability with some craggy, uneven turf. Imagine trying to drive a Mini Cooper along the bottom of a quarry.
If you look up the 11A-02SB700's Amazon listing, you may notice that it lists only as the "Yard Machines 140cc 20-Inch Gas Powered Push Lawn Mower." I have to wonder if prominently noting the size of its engine in the title isn't tantamount to a black-and-white disclaimer: "Just so you know, a 140cc engine is just about the smallest any motorized lawn mower has to offer. Expect more cutting power than a manual reel mower, but only barely." The PowerMore OHV driving this little devil is nothing if not consistent. It runs steadily and virtually never stalls. It isn't too shabby for the 11A-02SB700's miniscule price point, but it would be easy to wonder why Yard Machines bothered making a motorized lawn mower at all if that's the most horsepower they intended to offer. In this instance, manageable weight and horsepower is an unfortunate trade-off.
Ease Of Use
Ordinarily, I would be quick to praise any mower that starts virtually instantly on the first pull of the cord. When it comes to the 11A-02SB700, it feels like saluting someone who managed to wake up in the morning and breathe normally: what would I actually be complimenting? If a machine this simple had actually struggled to fire up at all, it would probably give cause to question whether Yard Machines should be manufacturing lawn and garden tools at all. Credit where it's due, this is indeed a mower that users of any age from 10 to 100 years old should be able to handle without a single hitch.
Cut Quality & Options
As long as your grass measures under four inches tall and remains just about as dry as a Steven Wright punchline, the 11A-02SB700 can probably handle it. If you need a mower built to rise to the occasion under a wealth of conditions, strike this one from your list immediately. It lacks the heft or horsepower to deal with high and heavy grasses and shouldn't be bothered with wet turf. Hills? Forget it.
In general, expect a lot of extra passes to tidy up inadequately trimmed greenery, especially given the aggravation of adjusting the 11A-02SB700's height. Each wheel transitions from one of its three settings to the next individually, leaving me to continue wondering why some manufacturers seem to abhor the convenience of one lever to raise and lower them all. Sadly, this is also not the mower for anybody who would at least like the option to mulch or bag clippings. Aside from push reel mowers, you just don't see many models anymore that only side-discharge remnants, but at least Yard Machines and Pepperidge Farm remember those bygone days when it was enough to just spray those shreds and move right along.
Maintenance
On the bright side, Yard Machines has produced a phenomenally fuel-efficient mower. Of course, with such a modest engine, that is to be expected. The same goes for its consistent durability without a wealth of regular maintenance: we're talking about an undersized engine with a 20-inch deck; simplicity does often mean fewer intricate working parts that can break or malfunction. Taking into consideration the worrisome limited protection of Yard Machines' one-year warranty, that has to be considered a relief.
Safety Features
The rear rubber flap intended to keep one's feet from kicking under the deck and into the blade has a tendency to sometimes roll underneath the mower, making the bailout lever a crucial mechanism for killing the engine in an instant.
Cost Effectiveness
Anticipate absolutely no greater performance than the bare minimum you would expect from a gas-powered mower priced under $170. If the Yard Machines 140cc mower were the last operational motorized lawn mower on Earth, I suppose I could settle for it. You can count on it to start on the first pull a vast majority of days. It weighs less than most electric mowers. Being considerably undersized actually works to its advantages when navigating in and out of narrow quarters or around obstacles. Of course, it also isn't exactly needy for regular TLC between sessions. On the other hand? I'm pretty sure most push reel lawn mowers could upstage its cutting quality. Lack of a single deck adjustment lever is baffling. It doesn't mulch or bag and comes with an insultingly succinct warranty. In the end, I can't really call something a "ripoff" if its price should be a red flag in itself, but I can't exactly call it a "steal," either. You get a mower that likely won't break down but doesn't perform its one job very effectively at all. The 11A-02SB700 is a model decades behind its competitors in just about every criterion.
Affordable For Your First Small Mower
PROS
Inexpensive
Dependably starts on first or second pull
Weighs less than 50 pounds
Notoriously low-maintenance
Maneuverable
Remarkably fuel-efficient
CONS
Below-par warranty length
Can't bag or mulch
Only three height settings
Fairly small wheels
Underperforms against stronger grasses
Aggravating height adjustment
Add your review

Yard Machines 11A-02SB700 140cc 20″ Gas Powered Push Lawn Mower Review