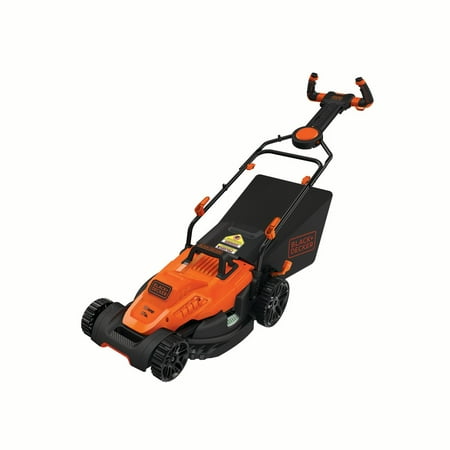 Keep your lawn neatly trimmed with the BLACK+DECKER BEMW482ES Easy Steer 17" Corded Electric Lawn Mower. With no need for oil or gas, maintenance is easier and more convenient. This 12A lawn mower has a pivot control handle for improved maneuverability and taking tight corners. The winged blade...

An environmentally friendly beast, the cool-looking orange and black Black + Decker BEMW482ES 12-amp electric lawn mower boasts a pivot control handle that will make you feel like a fighter pilot. More practically, this unique handle makes maneuvering a breeze and offers a level of handling comfort other mowers can't. The winged blade on this lightweight mower, meanwhile, offers 30 percent better clipping collection, making this a peak-performance machine that resembles a toy but mows like a real-deal heavyweight.
Ideal to use on a lawn sized at about one-eighths of an acre, this corded electric cuts a respectable 17-inch cutting path and has a cutting-height adjustment of one to three inches. It weighs just 42 pounds, making it highly accessible to anybody, and comes with a collection bag. The unique handle on top allows for superior control and handling in tight spaces and around obstacles  such as bricks and other landscaping decor.
The mower has a two-year limited factory warranty.
Key Features
Specially designed for easy maneuverability to get through tight spaces and handle yard obstacles
A winged blade offers an impressive 30 percent enhanced clipping collection rate
Corded electric mower is designed to handle tough, tall grass
Push-button start allows for getting started on the job at once
Six height adjustments lets operators mow from 1 to 3 inches
Rugged tread on wheels makes mowing through thick grass a cinch
Specs: 31 x 19 x 16 inches
Performance
With its sporty, race car-like look, the BEMW482SES mower will have your neighbors doing a double take while you're on the job. But beyond the modern, sleek look of the mower, how does this electric machine handle long, thick grass? Quite well, actually. It zips around trees and stone-lined flower beds with no problem. Minor twigs, thatchy weeds, and other vegetation is no match for the winged blade of the BEMW482ES, which slices clippings at an impressively better rate than most electrics. None of the debris will nick your shins thanks to the included bag, which holds a decent amount of clippings and is easy to take on and off.
Understandably, it's nice to have mowers that cut those huge paths that are 20 inches are more. This one does not, but if you're mowing a smaller-sized yard with it anyway, that's probably not a huge deal. What's more important is that this is a leanly made machine that can circle around garden hoses, ease along fences, or charge through the stumps of grubby trees with no problem whatsoever. If landscaping a small yard with a beautiful garden that you like to show off is your thing, this is gonna be your type of mower.
Ease of Use
Starting this mower couldn't be simpler after you've plugged it into a grounded outlet on the outside of your house. Once you're ready to go, the handy single lever on the back left wheel allows for six cutting heights that range from 1 to 3 inches. Pick your height, push the start button, and mow.
One thing you can't help but notice while using the BEMW482ES is how grippy the wheels are as the mower makes pass after pass. The great tread on the wheels provides the outstanding aforementioned maneuverability and high-traction feel of the mower as it's in action. The handle is unique in that there are two buttons on top for left and right movement that allows for superior handling over most other mowers in its class.
Getting used to a cord while mowing, if you've never used one, may take a few tries. The idea is to start mowing at a place closest to where the cord is plugged in and then mow away from the cord. It also helps to rope the cord over your shoulder to be able to control it better. Every time you make a pass, move the cord to the opposite side of your discharge chute, if that's what you're using for the clippings. That will ensure that your cord won't get damaged. On a mower like this one in which you're using a bag, the idea is to still maneuver the cord in a manner that prevents it from getting in your way as you mow. While a positive that you never have to worry about recharging batteries, you are limited by the length of the cord, which would require you to get a larger extension cord depending on the size of your yard. Many people may not like this inconvenience as well as the risk of mowing over the cord.
Cut Quality & Options
Many who use this machine are most taken aback by the handle, which is nothing like what you see on most mowers. While gripping the handle, it may feel more like flying an airplane, which is fitting given the sleek look and lightness of the BEMW482SES. On tall grass you can smell the fresh cut as the winged blade chops away at a 30 percent higher rate compared to other mowers in this one's class. Though the smell of the freshly cut grass is nice, you won't have to deal with debris in your yard or on your shoes thanks to the bag collector, which is easy to take on and off.
It may have a toy-like look, but the BEMW482SES is the real deal. It offers a precise cut and runs quietly and smoothly even over rugged terrain with sticks, rocks, stumps, and leaves everywhere. What's really cool about this mower's handles is how you can easily push the machine upward if needed using your hands rather than feeling like you have to push all of your weight on a handle that runs all the way across. Though you're not technically steering the mower while using these handles, oddly enough, it kind of feels like you are.
Maintenance
You'll want to check the manual for all maintenance duties, but like all mowers, it's best to clean the BEMW482SES after using it. Make sure the blade stays clean and sharp as well, and always check nuts, bolts, and screws to make sure they're fully tight.
Since this is an electric, it's definitely recommended to NOT mow on wet grass. Check your extension cord to make sure that no bare wires are showing and that nothing is damaged. Also, if you have slopes, it's recommended to mow across it with this electric rather than up and down. That will prevent slippage and having the machine inadvertently slide backward.
The bag on the back is easily removable, allowing you to dump the clippings as it gets full. It's big enough to handle most small yards with only a single emptying, however, medium sized yards you can expect to dump the grass clippings more often to ensure the mower doesn't get clogged or overworked from being too compacted with waste.
Safety Features
The wheels can be locked in, as well as an exceptional well thought out cable management system. Check the manual for additional safety features. We do not know offhand at the time of this writing.
Special Features
The small size allows the mower to easily be stashed away in your shed or garage.. It's always a good thing for the environment when you're mowing your lawn with a machine that doesn't pollute. Beyond doing your part for the world in that respect, this mower is:
Quite maneuverable thanks to high-grip wheels
A clipping-collector monster, even on tall, thick grass
Super easy to start
Able to mow grass at height adjustments of 1 to 3 inches
A mower that looks like a toy but mows like a champ
Cost Effectiveness
You don't need to worry about paying for gas with the BEMW482ES; this thing starts with the push of a button. Maintenance costs on this machine will also be scaled down compared to a gas-powered mower. After you've paid for a heavy-duty extension cord that's extra long, which is available online or at any hardware store, you've paid for all l you'll ever need.
PROS
Easy push-button starting
Unique, responsive steering handle
Maneuvers well
Quiet
Easy, one-lever height adjustment
CONS
No mulching option
Not ideal for slopes
Cutting path not huge
Corded
Add your review

Black + Decker BEMW482ES Corded Electric Lawn Mower Review