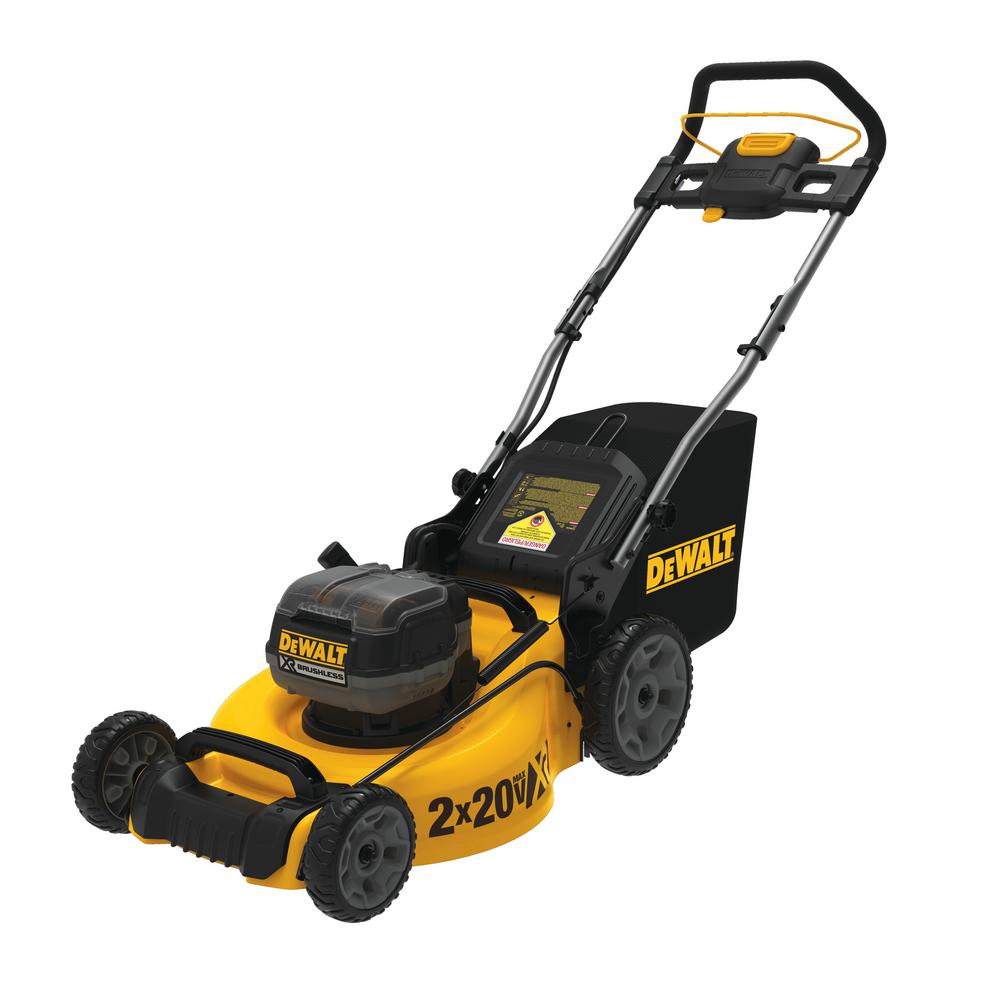 2X 20-Volt MAX DEWALT 3-in-1 Cordless Lawn Mower is powered by 2 DCB609 9.0 Ah FLEXVOLT batteries to deliver 2X the voltage. The high-output brushless motor delivers powerful performance and increases torque in high overgrowth. The lawn mower's 3-in-1 capability allows for mulching, bagging or...



he doubled-up 20-volt MAX* DeWalt 3-in-1 cordless lawn mower is powered by two 20-volt MAX* batteries that deliver twice the voltage. The high-output brushless motor delivers powerful performance and increases torque when dealing with difficult overgrowth. Additionally, the lawn mower's 3-in-1 capability allows for mulching, bagging, or rear clipping discharge and is ideal for properties of up to one-fourth of an acre.
For prime-time performance, the battery-powered lawn mower can be paired with high-capacity 20-volt MAX* DeWalt batteries or FLEXVOLT® batteries that extend runtime and offer maximum compatibility across DeWalt battery systems.
This cordless lawn mower is designed to help you get the job done with a 20-inch metal deck, quick and easy single-lever height adjustment, and folding handles for compact and upright storage.
Comes with: mulching plug safety key, two high-powered lithium-ion batteries, a DCB115 standard charger, a collection bag, and a mulching bag. Seven-inch front wheels and 10-inch rear wheels.
Key Features
The powerful brushless motor and two 20-volt MAX batteries on the DeWalt DCMW220P2 work together for high-power output
3-in-1 mowing options for mulching, bagging, and rear discharging
Heavy-duty 20-inch metal deck helps move the job along at faster pace
Handy single lever height adjust ranging from 1.5 inches to 3.4 inches
Folding handle and lift handles offer compact storage and easy transport, respectively
Mower is compatible with DeWalt 20-volt MAX and 60-volt FLEXVOLT battery systems
Performance
The DeWalt 3-in-1 boasts a high-efficiency brushless motor that pounds out consistently top-notch cutting performance. The cordless mower has a 20-inch metal deck to cut a large swath, a folding handle for upright storage, and front deck and rear deck carrying handles for easy transportation. It mulches, bags, and has rear discharge to spew grass clippings for valuable fertilization. Additionally, the 2×20-volt MAX* mower has an on-deck LED light board that signals state-of-charge levels for each pack and indicates when a recharge is needed. Finally, with its light weight and lithe specs, this mower maneuvers nicely around all objects and types of vegetation.
Ease of Use
Since it's cordless, the DeWalt 3-in-1 mower operates like a typical walk-behind machine. When you're finished with the job, just fold in the handle and store it upright in a corner of your shed or garage. And to get it there, you can use the rear-deck carrying handles for super-convenient transporting.
The mower clocks in at a lightweight 77 pounds, making it a cinch to push, and it's battery operated, so there's no need to mess with an annoying cord.
Cut Quality & Options
Ideal for landscaping applications, the DeWalt 3-in-1 40-volt brushless mower delivers a consistently clean-cutting performance. The large 20-inch cutting deck carves out an impressive path, and the 3-in-1 mowing options means you can bag, mulch, or spit clippings from the rear for fertilization. Also, when those batteries finally dwindle down to dangerously low levels, you'll know about it thanks to the on-deck LED light board that lets you know when a charge is needed for each pack.
To actuate the battery-level gauge, press and hold the gauge button. You'll see a combination of the three green LED lights illuminate, indicating the level of charge left. When the level of charge in the battery is below the usable limit, the gauge won't light up and it's time to recharge the batteries.
The easy-to-operate single-lever height adjustment offers a cutting range of 1.5 inches to 3.4 inches.
Maintenance
Maintenance on the DeWalt 3-in-1 is minimal. There's no carburetor, no spark plug, no air filter, and no fuel or oil to mess with.
After purchasing the mower, be sure to charge the battery pack and take care of the easy handle assembly and height adjustment. Read all of the safety instructions before using the charger, and view the manual to see the compatibility of chargers and battery packs for the mower.
Other maintenance to-do items include keeping the blade sharp, balanced, and clean; cleaning the charger when needed; keeping the air vents free of dirt and dust; and keeping the guards in place and in working order. No lubrication is required, including for the wheels, which have plastic-bearing surfaces.
Store the mower in a cool and dry place, away from direct sunlight and excess heat or cold if possible. For long storage times, make sure to store a fully charged battery pack in a cool and dry location and out of the charger for the best results.
Safety Features
They're nothing revolutionary, but a few of the simple safety options on this mower are an on-off switch box, an on-off button, a safety key, and a bail handle to stop mowing at once if needed. The safety key comes with a hole in its center to allow for storage on a nail, which can keep it out of children's reach.
What's more interesting is the electronic protection system of the lithium-ion batteries, which protect the battery pack from overloading, overheating, or deep discharge. If any of these things happen, the protective system will automatically shut the tool down.
This mower conforms to the safety standards of the American National Standards Institute and the U.S. Consumer Product Safety Commission.
Special Features
Awesome features on the DeWalt 3-in-1 cordless mower include push-button starting, a folding handle and lift handles, a cutting-edge charge indicator, a powerful brushless motor, single-lever height adjustment, 3-in-1 mowing options (for mulching, bagging, or rear discharge), and a wide 20-inch metal cutting deck. So what's great about it is you can easily fold it up to fit in the back of your truck, van, or even a car trunk.
Cost Effectiveness
The warranty options on the DeWalt 3-in-1 translate to some pretty nice money-saving options, starting with the one year of free service bonus. There's also a 90-day money back guarantee if you run into problems, and the mower has a three-year limited warranty.
Also, if you use the high-capacity 20-volt DeWalt batteries or the FLEXVOLT batteries, you'll be getting the most out of your battery power and maximum compatibility for extended runtimes. It's something to consider if you're looking to save on batteries.
Speaking of savings, with the DeWalt 3-in-1 electric mower, you'll save cash on gas, oil, air filters, carbs, and a million other maintenance requirements that cost money.
PROS
Batteries compatible with other DeWalt products
Impressive battery-operated power
Cordless
Minimal assembly
LED light board monitors batteries
Push-button starting
No smelly fumes
CONS
No anti-vibration mechanism
Manual push
Plastic wheels
Charger, battery pack not serviceable
Add your review

DeWalt DCMW220P2 20V 3-IN-1 Cordless Battery Powered Electric Lawn Mower Review