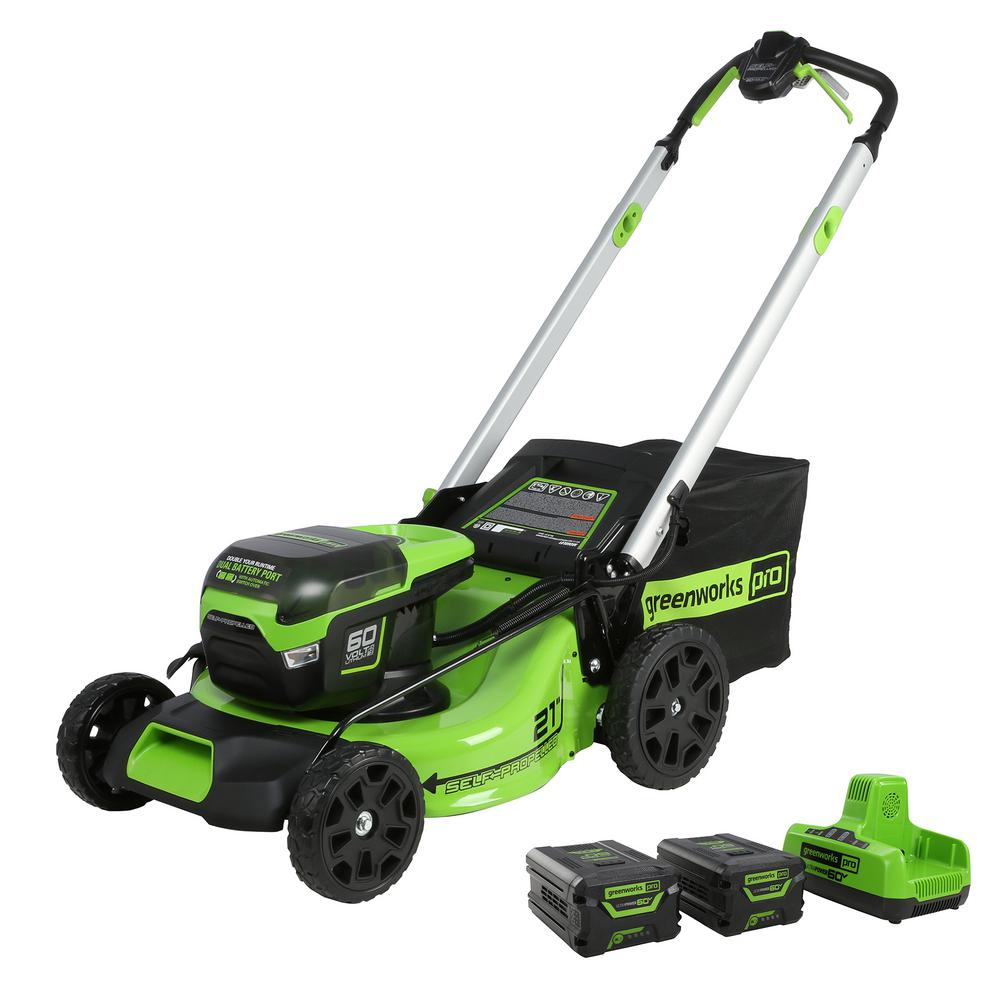 Keep your lawn looking pristine with the Greenworks 60-Volt 21 in. Brushless 3-in-1 Lawn Mower. This efficient cordless battery platform gives you all the power you need to tackle your yard. Kick gas to the curb this spring and go green with no fumes, no mixing, no maintenance and no pull cords....

A Powerful Self-Propelled Battery-Powered Lawn Mower
This electric lawn mower has the battery power and silent brushless electric motor to manicure your lawn for years!
Positive
5.0 Ah battery
60-volt brushless electric motor
Quiet running
3-in-1 side discharge, bag or mulch
7 height settings
Vertical storage
Negatives
Hills can shorten charge potential
Blade needs replacing rather than sharpening
Too heavy to hang
Lithium-ion battery technology has made some impressive evolutionary strides in recent years. The same can be said for brushless electric motors and their ability to run quietly while also producing less heat. So, it should come as little surprise that a leading electric lawn mower manufacturer like Greenworks would engineer a model that features both.
The Greenworks Pro 60v model 2531702 is powered by a 5.0 Ah battery, that when fully charged provides up to 50-minutes of run time for both the self-propulsion system as well as the cutting blades. They even go so far as to include the charger in the original purchase, which is something that can't always be said about the shoulder-to-shoulder competitors in this niche.
The 21-inch diameter cutting deck on the Greenworks Pro 60 does a great job of chewing through large swaths of grass with every single pass. Though it's also not too big for times when you need to navigate this self-propelled electric lawn mower around trees or tightly spaced landscaping features. You can easily adjust the height of the cutting deck through 7 distinct settings, which makes it a great way to give your lawn the custom cut it needs every time.
Though this isn't the end of the versatility offered by the Greenworks Pro 60, as this electric self-propelled lawn mower was engineered to be a true 3-in-1 model. This means that you can leave it set up as a side discharging mower for times when you can frequently mow the lawn without having to worry about problems caused by thatch. Though you can just as easily switch it over to be a mulching or bagging lawn mower to reduce the risk of thatch choking out your turf.
Key Features
5.0 Ah battery
60-volt brushless electric motor
50-minute maximum run time
Battery & charger included
21-inch diameter cutting deck
7 height positions
3-in-1 side discharge, bag or mulch
Stores vertical if necessary
Performance
The 5.0 Ah lithium-ion battery in the Greenworks Pro 60 does a good job of powering both the self-propulsion system as well as the cutting blade under the 21-inch diameter deck. Under ideal conditions, you can get up to 50-minutes of runtime out of a single charge.
Just bear in mind that if you set up the Greenworks Pro 60 to mulch, and you are dealing with steep changes in the terrain, you might see less run time than the 50-minute maximum. This is true of pretty much all self-propelled electric mulching mowers.
Ease Of Use
The Greenworks Pro 60 is much easier to use than a gasoline-powered lawn mower of the same size or a similar price. You can start the mower with the press of a single button, and the speed control is right by the safety handle. The deck height is also easy to adjust.
When you are done cutting the lawn, you simply put the lithium-ion battery in the included charger. Then the Greenworks Pro 60 can be stored vertically. Just keep in mind that it is likely too heavy to be hung, and should instead be stood up against a wall.
Special Features
The 60 Volt brushless electric motor might not be one of those things that immediately jumps off the screen at you as a "Special Feature." Though it really is a sign of exceptional engineering. Not only is it very quiet, which is ideal for suburban areas with other homes nearby, but it also generates very little heat. This translates to less wear and tear on the electric motor itself for a much longer overall lifespan.
The 3-in-1 versatility of the Greenworks Pro 60 is also great for producing a custom cut that is perfect for your lawn's needs. If you don't want to deal with the thatch created after blades of grass are harvested, you can simply switch the Greenworks Pro 60 from side-discharge to mulching or bagging in a matter of moments.
Cut Quality & Options
The Greenworks Pro 60 was designed to let you adjust the dynamics of the 21-inch diameter cutting blade for a precise custom cut every single time. If your lawn has been growing vigorously fast, you can adjust the cutting deck through the 7 possible settings to mow the grass low down. This will let you keep ahead of the grass for a perfectly manicured lawn.
You can also set up the Greenworks Pro 60 to deal with the harvested grass clippings in three different ways. During times when you can cut the grass frequently the convenient side-discharge mode is handy. Though if you are worried about thatch building up and choking your lawn, you can quickly convert the Greenworks Pro 60 into a mulching or bagging lawn mower.
Maintenance
As a battery-powered electric lawn mower, the Greenworks Pro 60 is very easy to maintain. All you need to do is make sure to charge the lithium-ion battery to the max between every use. Then periodically check the blade to make sure it is sharp. Most people prefer to buy and swap in replacement cutting blades, rather than trying to hand sharpen the original cutting blade.
If you are using the Greenworks Pro 60 as a mulching mower or bagger, take a minute or two at the end of every mowing session to make sure all stray organic matter has been removed from the underside of the cutting deck and the bag.
Safety Features
The Greenworks Pro 60 comes with all the standard hand control safety features you expect to find in a well-designed battery powered lawn mower. You can always stop the mower at a moment's notice if you encounter a surprise obstacle, and then restart it with the press of a single button.
Cost-Effectiveness
The Greenworks Pro 60 is much more cost-effective than a gasoline lawn mower of the same size and price. The fact that you get the charger included standard in the purchase also adds to the overall value. The brushless electric motor will also last longer, for a more robust return on your investment.

Greenworks Pro 60-Volt Self-propelled 21″ Battery Lawn Mower Review