Jonsered L2821 21″ 160cc GCV160 Honda Walk Behind Self Propelled Lawn Mower Review
Reliable Honda motor
6.9 foot-pounds of gross torque
A dual trigger control system
9 height adjustments
3-in-1 versatility as a bagger, mulcher, or direct discharge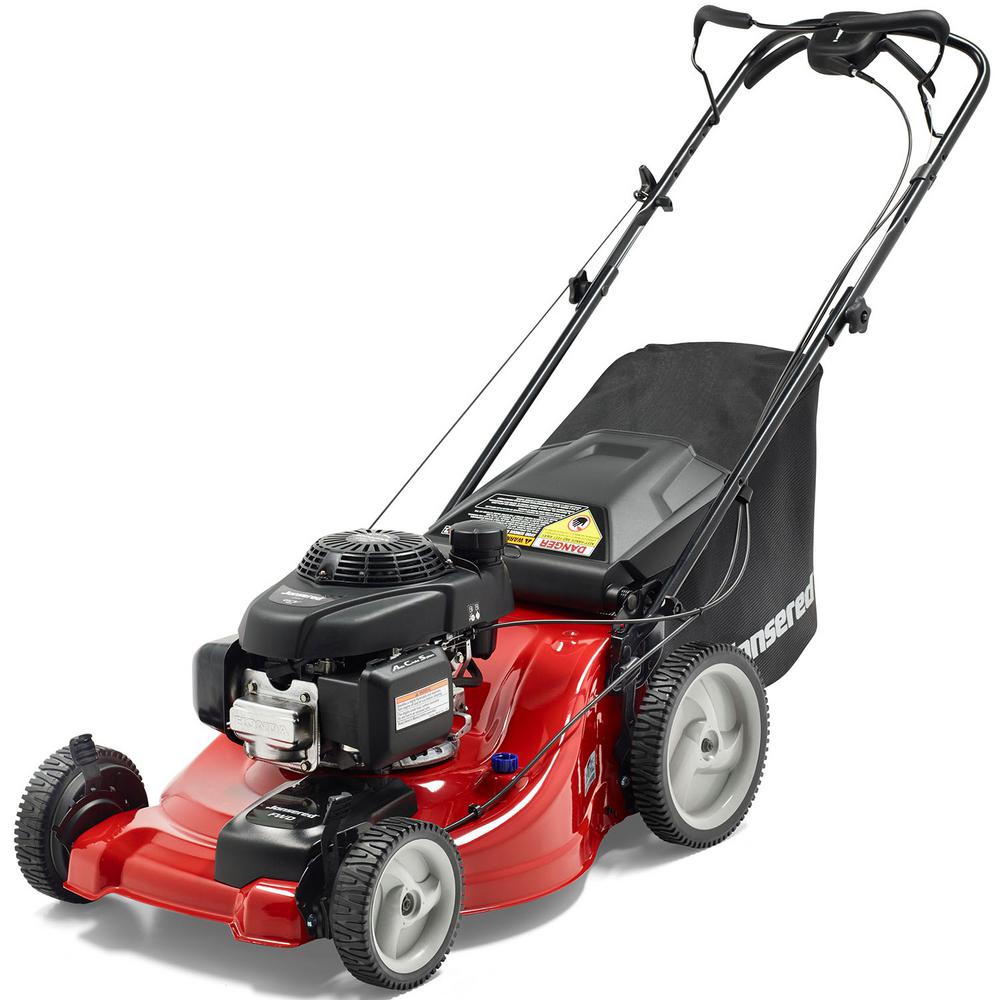 A quality lawnmower is typically a serious investment. Finding one that is durable, reliable, and efficient is also something that is often sought after by people who need to cut a large lawn. To make their offering in this niche Jonsered puts forth their L2821, 21-inch Walk Behind Front-Wheel-Drive Mower.
It features a GCV 160 cc Honda engine, which has been designed to provide 6.9-foot-pounds of gross torque. This level of grunt helps cut grass efficiently, while also helping to propel the front drive wheels with confidence. It was also designed to not need oil changes. You simply check the oil dipstick from time to time. If it is low, you add a little bit in.
The rear wheels are a little larger than you find in most other competitors in this class. This probably isn't much of a benefit if you have a smooth, flat yard. However, if your lawn has some rough spots or you sometimes need to tackle an incline, the extra-large wheels are certainly nice for tackling a little rugged terrain.
The Jonsered L2821 Walk Behind Front-Wheel-Drive Mower's 21-inch deck can be adjusted to nine different height settings. This allows you a range as low as 1-inch for wetter times of year when the grass grows quickly, all the way up to an astonishing 4-inches for times when the conditions are dry, or you simply need to keep back grass and weeds from going to seed.
The Jonsered L2821 Walk Behind Front-Wheel-Drive Mower was designed to be a 3-in-1 lawnmower. This allows you to use it for direct discharge or mulcher for managing grass clippings. If you want to use it as a bagger, it was designed with a high tunnel cutting deck for easier collection and removal.
There is also a built-in hose connection. You merely attach a standard garden hose to it and turn on the water to clear any stuck-on grass clippings or other plant debris from the underside of the 21-inch mower deck.
Key Features
160 cc GCV Honda engine produced 6.9 foot-pounds of gross torque
3-in-1 bagger, mulcher, or direct discharge
High tunnel cutting deck
Dual trigger control allows for one handed operation
Doesn't require oil changes, only top offs
Nine easy to adjust cutting heights from 1-inch to 4-inch range
High rear wheels for tackling rough terrain and slopes
Front wheel drive
Hose connection port to help clean the underside of the mower deck
Performance
Honda has built its name through decades of reliability. This carries through with the 160 cc GCV engine that powers the Jonsered L2821 Walk Behind Front-Wheel-Drive Mower. All told it produces 6.9 foot-pounds of gross torque, which is more than enough to power the front wheel drive system as well as the mower blades.
Ease of Use
The Jonsered L2821 Walk Behind Front-Wheel-Drive Mower is relatively easy to use and maintain. The large wheels help it move easier over uneven turf. It has more than enough torque to handle the mower blades and the front wheel drive system.
The dual trigger control system may not seem all that advanced. Yet it does allow you to operate the mower one-handed when necessary. The 9 adjustable cutting heights for the deck are also easy to set and lock into place.
One tiny knock on the Honda mower is that it is not a 1-pull or electric start like you find with a few other mowers in this niche. This means there might be a few times when you're going to have to use a little elbow grease, pull starting it.
Cut Quality & Options
With the Jonsered L2821 Walk Behind Front-Wheel-Drive Mower, you have the choice of using it as a bagger, a direct discharge, or as a mulcher. The setting that is right for you will vary depending on the state of your grass and what you want to do with the clippings.
The direct discharge sort of isn't needed with this type of mower. If you are going to have excessively long grass clippings, then it's best to either use the bagger or set it up for mulching.
The nice thing about the mulcher is that you can set the cutting height to within 1-inch of the top height of the grass. The mulching process will then break them down into tiny pieces that can easily integrate back into the sub-layers of the turf. Over time they will decompose and contribute nitrogen back to the roots of your grass for a little added fertilizer.
If you need to reduce the height of your grass by more than an inch, then it's probably best to set it up as a bagger. The high tunnel height built into the 21-inch cutting deck makes the bagger more efficient and easier to use than most of the competitors in this same class. One small knock on the bagger is that the bag itself isn't "Dustless" this means if you want to bag your grass clippings in really dry conditions, you are going to have to deal with a little dust and dirty shins!
Maintenance
The Jonsered L2821 is relatively easy to maintain. The hose connection port makes it easy to wash out the underside of the deck.
The 160 cc GCV Honda motor was designed to not need oil changes. You simply check it from time to time. If it's low add a little bit in, allow 3 to 5 minutes for the oil to settle, and then check the dipstick again to see if it needs a little more.
Safety Features
The dual trigger handle allows you to operate this mower one-handed. If you release either side of the handle it disengages the mower blades and stops the front wheel drive propulsion.
Cost Effectiveness
The Jonsered L2821 Walk Behind Front-Wheel-Drive Mower has been designed with durability and efficiency in mind. Just remember it's going to still need fresh gasoline like any gas-powered lawn mower. Check the oil from time to time just in case it needs to be topped up. The reliability of the Honda motor provides the peace of mind in knowing that it's meant to last for the long haul.
Durable and well-designed self-propelled lawnmower
PROS
Reliable Honda motor
6.9 foot-pounds of gross torque
A dual trigger control system
9 height adjustments
3-in-1 versatility as a bagger, mulcher, or direct discharge
CONS
Bagger is not dustless
Not a 1-pull start
Direct discharge is trumped by the mulcher and bagger
A little heavier than some competitors