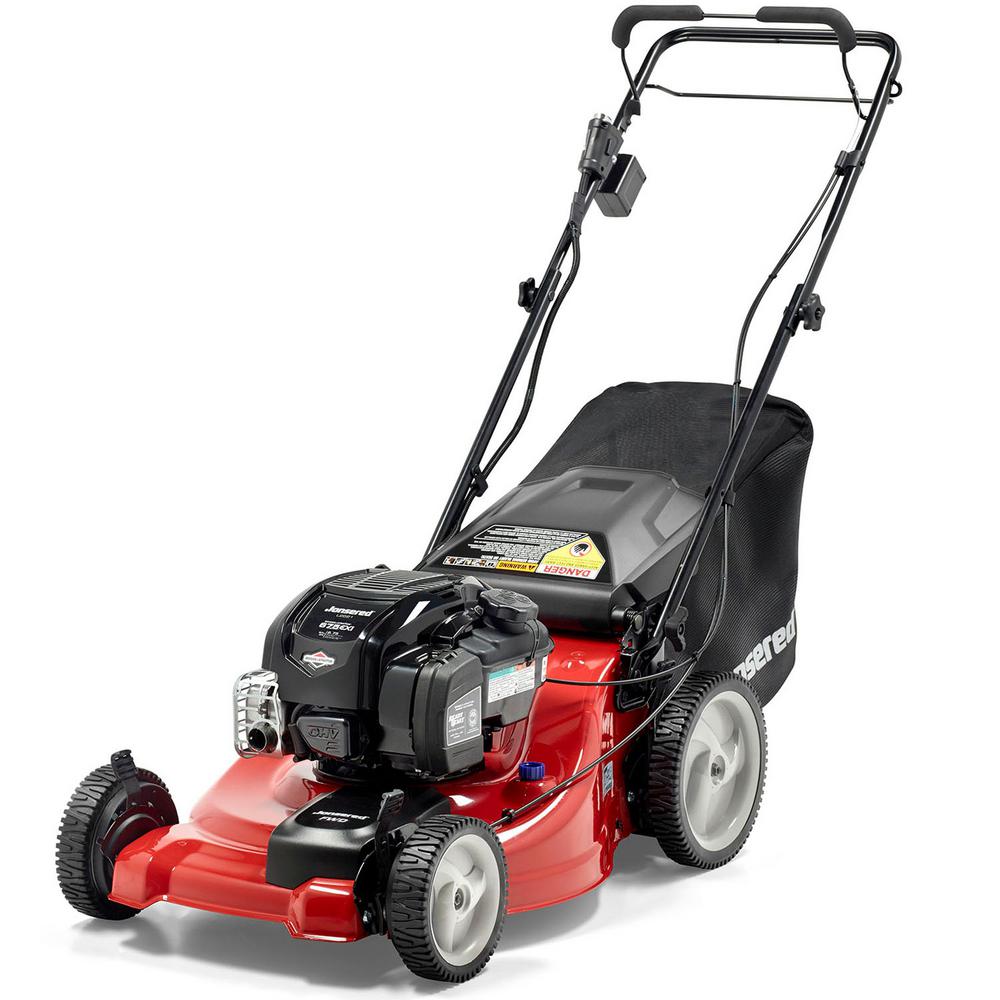 Jonsered L2621 21 in. self-propelled FWD lawn mower delivers superior mulching, bagging, and discharge performance and features the convenience of push-button, electric start. Powered by the 163cc Briggs and Stratton 675 Series engine with Ready Start no prime starting, and equipped with quick...

There are some people who relish the opportunity to get out and cut the grass, yet don't want to deal with the struggle of starting a gas-powered lawnmower or the lug of weight to push it around the yard. If this sounds like you, then chances are you are in the market for a self-propelled lawnmower like the Jonsered L2621 Walk Behind Self-Propelled Mower, Part number: 961430131.
This unit goes a step beyond most other self-propelled lawnmowers with a variety of carefully designed features. One of the most important is the Lithium-powered one-touch start module. It has been specifically engineered to start the 163cc Briggs & Stratton gas-powered motor, without the usual hassle of having to prime and choke it.
This innovative system also means that there isn't any of the frustration of having to pull on a dragging chord, hoping with each pop that the motor will finally flare to life. Instead, the Jonsered L2621 Walk Behind Self-Propelled Mower starts with little more than the push of a button.
It is also designed with nine easy to adjust cutting heights, which allows you to accurately control just how long your grass is with each cut. This can be especially handy as the season change, or your areas are hit by excessive weather or prolonged drought.
When dialed in for the prevailing turf conditions the Jonsered L2621 Walk Behind Self-Propelled Mower will cut the grass into fine pieces. This means that the thatch it produces will more easily integrate and decompose into the deeper layers of the turf. Long strands of thatch have the tendency to choke up the upper layers of the turf requiring season aeration to prevent dead spots in the grass.
If you prefer the Jonsered L2621 Walk Behind Self-Propelled Mower can also be set up for side discharge as well as bagging. The bagging feature allows you to do things like adding high nitrogen grass clippings to your garden's compost pile.
Key Features
• Lithium one start system
• Doesn't require choking, priming, or cord pulling
• 163cc Briggs & Stratton engine for superior power
• 9 easy to adjust height settings
• It can be set up for bagging, mulching, and discharge
• Connection for a hose to clean the underside of the mower deck
Performance
The 163cc Briggs and Stratton engine is powerful enough to provide an efficient cut. The self-propelled feature also helps move it along at a comfortable clip, to minimize the amount of physical effort required by you.
Ease of Use
The Jonsered L2621 Walk Behind Self-Propelled Mower was engineered and designed to be easy to use. The one-touch Lithium starting system spares you the hassle of repeatedly pulling on a stubborn lawnmower cord. The system was also designed to spare you having to mess around with priming the motor or choking it just to get it started. The integrated and innovative system handles it all for you.
The self-propelled ability of this lawnmower helps move it along effortlessly. It also has an easy to connect host port, which allows you to safely and conveniently clean any stuck-on grass clippings from the underside of the mower deck.
Cut Quality & Options
The nine easy to adjust cutting height settings is really nice. You typically don't find that sort of range or precision in other mowers in this same size and price point.
If you are planning to bag your grass clippings the height adjustment isn't all that big of a deal. However, if you want to use it as a mulcher or direct discharge, then you should try to dial it in to make small cuts. Ideally something in the neighborhood of 3/8ths of an inch off the top of the blades of grass. This will produce smaller pieces of thatch that will have an easier time integrating back into the layers of turf. As time goes on it can even decompose to act as a fertilizer.
When grass is cut too long, the thatch tends to sit on top of the turf and gradually start to compact. Over time this clogged up thatch can start to suffocate the soil layers of the turf, as well as prevent water from fully reaching the roots. The end result is a lawn with thinning grass and even a few dead spots. Once it gets to that point, you will need to have it professionally aerated to restore the natural moisture and nutrient flow of the turf.
Maintenance
The Jonsered L2621 Walk Behind Self-Propelled Mower will require the same level of maintenance that you would give any gas-powered lawnmower. The Briggs & Stratton motor needs periodic topping up of oil and stabilized or otherwise fresh gasoline.
The hose connection on the mower deck is a nice feature. It allows you to conveniently clear away any trapped grass clippings, without having to do it manually.
The Lithium battery for the starter does need to be charged periodically. There doesn't appear to be a smart charger system built into it. So, you should disconnect when it isn't charging
Safety Features
The Jonsered L2621 Walk Behind Self-Propelled Mower has the standard hand grip levers that you find with most gas-powered lawnmowers. If you release them, they disengage the blades.
Special Features
The hose connection for cleaning the underside of the deck.
The ability to use it as a bagger, mulcher, or for direct grass clippings discharge
Nine different cutting deck height settings, to precisely dial in the length of the grass being cut
The Lithium electric start system saves you from having to pull a heavy mower cord. The starting system is also set up so that you don't have to monkey around with priming and choking the mower just to get it to start.
Cost Effectiveness
The Jonsered L2621 Walk Behind Self-Propelled Mower has a lot of features and engineering built into it that you don't often find in some of the competitors in its same class.
Easy to use, and well-designed self-propelled gas mower!
PROS
Incredibly easy to start
Hose connection to clean the underside of the deck
Nine cutting height settings
Can be used as a highly effective mulcher
Can be set up as a bagger or direct discharge
CONS
You still need to do some basic motor maintenance
Not a lot of versatility in self-propelled speed
Lithium battery needs charging
No smart charger
Add your review


Jonsered L2621 21″ 163cc Briggs & Stratton 3-in-1 Walk Behind Self-Propelled Lawn Mower Review