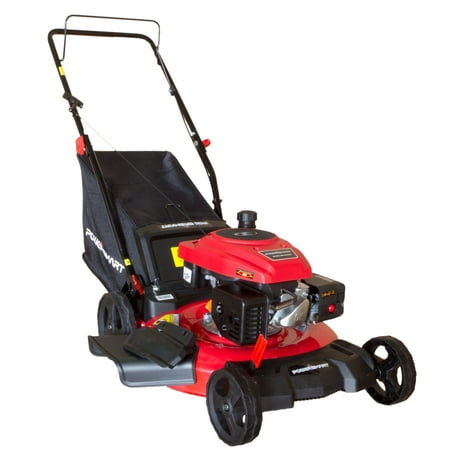 Ideal for the smaller yard, the compact, PowerSmart DB2194P 21" 3-in-1 160cc Gas Push Lawn Mower is easy to operate in tight spaces. This product features three cutting systems, including a side discharge option and mulching capability plus a collection rear bag. The gas-powered lawn mower has a...


This nice-looking mower is fueled by gas, has three types of mowing options, and has a 21-inch cutting deck for a healthy cutting range on every pass. Since it's lightweight and compact, the DB2194P is ideal for smaller-sized yards and can really zip through those tight spaces offering a clean cut in the process. It's powered by a 161cc engine that produces ample power and can bag and mulch depending on the time of season and yard conditions. Mowers can also choose the side discharge option if they're interested in naturally fertilizing their lawns.
Weighing just 63 pounds, the DB2194P is a pull-starting push mower that most will find easy to walk behind and move forward. The grass-cutting height of the mower ranges from 1.18 to 3 inches and can be adjusted depending on conditions.
Key Features
The 161cc engine offers just the right amount of power to keep this compact and lightweight mower cutting precisely at every pass
The DB2194P offers bagging, mulching, and side discharge options
Five-position height adjustment is easy to maneuver and allows for adjustments depending on grass conditions
Eight-inch rear wheels offer easier pushing
21-inch steel mowing deck for large cuts on every pass
34 x 23 x 18 inches
Performance
Before mentioning the performance of the DB2194P, it should be noted that the mower is not for sale in California, likely because it is not CARB compliant. CARB stands for California Air Resources Board. In a nutshell, this board strives to limit the emission of volatile organic compounds in an effort to reduce pollution. This is something to consider if you are conscious of the environment or don't want to deal with a mower that produces smelly chemicals.
The wheels in general aren't huge, and there have been complaints about Power Smart mowers having durability issues. That aside, what stands out about the DB2194P is that for a push mower it's extremely easy to handle. I nudged it up as close as possible to my storage shed and was able to cut down hard-to-reach clippings with no problem. It's equally adept on those long passes. If your lawn is overly long, you may want to consider not bagging so that you're not constantly changing out clippings. Use the mulching or side-discharge option and bag when the grass is on the shorter side or when you've got tons of leaves.
Ease of Use
In an age of push-button mowers, some folks may not like a pull-starting mower with a cord as much. Still, this mower, which includes a cord, starts up on the first pull and moves lithely around on grass thanks to its trim design. You can pull up close to flower beds and ease around your mailbox with no problem. At the same time, a good-sized 21-inch cutting deck clears the way for less passes overall.
With its light weight, the DB2194P can be used by many people and is not that difficult to maneuver up and down slopes. I encountered a few nasty ruts and bumps on a mild slope and was pleasantly surprised at how effortlessly this mower glided right through them. Meanwhile, the quality of cut was in no way uneven, and I didn't have to make multiple passes over such terrain.
The 8-inch rear wheels on the DB2194P provide decent grip, and the mower is highly maneuverable around obstacles. The engine provides good power, and I like the preciseness of the blade.
Cut Quality & Options
Mowers who choose the mulching option with this Power Smart lawn mower will find that the deep dome design of the deck and the sharp blade will really eat up the clippings. Or, depending on the time of year, you may want to use the side-discharge feature to spread the grass clippings evenly throughout your yard, producing free-of-charge nutrients that will make grass lush and healthy.
Of course, many home homeowners like a lawn that looks ultra-tidy and pristine, free of weeds and clippings. In that case, use the large, rear-mounted 18-gallon container with the DB2194P, which holds a fairly good amount of grass and is easy to release.
With five grass-cutting height adjustments, this mower is adaptable to varied growth, which may include weeds and other types of vegetation.
Maintenance
Just a few notes about assembling the DB2194P–there's not much to it. You'll need to attach the lower and upper handles and insert the recoil starter handle cable into the provided hook on the upper handle. Attach the grass catcher and side-discharge suit depending on how you want to mow. Gas it up, give it some oil, and get out there!
If you take good care of this mower, there's no reason it shouldn't work for years to come. Simple steps include:
Making sure the blade is sharp and in good condition
Cleaning the underside of the deck for optimal performance
Storing the mower in a well-ventilated area if possible
Go through the manual to see all parts and maintenance tips.
Safety Features
The mower comes equipped with an engine with a start and stop lever, which prevents operators from accidentally starting up the engine. The release of this lever will at once stop the blade from rotating. In addition, the lever has to be engaged in order for the mower to start. Be sure to return the lever to its initial position when the start/stop function is released. It's recommended to go through this process a few times before you begin mowing to make sure these functions are working properly.
Special Features
What stands out most about this mower, at least to me, is its ability to offer a precise cut in tight-fit areas that may give other mowers difficulty. Its compact and lightweight. Pushing the DB2194P is not a chore like it can sometimes feel like with push mowers that are heavier. The engine is very solid, offering the exact right amount of get-up that a mower like this one needs. This is a highly accessible, easy-to-use mower that may not have a lot of frills but gets the job done right. As mentioned, it's a 3-in-1 machine that has 5-position height adjustment and a respectable 21-inch cutting swath thanks to a durable steel deck.
Cost Effectiveness
You're going to get the best value from this mower on a yard that's anywhere from one-fourth to one-half of an acre, especially if you choose to bag. An 18-gallon rear container isn't puny, but it's also not huge, and some mowers may find that changing the clippings out of it too often can be a hassle. That would obviously happen on a larger-size yard.
I always like to think of 3-in-1 mowers as having cost-saving measures that can come in handy at different times of the mowing season. For instance, I like using side discharge when the grass is dry in the middle of summer. I think of it as free fertilizer. When the lawn gets thick and leafy, the bagging option is great. I can skip raking or paying someone else to rake. And the mulching option is ideal for either of these conditions.
The last thing regarding cost effectiveness is that this mower is lightweight and easy to push. Its efficiency should save on fuel costs.
PROS
Easy to assemble
Lightweight
Durable 21-inch cutting deck
Should start on first crank
CONS
Pull starting
May have durability issues
Fumes
Not self-propelled
Lacks California CARB regulations
Add your review

Powersmart DB2194P 21″ 3-in-1 Gas-Powered Push Lawn Mower Review