Product Summary
Troy-Bilt walk-behind Lawn Mower has a front-wheel self-propelled drive system for increased maneuverability around obstacles. It's easy to raise and lower the cutting height, thanks to dual-lever height adjustment. Since this mower's 3-in-1 deck lets you side discharge, mulch and bag, it has the versatility to handle any yard. The TriAction® cutting system lets you make a clean cut in just one pass, with a rake guard to ensure grass stands upright, an S-blade that creates an even cut and a symmetrical deck that creates a strong vacuum. Includes standard 1.9-bushel grass catcher.
What's Included
(1) Lawn mower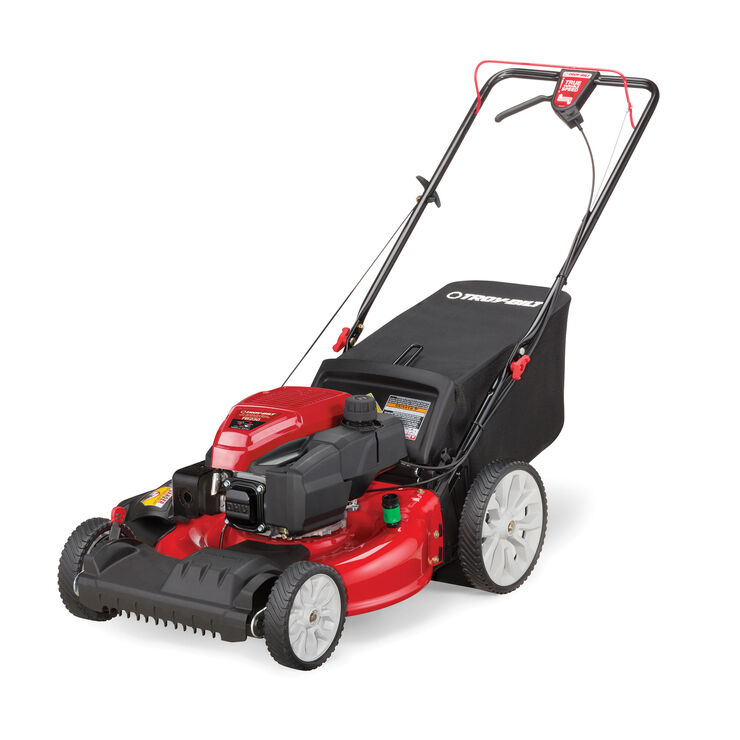 Eliminate oil changes on the TB230 with Check, Don't Change(TM) Troy-Bilt engine. Simply check the oil each time and top off as needed. Mow with more control using variable speed front wheel drive. Choose between rear bag, mulch or side discharge mode to dispose of clippings.
A lot of walk behind, gas-powered lawn mowers have a well-earned reputation for being pretty heavy. This isn't necessarily what you want if you have to mow a rather large lawn on a hot and humid day. Fortunately, well-meaning lawn mower manufacturers like Troy-Bilt have come to understand this foible and worked to design self-propulsion features into their units.
The Troy-Bilt TB230 159cc has highly efficient overhead valves OVH. It has four sturdy 8-inch wheels, that are integrated with a front wheel drive self-propulsion system. A special hand control allows you to vary the speed to meet your natural gait, or the terrain you are cutting.
The engine was specially designed to "Check" but don't "Change" the oil. Every few mowing sessions, you simply check the oil before starting. If it's a little low, you simply pour in a small amount to fill it back into the normal range.
The mower's deck is set up to be highly versatile. Troy-Bilt TB230's "Tri-Action Cutting System" allows you to set it up for mulching, bagging, or side discharge. The height of the deck can be easily adjusted to any one of six positions.
They also include a special port that accommodates a built-in deck wash port. This allows you to simply attach a standard garden hose to wash away loose or gunky lawn debris.
Key Features
159 cc OVH gas powered engine
8-inch wheels
Self-propulsion system with variable speed control
Deck wash adaptor for easy cleaning
Tri-Action versatility to mulch, bag, or side discharge grass clippings
Performance
At first glance, the 159 cc gas-powered mower is a little bit smaller than some of the competitors at this price point. However, the OHV design of the engine allows it to develop more overall power, which allows it to cut efficiently, as well as drive the self-propulsion system.
Ease of Use
Some people will shy away from gas-powered lawn mowers based on the perception that they are harder to use than say an electric mower of a similar size. As a well-established name in the mower industry, Troy-Bilt understands this perception and they have put a lot of effort into making the TB230 easy to use.
First of all the engine oil system is designed to check but don't change. With normal use, you should never have to change the oil in this mower. You simply check it every two or three mowing sessions and carefully top it up to the normal range indicated on the dip stick.
The deck wash system also spares you the hassle of having to manually clear away grass clippings from under the deck. You simply hook up a standard garden hose to the deck wash adaptor and then follow the instructions.
Cut Quality & Options
The power produced by the Troy-Bilt TB230's 159 cc OHV engine gives it the versatility to make the most of the Tri-Action cutting system. You can quickly switch it from mulching, bagging, and side discharge modes.
The deck was also designed with an integrated rake bumper, which helps lift up blades of grass for more efficient mulching or bagging. This spares you the frustration of mowing over a swatch, only to look back and see some flattened blades remain untouched.
It also helps break down cut blades of grass better when mulching. In bagging configuration, the lifted blades of grass that are drawn into the bag integrated quickly into compost bins where microbes can break them down efficiently.
Maintenance
The Troy-Bilt TB230 needs very little maintenance. The engine is designed to never need an oil change. You just check the oil before a mowing session. If the oil level is on the low side of the safe range on the dip stick, you simply add a small amount of oil in. Then give it a minute or two to properly settle and check the level again.
If conditions have been especially dusty or your lawn has been suffering from a lot of pollen, you might want to check the air filter each month. Giving it a little blow-out with an air compressor, or really just a vigorous shake will help ensure that the 159 cc engine is getting the oxygen it needs to produce at full power.
For what it's worth Troy-Bilt also backs up the TB230 with a 2-year warranty. This is a little better than some of the competitors in this category.
Safety Features
The Troy-Bilt TB230 159cc has the standard hand controls you find with pretty much every walk behind lawn mower. The self-propulsion system also has variable speed control, which is easy to use. This allows you to set the mower to your preferred walking speed, rather than nudging it along or feeling like it's pulling you away.
Special Features
The Tri-Action cutting system allows you to mulch, bag, or side discharge cut grass clippings.
The deck wash adaptor makes it easy to clear away grassy debris from the underside of the mower's deck.
The variable speed front wheel drive helps you set the self-propulsion system to the speed that works best for you.
The rake bumper design of the mower deck also helps to lift up blades of grass to make sure every blade of grass is properly introduced to the blades.
The height control lever allows you to easily set the mower deck to the ideal height for your lawn's condition.
Cost Effectiveness
The OVH 159 cc engine is fuel efficient, while also supplying the blades and propulsion system with superior power for a mower this size. The Tri-Action cutting system allows you to mulch, bag, or side discharge grass for the compost bin or to be reabsorbed by the natural layers of the turf. The rake bumper also ensures that you get every blade with the first pass, which spares you from having to double back during a mowing session.
Quality self-propelled lawnmower
PROS
Fuel efficient
Tri-Action cutting system
Deck wash adaptor
2-year warranty
No need for oil changes
Rake bumper
Easy height control
CONS
All wheels are 8-inch diameter
No way to drain overfilled oil
A little heavy
Slightly underpowered
Bagger can get heavy
Add your review


Troy-Bilt TB230 21″ 159cc Self-Propelled Mower Review