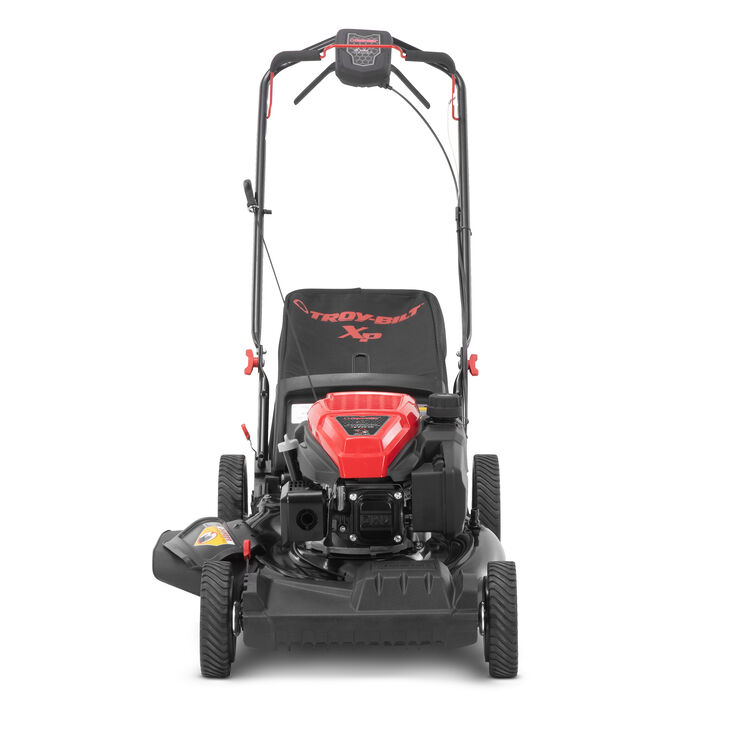 Eliminate oil changes on the TB235XP with Check, Don't Change™ Troy-Bilt engine. Simply check the oil each time and top off as needed. Mow with more control using variable speed front wheel drive. Choose between rear bag, mulch or side discharge mode to dispose of clippings.
Documents and Guides
Assembly Instructions
A Nimble Self-Propelled Gasoline Lawn Mower
Front-Wheel-Drive Self-Propulsion For Mowing A Lawn With A Lot Of Trees & Landscaping Features
Positive
Powerful gasoline engine
Nimble Front-Wheel Drive
Self-Propelled
Superior build quality
Auto choke ignition
Check but no change oil system
Negatives
Slightly high price
Bagger needs cleaning after each mow
Need to use consistent branded oil
Troy-Bilt is an American-based lawn mower manufacturer who is proud to use Global Parts to built lawn mowers like the TB235 XP in the USA. This also translates into a lower long-term cost of ownership as well as faster repairs with lower repair bills. Though the 3-year warranty that they back this self-propelled push mower with says that Troy-Bilt doesn't expect the TB235 XP to break down any time soon.
The beating heart of the Troy-Bilt TB235 XP is a 159 CC gasoline engine. It was engineered with a special auto choke ignition system, which makes it easier to start with the recoil, as well as sparing you having to hassle with priming or adjusting a fickle manual choke.
Something interesting about the Troy-Bilt TB235 XP is that it was engineered to not need a traditional oil change. This is a relatively new innovation in gasoline lawn mowers. You simply check it from time to time, and if the oil level in the reservoir is a little low, you just need to top it up with the correct oil weight.
The Troy-Bilt TB235 XP is a self-propelled gasoline lawn mower that has a special front-wheel-drive system. This makes for greater nimbleness, as you can always lean the mower back on the large 11-inch rear wheels if you need to stop or simply pivot on a dime.
When you want to take it easy, the 8-inch diameter front drive wheels pull the TB235 XP along confidently. It even has a variable speed system that lets you set it to your natural walking speed, or dial it in to the area you have to cut.
The 21-inch cutting deck of the Troy-Bilt TB235 XP was engineered with their special tri-action cutting system. This is a combination of a special rake bumper that grabs the long grass and brings it neatly into the cutting deck. The grass is then delivered to a specialized symmetrical blade that produces neatly mulched clippings for a clean, even cut every time.
You can adjust the cutting deck through 6 distinct settings to cut the grass as low as 1.25-inches or leave it as tall as 3.75-inches. The Troy-Bilt TB235 XP was also designed with 3-in-1 versatility. You can leave it as a side discharge lawn mower, or set it up as a mulching or bagging mower. It even comes with a large 1.9-bushel "Dust Blocking" bagger.
The underside of the Troy-Bilt TB235 XP's 21-inch cutting deck is also very easy to clean. It comes with a special deck wash port. All you have to do is attach a typical garden hose, turn on the water and a vigorous spray will clear away any trapped organic debris.
Key Features
159 CC gasoline engine
Auto choke ignition system
Check & top oil engineering
Self-propelled
Front-wheel drive
Variable speed controls
11-inch rear wheels
21-inch cutting deck
6 height adjustment settings
1.25-inches to 3.75-inches
3-in-1 side discharge, mulching or bagging
1.9 bushel dust blocking bagger
3-year warranty
Made in the USA
Performance
The 159 CC gasoline engine in the Troy-Bilt TB235 XP is powerful enough to propel the lawn mower's front-wheel drive system as well as the cutting blades under the 21-inch diameter cutting deck. The 11-inch rear wheels and the front-wheel drive system also make for a superior level of nimbleness. It's a great feature for a slightly larger yard with a lot of trees or tightly spaced landscaping features.
Ease Of Use
The Troy-Bilt TB235 XP was designed with ease of use as a guiding principle. You see this in the ergonomic controls that reduce hand fatigue, as well as the deck washing system that makes it easy to remove organic debris.
Though it's the gasoline engine that arguably stands out as being one of the more impressive features. Not only does it have a convenient auto choke ignition system for easy start-up, but it also has a "Check & Top" oil reservoir that spares you from having to make messy oil changes every spring.
Special Features
The 3-in-1 versatility of the Troy-Bilt TB235 XP lets you use it as part of a strategic thatch management strategy. You can also adjust the cutting deck from 1.25-inches to 3.75 inches depending on the conditions of your turf and the prevailing weather pattern.
The tri-action cutting system integrates a special front "Bumper Rake" that helps elevate and efficiently deliver the blades of grass to the finely tuned cutting deck and cutting blade. This makes for a superior harvest rate with every pass.
The deck wash port is also a nice way to keep the under side of the cutting deck clean and free of stuck-on organic debris after every cutting session.
The front-wheel-drive self-propulsion system is also handy for larger yards with several trees of tricky landscaping turns. If you ever get in trouble, you can always dial down the variable speed control or simply tilt the cutting deck back on the 11-inch rear wheels.
The fact that it doesn't need oil changes is nice. Just make sure to check the oil reservoir before every mowing session and top up as needed.
Cut Quality & Options
The 3-in-1 versatility and the adjustable cutting deck height make it easy for you to set the Troy-Bilt TB235 XP up for the conditions of your grass and the current weather pattern. You will also appreciate the harvesting efficiency of the tri-action cutting system.
Maintenance
The Troy-Bilt TB235 XP was designed for minimal maintenance. This includes the easy-to-use auto-choke, which helps keep the carburetor cleaner in the long run. Though its shining glory is easily the oil system that just needs to be topped up, without having to perform any messy seasonal oil changes.
It is worth noting though, that the precision balance of the cutting blade in the tri-action cutting system makes it better to buy replacement blades when the time comes, rather than trying to sharpen them yourself with a metal grinder.

Safety Features
The Troy-Bilt TB235 XP comes with the standard hand controls you find on most gasoline-powered lawn mowers. The variable speed front-wheel drive is also handy, as it lets you slow down in tricky patches. If you do get in trouble, you can easily tilt the cutting deck onto the 11-inch rear wheels, which stops all forward motion.
Cost-Effectiveness
For a gasoline-powered lawn mower the Troy-Bilt TB235 XP is very cost-efficient. When you dial in the 3-in-1 and the cutting deck to your lawn, you ultimately have less thatch to deal with, and you don't have to worry as much about seasonal aeration costs.


Troy-Bilt TB235 XP High-Wheel Self-Propelled Mower Review