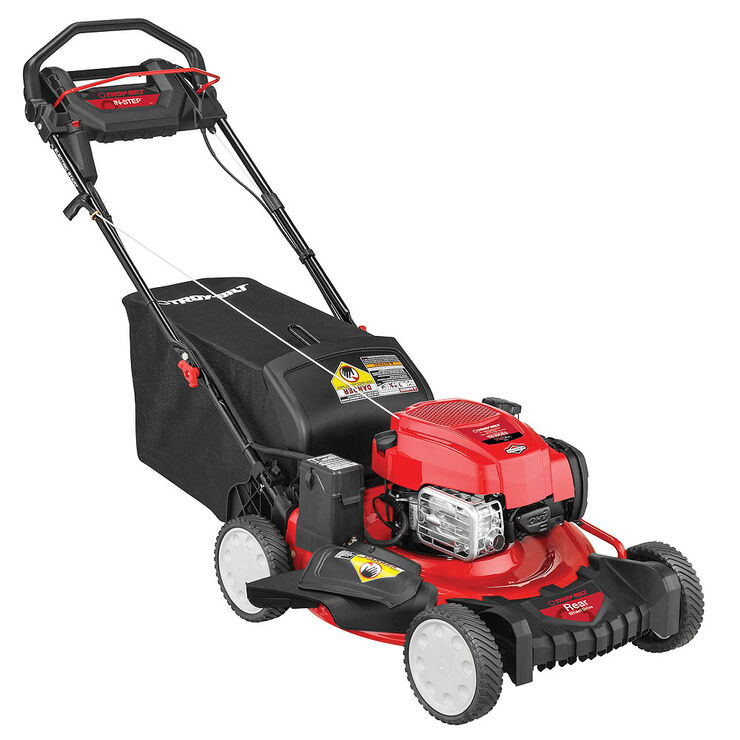 Troy-Bilt's TB390 ES self-propelled lawn mower offers push button electric start - no pull starting required! Equipped with a dependable Briggs & Stratton® 725 EXi engine, the TB390 also features InStep™ variable speed control to lets you comfortably customize your speed and provides more control of the rear wheel drive transmission on all terrains and conditions.
Sometimes, "just enough" will do the job just fine. The Troy-Bilt TB370 meets every expectation anyone could have for a self-propelled mower. In fact, it would be easy to under-appreciate how effective a mower it really is if one focused strictly on its no-frills package. The bigger the lawn, the more easily anyone could become immersed in lengthy lists of standout added features. At the same time, that also makes it all the more easy to forget to ask, "What is my value proposition in return for maxing out or exceeding my budget to 'enjoy' all these extras? Can't I pay a fair price for strictly what I need to maintain my lawn efficiently, no more and no less?"
If you have a larger lawn to trim or a smaller one littered with slopes and uneven ground, the Troy-Bilt TB370 spares the bells, whistles and bloated price tags that often accompany them in favor of endurance, ease of use, surgically precise cutting and little else for a nominal expenditure.
Key Features
Variable-speed drive control transitions between four settings using a single lever
TriAction cutting system's 21-inch deck includes wash port
163cc OHV Briggs & Stratton engine
Three disposal options: mulch, side discharge or rear bagging with included 1.9-bushel receptacle
Adjustable ergonomic handle
Durable eight-inch front and rear wheels
One lever raises and lowers all four wheels between six deck heights 1.25-3.75-inches
Performance
Cutting a half-acre or less of healthy grass can feel like grooming a golf course fairway with a motorless reel mower when you throw in just a few steep inclines. Of course, that's to say nothing of the danger inherent in shoving a gas-powered push mower uphill, especially when treading on moist, slippery turf. Pairing a hardy 163cc OHV Briggs & Stratton motor with rear-wheel drive powered by a variable four-speed drive control generates all the muscle the Troy-Bilt TB370 needs to propel itself almost effortless up and across just about any topography you could reasonably call upon a walk-behind mower to trim.
If you want or need a self-propelled mower with performance that sets it apart a cut above its competitors, you may want to pad your budget with a few extra hundred dollars and explore other options. The Troy-Bilt TB370 is simply a no-nonsense machine that doesn't do any one thing exceptionally well but meets any and all expectations one season after another for years on end. I would be curious to hear the reasoning behind equipping this well-priced mower with eight-inch wheels in the front and back. Generally, the driving back wheels of a RWD mower will stand slightly taller than those in the front in order to make the most of its power distribution, particularly when traversing rougher ground. I never felt as though the TB330XP lacked the muscle I wanted it to deliver but couldn't help feeling as though 10-inch rear wheels might have added to its handling.
Ease Of Use
Another thing I have always dearly loved about self-propelled mowers: when designed well, just about anyone can haul one out of the garage and start cutting instantly. Not only does the Troy-Bilt TB370's variable-speed drive control have four speeds settings suitable for brisk paces all the way up to 3.5 mph with impressive maneuverability, but its comfortable ergonomic handle can shift into three positions adaptable to the height and reach of whoever happens to be guiding it and folds down for space-saving storage.
I don't often recommend that physically limited owners opt for a pull-start mower, but I might make a rare exception for the Troy-Bilt TB370. As many satisfied owners have come to expect from Troy-Bilt's longstanding reputation for benchmark-setting dependability, this model roars to life after a single tug nearly every time. Weighing in at a surprisingly light 90 pounds, it handles deftly around obstacles and packs up for travel without risking throwing someone's back out lifting it into a truck.
Cut Quality & Options
Troy-Bilt's patented TriAction cutting smoothly rarely needs a second pass to leave behind cleanly sliced grass on the first pass. Not even a wet lawn full of thick, tall growth takes its steady stream of power to its limit, but having six height settings from 1.25 to 3.75 inches for its rugged 21-inch steel deck to adjust between with a single lever controlling all four wheels makes it a breeze to change levels, slow down the pace and never once sacrifice consistent cutting quality.
The ability to actually stand blades of grass up for a smoother, more even cut leaves behind both a finely textured lawn and some of the most precisely diced mulch any mower at this price point could claim to produce. If mulching isn't your preferred means of disposal, the Troy-Bilt TB370 also comes with a 1.9-bushel bag that attaches and reattaches with ease and efficient side-discharge settings to toggle between with a flip of a switch.
Maintenance
The deck-wash port makes cleaning beneath your mower as simple as hooking a garden hose up to the port, turning on the water and starting the engine to make sure the spray rinses away dirt, mud, debris and clippings. Owners have complained that the Troy-Bilt TB370's plastic handlebar switches tend to be a bit on the breakable side. Also, the transmission gears' plastic teeth can reportedly break down disastrously after around five years of steady use. Although that unfortunately may mean this mower gives up the ghost long after its two-year limited warranty has expired, Troy-Bilt's protection plan is fairly comprehensive in terms of facilitating swift, inexpensive repairs and replacement until then.
Safety Features
The Troy-Bilt TB370's bailing bar kills the engine nearly instantly .
Cost Effectiveness
For an entry-level gas mower priced just over $400, the Troy-Bilt TB370 excels at every little thing it could possibly need to do and wastes little of your money on features one could either take or leave. As long as you just need a solidly built, reliable mower that will scarcely ever bother you with malfunctions or lack of muscle behind its blade and suit anyone who gets behind it, you won't come away disappointed.
Great Mower For The Price
PROS
Deck wash port keeps underside clean
No oil change engine - just add
Self Propel for hills
Easy height & handlebar adjustment
Variable speed rear-wheel drive
Great price
Quick, 15-minute assembly
CONS
Few bells and whistles
2-year limited warranty
Plastic levers are somewhat flimsy
Poor product packaging
Add your review

Troy-Bilt TB370 163CC Self-Propelled Lawn Mower Review