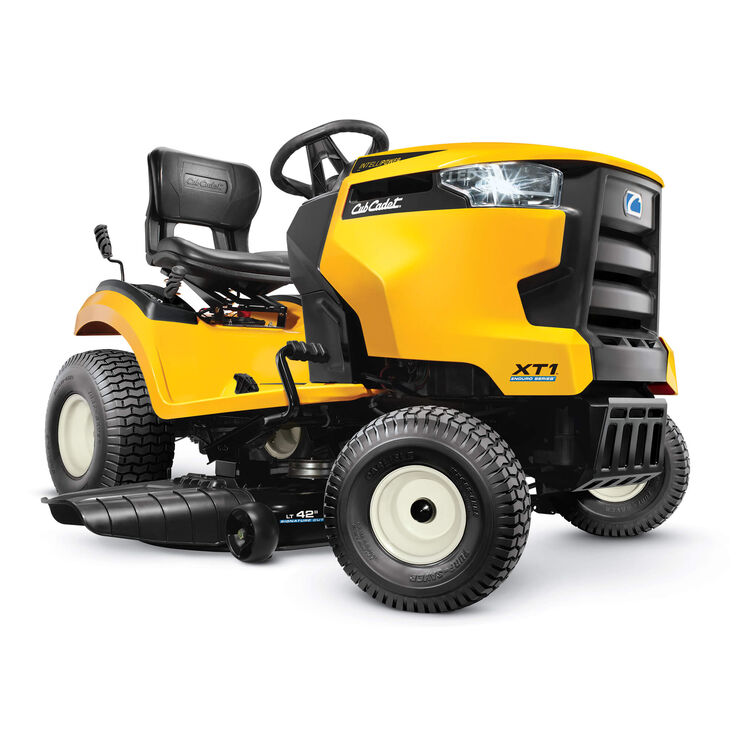 IntelliPower(TM) Technology Creates a Consistent Mowing Performance to Cut Through Thick, Wet Heavy Grass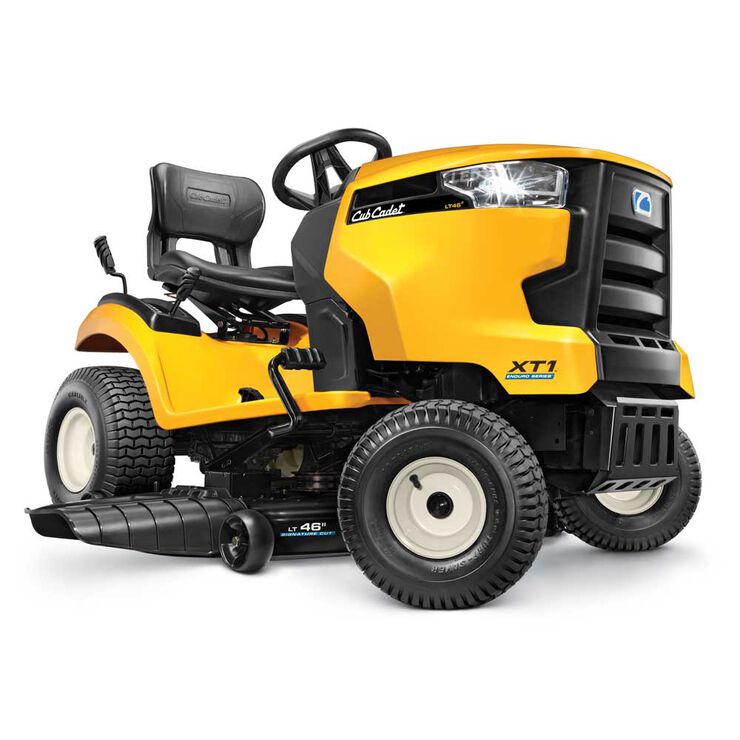 46-inch Stamped, 12-Gauge, Twin-Blade Deck with 12 Cutting Positions

With plenty of power and an impressive steering radius, the Cub Cadet XT1 gas-riding lawn mower inspires the desire to get out there and mow more often and perform other needed chores such as hauling around dirt and debris. It's reliable, easy to drive, and cuts grass in reverse. Once you get the hang of driving it, pick up useful accessories such as a front bumper, mulching blades, or a plow for shoving aside the snow in wintertime. There's a rugged, bold, and masculine look to the Cub Cadet, but it's not an intimidating riding lawn mower to drive. You've got an electric-start function and auto transmission, so there's nothing complex to worry about in terms of starting it up and getting started with your task. Changing the oil is easy, and the same can be said for adding gas, which goes in a 3-gallon rust-proof tank. With a battery loaded with 230 cold-crank amps and a 12-amp-regulated flywheel alternator, the Cub Cadet XT1 cruises along any type of yard at a brisk, smooth clip, maybe even making you wish your grass would grow at the same pace so you can take it for another spin. There are a few different models to choose from. The LT 50 inc 24 HP is california compliant. The CARB-LT 46 in. 22 HP. California Compliant LT 42 in. 18 HP and the ST 54 in. Fabricated Deck 24 HP Kohler V-Twin OHV engine.
Key Features
46-inch rust-resistance deck
Side discharge
Cruise control (soft-touch engagement)
LED high-illumination headlights
Cup holder and two small bins for storage
12 height settings
Patented Smart Jet high-pressure deck washing system
Cub Comfort high-back seat with 10-degree incline and slide
Heavy-duty cast-iron front pivot bar
Fully adjustable, automotive-style ball joints
Robotically welded frame with e-coating corrosion defense system with five-year limited warranty
3-year unlimited-hours warranty on tractor (includes powertrain)
Dimensions: 68" x 50" x 42.5"
Performance
As part of line of XT1 and XT2 Enduro Series tractors, the Cub Cadet features a heavy-duty chassis that is tough enough to handle most combinations of engines, transmissions, and decks that any yard could ever need. The high-backed, adjustable seat is on the flat and roomy side, so any tilting of the mower may cause you to slide a bit. The standard armrests help with this issue.
The 42-inch stamped, twin blade cutting deck offers a consistently clean cut whether grass is mucky and wet, dry as a bone, dense with thick weeds, or just plain long. You can cut lawn with the Cub Cadet at 12 height adjustments of 1 to 4 inches, an outstanding range when compared to riding mowers in similar price ranges. A single lever with height markings is all it takes to adjust the height.
The robust 22HP, 725 cc engine made by Kohler cuts through tough grass of all varieties with ease and takes on steep slopes–10- to 20-degree inclines–like a winner. Not all riding lawn mowers in this price range can do that. The engine doesn't quit over a minor thing like wet grass, though the ride in such conditions can be a bit on the bumpy side, so drive safe.
Ease of Use
The reverse function on the Cub Cadet allows mowers to go backward at a top speed of 3.1 miles per hour. That function is an efficient time saver, though you don't have to set it to the mowing function while going backward. A large lever on the side moves back and forth to quickly raise or lower the mowing deck. So I can raise it when plowing through a taller root and quickly set it back down afterward–pretty nice.
Getting this 580-pound machine to go backward is a nice feature but perhaps not as simple as some riding mowers in which all you do is shift into reverse. With the hydrostatic transmission on the Cub Cadet there's no levers to shift, but you do have to push a button and then push a foot pedal to go in reverse. The two-step process is a safety feature that might be a bit much for some.
The tractor maneuvers well and has a high-tech, optimized steering system with an exceptional turning radius. Changing the oil is easy, and the Cub Cadet has a well-made belt configuration.
Cut Quality & Options
The wide 2-blade cutting deck means your lawn job is going to get done in half the time it takes on riding lawn mowers with cutting decks sized at 30 to 40 inches. Maneuverability on all turf types on the Cub Cadet is solid with front wheels sized at 15 inches and rear ones measuring in at 20 inches. The large turn radius (around 16 inches) is tops for a lawn tractor and offers nearly the finish of a 0-turn lawn mower. Smooth lever engagement all around.
Maintenance
As with any mower over a period of time, you may begin to notice imperfections such as squeaks here and there that need greasing or plastic parts that may be cracked. But really, the Cub Cadet is a durable workhorse with a rust-resistant cutting deck and a cleanout port for easy washing. The warranty is generous compared to similar brands, so take advantage of it when needed.
Safety Features
Neutral start option, operator presence, reverse safety switch, brake pedal lock, RevTek reverse mowing technology. Gotta give a shout-out to the Blade Brake Clutch, which prevents the blade from spinning as the engine runs. This allows you to empty the bag of grass and get rid of any debris that might be in your path. Improved traction on Multi Trac tire tread cuts down on slippage, with automatic locking rear differentials for all types of weather and yards. The front bumper provides added protection.
Special Features
You've got lots of accessory options to enhance the use of the Cub Cadet. Hitch a tilt trailer to it and it'll haul mountains of soil and mulch and even rocks. I've towed an 800-pound contraption on the Cub Cadet with ease. You can also add a mulch kit, a bumper, and a plow attachment to scoop up snow during winter. The mower's mulching capabilities are great and can actually make manure for your yard if you're so inclined. Other special goodies that can be added include twin and triple bagger options to enhance bagging performance, a three-stage snow thrower attachment that puts the heaviest of snowfalls in its place, a durable snow cab that provides protection from snow and 360-degree visibility, and, for the brutal summer heat, a sun shade contraption made of tear-resistant fabric.
For those who are technically inclined outside of their yards, the Cub Cadet has a pretty cutting-edge Bluetooth app that allows you to track the mower's performance, things such as the number of hours you have until the next oil change, the next air filter, and crucial info about the blade.
Cost Effectiveness
The Cub Cadet couldn't be considered cheap, but do know that it's built to last. And it can be enhanced further with many items such as a mulch kit, twin bagger, and rear spreader. These things aren't cheap, and neither are the many multi-seasonal options for the Cub Cadet that you can also choose from. But then again, these items perform many functions that will only keep your yard and property looking better. Overall, it's a cost-effective riding mower that is may be higher priced than some of its counterparts but is worth it. I see it as a one-time investment that has an excellent twin-cylinder engine from Kohler as well as included batteries and oil. It's powerful and efficient with a large cutting deck that give yards an even and well-cut look.
PROS
46-inch rust-resistant deck
Side discharge
Cruise control
LED high-illumination headlights
12 height settings
Exclusive mobile app
Generous 3-year warranty
CONS
Reverse function could be simpler
Flat seat that slides on inclines
Bouncy springs under seat
Grass discharge is thrown a long way
Add your review


Cub Cadet XT1 Enduro Series Gas Riding Lawn Mower Review