$

230.43
1 new from $230.43
in stock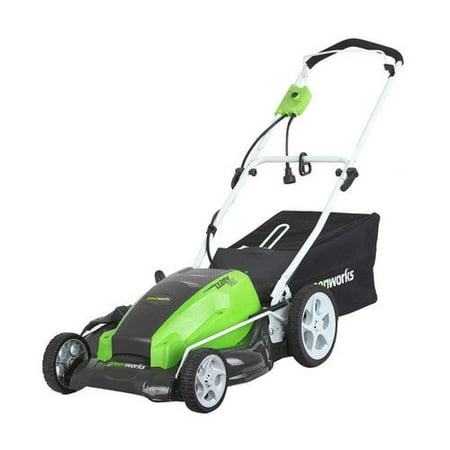 Keep your lawn trim with the Greenworks 21" 13 Amp Corded Lawn Mower (25112). Be the talk of the neighborhood. It features three-in-one mowing capabilities, including mulching, rear collection and side discharge. This Greenworks 21" lawn mower has a 21" wide cutting path. It also offers a...
$

138.00

$319.99
out of stock

Those who are skeptical about an electric-corded lawn mower not being up to snuff compared to gas-powered mowers can relax. For small to mid-sized yards, Greenworks mowers like the 25112 can cut tall grass with the best of 'em. And with a cool retainer that holds the cord to keep it out of the way while mowing, beginners using electric mowers won't be put off. Starting this lean, green mowing machine is a breeze and won't aggravate sore shoulders. Just hold the start button and pull back the lever. It'll fire right up and away you'll go. When you want to stop, let go of the lever.
As mentioned, the 25112 is for lawns that are on the small to medium size. It cuts and bags well, and it's not a slacker when it comes to slicing down high grass and ugly weeds, but consider more heavy-duty mowers if you're dealing with things like limbs and rocks in your yard. The engine is small and some of the parts might look a little more delicate looking than some are used to seeing. Still, there are folks who have had this mower for four years or more, and it's kept right on ticking. If you care for the 25112 and store it well, there's no reason it shouldn't last a long time.
A few general specs on this 53-pound electric: It's got a cutting width of 21 inches; and it measures in at 23.2" x 17.2" x 31.5".
Key Features
High-powered 13-amp motor delivers the goods to cut through tough grass
Solid 21-inch cutting deck assists with quick and efficient mowing jobs
3-in-1 mowing options allow for rear bagging, mulching, and side discharge
7-position height adjustment with cutting-height ranges of 1-¾" to 3-¾" for all types of grass
Wide rear wheels are 10 inches and 7-inch front wheels
Performance
The 25112 isn't self-propelled, but then again it's lightweight, so it's not a big deal. It cuts grass evenly and wholeheartedly without petering out. I was surprised to see that it didn't slow down much even while mowing through morning dew. Life will be good if you can get several years of service out of it, which you should be able to do.
Because of the power of the small but powerful 13-amp engine, you won't need to go over strips of your lawn multiple times to get an even cut. This ain't a wimpy, low-power mower, but rather, with just one charge it cuts lawn with impressive superiority. Also, over the years I've taken to wearing earplugs with my gas-powered beasts. But this engine is on the quieter side, though not as quiet as other electrics I've used. So earplugs aren't as needed on this machine, but some may want them.
The bottom line is that this mower cuts grass well, even tall grass. Count on it sometimes slowing down a tad when handling mulching duties, and be sure to keep that cord out of your way (it takes practice).
Ease of Use
No worries about complex parts or numerous bolts and screws with the Greenworks 25112. This machine comes assembled right out of the box–just unfold the handles and add the discharge bag if you want to use it. No tools are required and assemblage is minimal. So just get your extension cord and get to mowing right away with the 25112.
Cords on electric mowers do take some getting used to. Whether you get a 100-foot cord (which I use) or a 150-foot cord, you'll need to maneuver your electric while mowing so that the cord stays behind you. Use the cord retainer on the handlebar by folding the extension cord into a tight loop near the retainer; push it through the bottom hole of the retainer; slide the loop over the retaining clip; and pull down on the cord until it's secure. The cord is something you get used to the more you use this mower. Otherwise, the mower is lightweight and easy to use!
Cut Quality & Options
Some complain that blades by Greenworks aren't sharp enough out of the box. Interestingly, this is a safety measure by the company. Nonetheless, the cut quality is great, and any mower worth his or her salt can sharpen a blade if needed. Experiment with it yourself by mowing on different types of grass and you'll see: The cutting by the 25112 is consistently uniform no matter what (but be sure to monitor that blade).
Need to go low on your lawn? Set the 25112 at 1.75 inches. You've got seven cutting heights to choose from, so choose wisely based on the tallness of your grass, the conditions of the yard, the presence of weeds, and weather conditions. You don't want to mow too shortly during cooler seasons unless it's early fall.
Some may notice poorer cut quality as a result of the speed of the blade slowing down when mulching. My advice would be to switch to the side discharge option to speed up the pace and improve the cut quality. If you're mowing choppy fields with this mower (which you probably wouldn't be since it's designed for small- to mid-sized yards), you won't get the best result. But it handles all grass types on most suburban yards just fine.
Maintenance
Make sure to continually clean the 21-inch stainless steel deck and then dry it before storing the 25112. Cleaning and regularly storing the mower will help prevent rust and improve the blade's long-term use.
Maintenance for the 25112 is nearly zilch. Sure, you've got to sharpen the blades from time to time, but you've got to do that on a gas-powered mower as well. Here's what you DON'T need to worry about with an electric mower: gas, oil, spark plugs, an air filter, and a starting cord that gets worse with time. To top it off, the 25112 has a 4-year warranty on materials, parts, and workmanship. Not too shabby.
Safety Features
The blades arrive on the dull side right out of the box for safety purposes. On the positive side, Greenworks electric mowers don't release harmful emissions, so you won't be sucking in invisible smoke on the greenery of your beautiful yard.
Special Features
The 25112 is friendly toward the environment (and your lungs with zero harmful emissions); has seven height adjustments; the option to mulch, bag, or discharge grass clippings; a foldable handle for easy storage; and a powerful little engine that gets the job done. Also, you've got wide 10-inch back wheels and 7-inch front wheels on the 25112 for swift maneuverability. Maintenance is almost nonexistent, which is one of the reason it's an economical choice (see paragraph below).
Cost Effectiveness
Considering you don't have to worry about battery replacement and fuel and oil costs for the 25112, this mower is pretty cost effective right off the bat. Going by the factoid that the 13-amp motor draws 120 volts of power, that adds up to a rough estimate of around 9 cents an hour in electricity costs. Other mowers have tons of add-ons and continual maintenance fees (which may also eat up time for do-it-yourselfers who like to handle maintenance chores themselves), but with the 25112, what you see is what you get.
Great For Small Yards
If you have a small to medium yard, then this is the cost effective solution that cuts great without the smelly fumes
PROS
No harmful emissions
3-in-1 mowing options
Tough steel deck
Easy to start, stop
Lightweight
CONS
Long cord needed, not included
Blade speed can slow when mulching
Add your review

GreenWorks 25112 21″ 13 Amp Corded Electric Lawn Mower Review