$

159.99

$179.99
1 used from $147.31
2 new from $159.99
in stock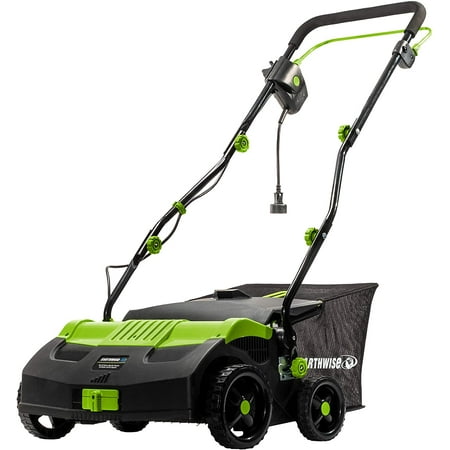 Commit to your lawn's health with this Earthwise 13-Amp 16-Inch Corded Electric Dethatcher. With a 16" working width, easily loosen up layers of lawn and yard debris on small to large yards. 45 zinc-plated piano wire spring pins adjust from -0.4" to 0.4" to either scratch the surface or reach the...

A powerful corded dethatcher
A great dethatcher for maintaining healthy turf.
Positive
16-inch wide deck
13 Amp motor
Multiple depth adjustments
10-gallon collection bin
Negatives
A little wide for tight landscaping
Best performance within 50 feet
Need to walk slowly over hard, dry turf
Thatch is an unfortunate side effect left behind when you cut your grass. If you don't have a bagging mower, or things are too dry for your mulching mower to fully mince the harvested grass clippings, they can be left undecomposed on the surface of your lawn. As time goes on, these dried-out pieces of dead grass can buildup into a thick layer of thatch. Left unchecked it can lead to soil compaction, while also preventing essential moisture from migrating down into the deeper layers of the turf.
When this happens, even heavy amounts of water are often ineffective at reviving your grass. Should a late summer dry spell impact your area it could lead to dead spots and a lawn that goes into premature dormancy.
A lot of lawn care companies will tell you that the way to deal with this is to have your lawn dethatched. They are all too happy to come and do this for you. Then they slap an enormous markup cost onto it to cover their parts, labor, and equipment transportation costs. Year after year, this can feel like a black hole that keeps devouring your bank account.
Though there is a solution in the form of the Earthwise DT71613 13-Amp 16-Inch Corded Electric Dethatcher. This is an electric device that looks a little bit like a lawn mower. Only instead of whirling blades under the deck, it has special tines that pick up thatch and other organic debris. This helps aerate your turf and allows water to saturate down into the deeper layers more easily.
Key Features
13 Amp electric motor
16-inch wide deck
Corded power
Working depth from -0.4″ to 0.4-inches
45 spring pins
10-gallon debris catcher
Performance
If you are using a standard residential extension cord, then the performance of the Earthwise DT71613 is nothing short of impressive. It uses 45 piano wire-like pins to make small holes in the turf and extract thatch. This improves aeration and removes surface thatch at the same time.
However, going beyond 50-feet from the nearest power outlet can cause a modest decrease in the electric performance of the motor that drives the tines. Though this isn't a fault of the device. Standard residential extension cords naturally lose performance beyond 50 feet. If you have a slightly larger lawn that needs dethatching, you can get around this foible by investing in a commercial grade extension cord. It will deliver power over greater distances for your new dethatcher as well as other electrical appliances and corded power tools.
Ease Of Use
The Earthwise DT71613 is relatively easy to use for a dethatcher. So long as it is properly powered and you set the depth for the right conditions it will do a very good job of removing thatch from the upper layers of the turf, while improving the aeration of the deeper layers. All without making major holes in the soil.
The one thing you need to be mindful of though is to walk slower than you think during dry times. Dry hard sold can make it harder for the tines to pierce the soil. So, don't rush the process if you are dethatching as part of a strategy to deal with a midseason drought.
Special Features
The collection bin at the back of the Earthwise DT71613 might not seem like all that special of a feature. Though if you've ever worked with a dethatcher or scarifier that didn't have one, you've likely had to deal with the ugly debris it leaves behind. Not to mention the fact that the collection bin takes all the old thatch and some of the weed debris away, keeping it from going right back into the soil of the turf with the next rain.
Cut Quality & Options
It's important to note that the Earthwise DT71613 is designed for dethatching and aerating a typical suburban or "City" lawn. Anything larger and you should strongly consider a gasoline-powered model.
When it comes to smaller lawns that need to remove the thatch left behind by mowing the lawn, it does a very good job. Especially when it comes to extracting dried strands of thatch, while making small piano wire holes in the turf to let air and water feed the roots. Just bear in mind that as a dethatcher it doesn't remove soil plugs like you get with deep scarifiers or professional aerators.
You can set the Earthwise DT71613 through five different depth settings. The deeper it goes the more aeration it imparts to the soil layers of the turf. If you just need to pull up dried grass clippings and other bits of organic debris, then you can set it higher. This will also allow you to push it along a little faster.
Maintenance
The Earthwise DT71613 is relatively easy to maintain. The bulk of the effort comes down to carefully removing any soil or organic debris from the 45 tiny tines. Then you also need to empty and thoroughly clean out the collection bin. This will ensure that you don't have any lingering problems while it sits in storage over the winter.
Safety Features
The Earthwise DT71613 has the standard hand control safety features you expect in any walk-behind lawn appliance. The depth o the tines locks firmly into place, so you don't have to worry about it changing on you in the middle of a pass, and the collection bag does a good job of sealing organic debris without letting it fall back onto the turf.
Cost-Effectiveness
When it comes to the cost-effectiveness of the Earthwise DT71613, you need to compare it to the cost of having a lawn care company dethatch and aerate your lawn. When you crunch the numbers in that way, I think you'll find that the Earthwise DT71613 easily pays for itself in a season or two.
Not to mention that it also lets you dethatch your lawn in the middle of the summer season when need be. You can do it on your schedule, rather than whatever schedule works best for the local lawn care company.

Earthwise DT71613 13-Amp 16-Inch Corded Electric Dethatcher review