$

116.00
3 used from $107.43
2 new from $116.00
in stock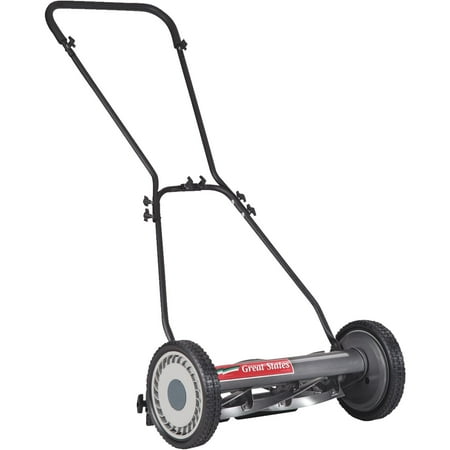 Great States 18" 5-Blade Reel Mower. A clean, precise, scissor-like cut for your lawn, and no fuel needed! Skip the gas. Skip the oil. Skip the fumes. Skip the cords. Skip the noise. You don't need any of it, not when you've got the man-powered 18" mower from Great States. Smooth-spinning blades,...

A redesigned take on a classic reel mower
A reel mower that is really easy to use!
Positive
Modern materials
Lightweight and nimble
18-inch cutting path
5 blades
Easy to maintain
Negatives
No bagger or collection
Doesn't truly mulch
Not the best grip with sweaty hands
Reel mowers, which are known to some as being "Manual" mowers are an increasingly popular option with people who want to "Go Green" or just reduce their overall carbon footprint. They might have fallen out of favor a few decades ago, as the older models that our grandfathers used were cumbersome and challenging to keep sharp. Today, modern material and engineering innovations have reinvented reel mowers to make them lightweight as well as easy to use.
With the Great States 815-18 you will get a little bit of a workout, but it's not the sort of thing that will leave you feeling wiped out at the end of a mower session. This is thanks in part to the blades that are made of high-quality alloy steel that stay sharp longer as well as the 5 stainless steel ball bearings and the 10-inch composite wheels that move smoothly over the turf.
The cutting blade height is also very easy to adjust. You can set it to as low as half an inch or as high as 2.75-inches. This is a superior range for reel mowers in this class. At the same time, the 18-inch cutting path is as wide as you want it to be to chew up large swaths of grass in a single pass.
Key Features
Performance
18-inch cutting path
Cutting height from .5 to 2.75"
Stainless steel bearings
Alloy steel blades that stay sharp
10-inch diameter wheels
5 cutting blades
Loop handle
Like all reel mowers, you are the driving force of the Great States 815. The alloy steel blade will cut crisply, which is something you will appreciate, as it reduces the number of passes you need to make. Though it is still best to overlap your cutting path by an inch or two. This means the total 18-inch wide blades will chew through at least 16-inches with every pass.
Ease Of Use
The Great States 815 only weighs 27-pounds and has stainless steel bearings that let it roll smoothly over your turf. The 10-inch wheels are large enough to handle most suburban lawns, though they might struggle a little bit if you have a bumpy lawn or you are sometimes lax to clear out any lingering sticks.
The Great States 815 is realistically good for cutting up to a quarter or a third of an acre of relatively smooth lawn in a single cutting session. If you have a lawn that is larger than that, you might want to break it up into multiple cutting sessions.
The loop handle on the Great States 815 is something to debate. It lets you really lean into the mower, which is handy for times when you need to chew through long or thick-bladed grass. However, it can be a little bit of an issue if you need to make a tight corner or turn around with sweaty hands, as there is minimal grip in the loop bar. A good pair of gardening gloves solves this problem.
Special Features
There aren't a lot of special features engineered into the Great States 815 beyond its superior material build quality. Though it is worth noting that the cutting heights range of .5 to 2.75-inches is greater than you find with a lot of other reel mowers in this segment.
Cut Quality & Options
The ability to change the cutting height from .5 inches to 2.75-inches is a real bonus for the Great States 815. A lot of reel lawnmowers are limited to 1.5 to perhaps 2-inches for their maximum cutting height. Being able to adjust the Great States 815 up to cut as high as 2.75-inches means that you can leave your grass long, but still neatly trimmed during prolonged dry spells when you want to shade the turf for moisture preservation.
At the same time, the .5-inch lowest cutting height also means that you can keep your grass neatly trimmed during times when the rain and abundant sunshine have your lawn growing vigorously. This will also help reduce the potential thatch buildup in your turf.
If there's a complaint with the Great States 815 it's that there isn't any sort of bagger or grass collection bin included in the purchase. This can lead to excess grass clippings and dried thatch building up on your turf. If you are diligent about weekly cutting or cutting frequently enough to keep the grass clippings tiny, they will decompose on their own, to reduce the worry of thatch accumulating from dried-out clippings.
Maintenance
Like a lot of reel mowers, there isn't a whole lot of frequent maintenance required with the Great States 815 manual mower. Though like all reel mowers you will need to occasionally tune and sharpen the blades. The nice thing about the steel alloy blades is that they hold their edge for a long time, which not only improves cutting performance but reduces the need for seasonal sharpening.
The owner's manual explains how to do this. You can also find videos online that will guide you through the reel mower tuning and sharpening process.
You should make it a point to lubricate all the moving parts in the spring when you take it out for the first time. As the mower ages, you might want to make it a point to lube things every four to six mowing sessions. Then make sure to store it indoors when not in use to prevent rust from the rain.
Safety Features
There aren't a lot of safety features to the Great States 815. Like all reel mowers, the wheels and blades stop moving when you do.
Cost-Effectiveness
Like a lot of reel mowers, the Great States, 815 is very cost-effective. You don't have to worry about fuel costs or repair costs when the motor breaks down. As long as you are diligent about cutting frequently enough to keep the grass clippings small, you shouldn't have to worry too much about thatch buildup. The steel alloy blades also keep maintenance time and costs to the bare minimum.

Great States 815-18 18″ 5-Blade Push Reel Lawn Mower Review