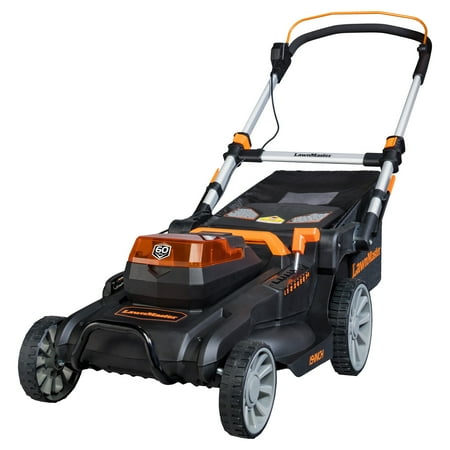 LawnMaster CLMFT6018A, 60V Max Li-Ion Cordless Brushless Mower delivers gas-like power and up to 45 min of runtime. Innovative iPower system gives you control battery power. This mower has 3-in-1 mulching, bagging, and side ejection functions, and is quiet with compact easy storage. Included...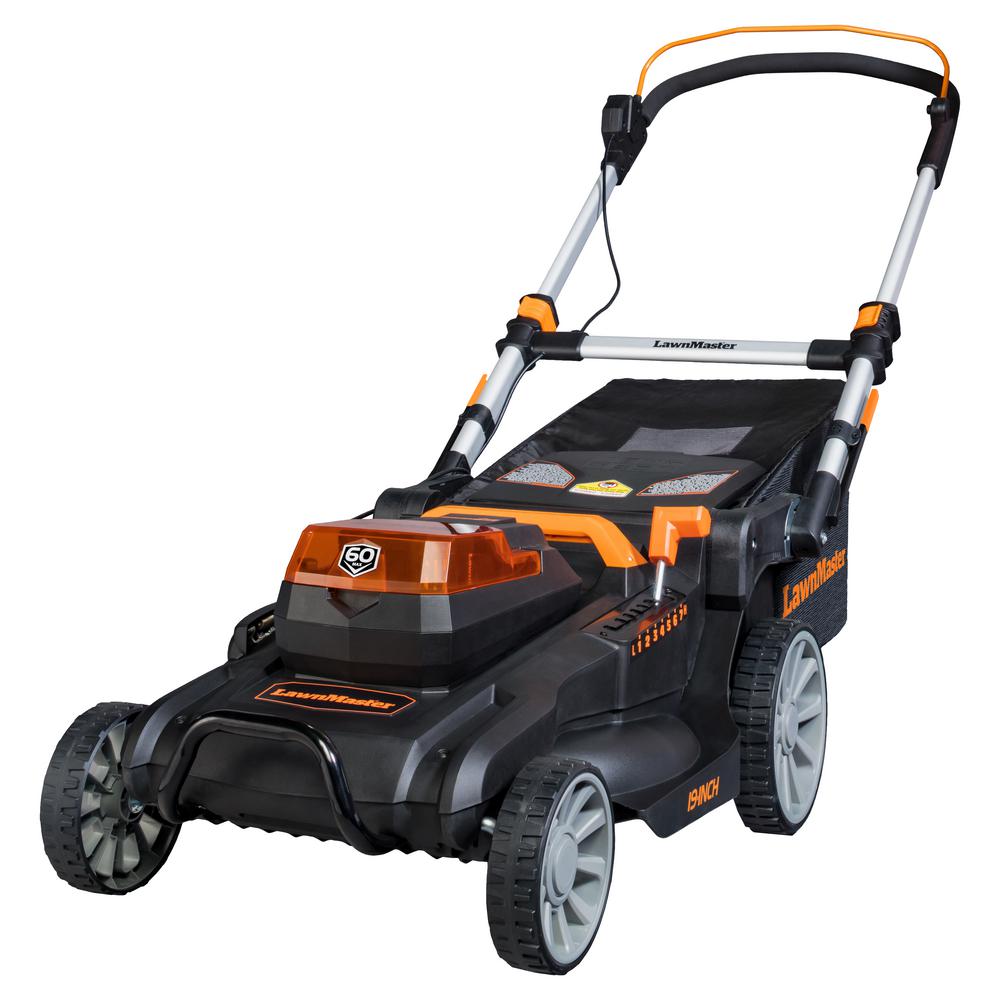 Lawnmaster 60-Volt Max Li-Ion Cordless Brushless Mower delivers gas-like power and up to 45 min of runtime. Innovative iPower system gives you control battery power. It has 3-in-1 functions, its quiet and has compact easy storage. Included Battery and charger work with all Lawnmaster 60-Volt Tools.

Cordless electric lawnmowers used to have a reputation for not being able to hold a charge for long or not having a big enough cutting deck to mow a decent size lawn efficiently. Lawnmaster challenges this bygone assumption with its CLMFT6018A 19-Inch 60V Brushless Lawn Mower.
The 19-inch deck chews through grass quickly in a single pass. The 5.0 Ah battery that powers the 60-volt system provides this cordless electric lawnmower with up to 45-minutes of average run time. Lawnmaster also engineered this mower with its special iPower system. It allows you to choose the ideal power setting for the mowing conditions.
The low power mode is for light mowing, which further maximizes the runtime. The high power mode is called for to handle tougher conditions. If you've been away for a while or the lawn has just plain gotten away from you, the maximum power is designed to chew through thick or tall grass. The iPower system is set up to let you easily check the remaining battery life with the touch of a button.
The LawnMaster CLMFT6018A was designed to be a 3-in-1. You can set it up for side discharge, as a high-powered mulcher, or as a bagger. It comes with a large 60-liter clippings collector, which spares you the frustration of having to make multiple trips back and forth to the compost bin. The wheels can easily be adjusted to 6 different height settings ranging from as low as 1.4-inches to as tall as 3.4-inches
Key Features
19-inch cutting deck
60-Volt electric system
5.0 Ah battery and charger included
45-minute average run time
iPower system adjust to lawn conditions
3-in-1 side discharge, bagger or mulching
6 height settings from 1.4 to 3.4-inches
 

Maintenance Free – No Gas! No Oil! Quiet Operation – No Need for Earplugs!

Integrated 

i

Power Battery Management System to View & Control Your Power

Blade Design Cuts Multiple Times Improves Mulching & Collection

19 In. Never Rust Deck with Wheel & Deck Alignment to Cut Next to Walls & Fences

Easy One Touch Height Adjustment – 6 Positions

6.70 In. Front / 9.25 In. Rear Wheels for Uneven Lawns

Easy Compact Vertical Storage with Telescopic Handle

Easy to Assemble Nylon Mesh Collection Bag with View Window
Performance
You really have to like the fact that Lawnmaster CLMFT6018A engineered this cordless electric lawnmower to be a 3-in-1. You can bag for times when you want grass clippings, mulch to minimize that, or simply side discharge.
Where the performance really goes to the next level is the iPower system. You can set it from Low to High, to Maximum based on how thick or long your grass happens to be. Just keep in mind that the higher you run the system the shorter the battery life will be.
Ease of Use
The LawnMaster CLMFT6018A is very easy to use. The iPower system even lets you check the battery life with a quick push of a button. The adjustable height settings are all controlled by a single lever, so you don't have to go to fiddling around with clumsy single wheel adjustments.
It's also worth noting that the charger comes with the purchase and has been engineered not to overcharge the 5.0 Ah battery. This serves to maximize overall battery life for a superior return on your investment.
The bagger and mulcher are a little awkward to install and replace. Though this is true of a lot of 3-in-1 lawnmowers.
Cut Quality & Options
The iPower system's ability to change from low, high, or maximum power is something that really helps set the LawnMaster CLMFT6018A apart from many of the competitors. When the going is easy, you can leave it in the normal low power mode. This will give you the best run time for the available charge. If the lawn is a little thick, or perhaps damp with dew, you can turn it up to high to make sure the blades have the power they need to really saw through the grass.
The maximum power mode is for times when you may have been away on vacation or the lawn just had a major growth spurt. Just keep in mind that in maximum mode, you will have shorter battery life.
The six different height settings further let you customize the cut. If the recent weather has been warm and sunny, you might want to set it down at the lowest setting of 1.4-inches. This will give you a neatly trimmed lawn and buy you some time between mowing sessions. If your area has been experiencing a drought, you can set it up to the 3.4-inch height setting to leave the grass a little longer and preserve soil moisture.
The 19-inch mower deck is big enough that you aren't going to be frustrated with the number of passes it takes to cut a medium size lawn. It surely holds its own against a 21-inch gas-powered lawnmower.
Maintenance
Like most cordless electric lawnmowers the LawnMaster CLMFT6018A is very easy to maintain. Even though the charger is engineered not to overcharge the 5.0 Ah battery, you will want to take it off once it's fully charged, just to avoid problems that can be caused by constant heat.
The 60-liter bagger is very large, which means stray grass clippings and moisture can be left behind sometimes. When you're done cutting you might want to scoop out any stray clippings by hand. Left to the own devices in the summer heat and humidity they could mold.
The LawnMaster CLMFT6018A also folds up easily. Though this 42-pound lawnmower is probably too heavy to be able to hang it up on a wall.
Safety Features
The LawnMaster CLMFT6018A has the standard hand control safety features you find with most modern-day lawnmowers.
Special Features
The iPower system on the LawnMaster CLMFT6018A is impressive. Not only does it let you adjust the cutting dynamics for the conditions, but it also lets you conveniently check the status of the batteries.
Cost Effectiveness
Depending on how you use it, the 3-in-1 versatility of the LawnMaster CLMFT6018A can save you a lot of money. Simply using it as a mulching mower all the time can really reduce problems with thatch buildup, which saves you money on seasonal aerating costs. The bagger also lets you feed your own compost piles, which is nice for people who like to keep a big garden.
The 45-minute average runtime for the 5.0 Ah battery also gives you the ability to cut up to half an acre on a single charge. Some of the competition can't really stand up to this, leaving their owners frustrated with multiple charging and mowing sessions.
Well-designed battery-powered electric walk-behind lawnmower
PROS
iPower system for customized performance
Good customer service
3-in-1 versatility
Large 60-liter bagger
6 easy height adjustments
CONS
Bagger can be heavy
Mulcher isn't easy to install
Maximum power setting has low runtime
Weighs too much to hang on a wall
Add your review

LawnMaster CLMFT6018A 19″ 60V Battery Cordless Lawn Mower Review