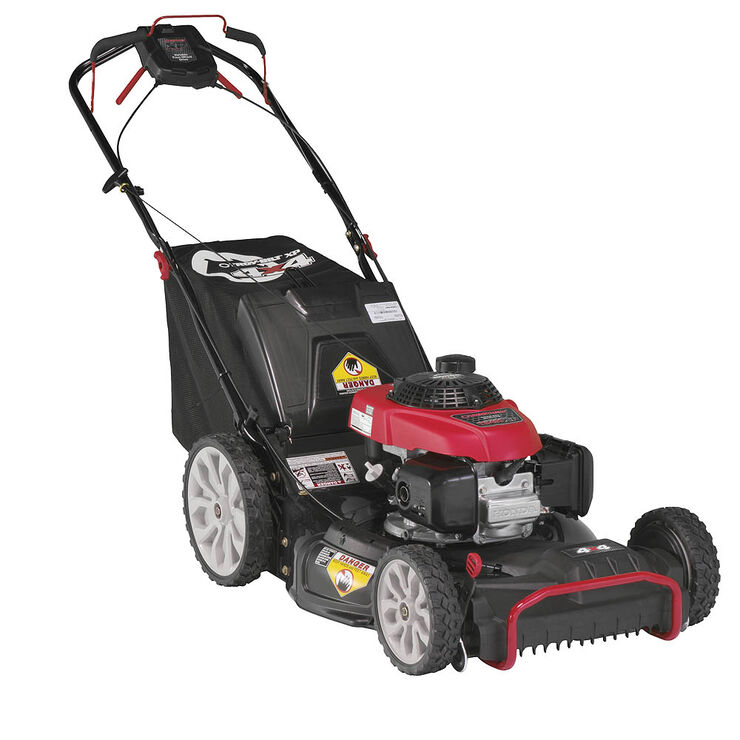 $67/mo No interest if paid in full within 6 months1
Interest will be charged from the purchase date if the purchase balance is not paid in full at the end of the promotional period. Advertised minimum payment is greater than required minimum payment.
Given its stellar modes of running options, the Troy-Bilt TB490 XP self-propelled lawn mower almost sounds like a dependable 4×4 vehicle that you can take out in the worst of weather conditions. (Maybe I've got weather on the mind since winter has just arrived). The TB490 is a 4×4 itself, one in which mowers can walk comfortably behind as the self-propelled machine does all the work, moving forward in front-wheel drive, rear-wheel drive, or all-wheel drive–whatever you choose given the terrain you're dealing with–with ease. The powerful Honda engine is equipped with an Automatic Choke System that won't flood, and the TB490 comes with a limited 3-year warranty.
The TB490 is a hefty 100 pounds in the box and 95 pounds outside of it, but who really cares about the weight when the thing is self-propelled? The mower's TriAction cutting system is going to give you a pristine cut every time, while the innovative tread of the nicely sized tires offers superb handling and grip on the messiest of lawns. Did I mention that the TB490 is self-propelled? I think I did, and that means the one-hand operation option that the mower offers, which allows you to switch to all-wheel drive as you keep one hand free to check your cellphone, makes this mower one heck of a technological wonder. Other notable features include:
21-inch steel mulching deck
3-in-1 option for side discharge, mulching, or rear bagging
Standard 1.9-bushel grass catcher
Dual-lever height adjustment
Protective front bumper
See other key features below.
Key Features
Loaded with powerful 190cc Honda GCV-Series Automatic Choke System engine with variable self-propelled four-wheel drive
21-inch TriAction cutting system with integrated deck wash
Dual-lever deck height adjustment and adjustable 3-position ergonomic hand with comfortable grip
8-inch front and 11-inch rear tread wheels made for all terrain types
3-year limited warranty
 Performance
Once engaged in whatever drive you choose for it (front-, rear-, or all-wheel drive), the TB490 is an unstoppable beast on your yard. This is the industry's first four-wheel drive mower that lets you select from front-, rear-, and all-wheel drive at your leisure. One option in particular to note about the TB490 is the TriAction cutting system, which allows for a pristine and even cut on every pass. No going over your yard multiple times with this option. To summarize briefly, TriAction features a rake guard on the mower that stands grass upright, making sure every blade is cut evenly. The S-Blade under the cutting deck also helps to provide an even cut and creates a lift for enhanced circulation, extending to the deck for a wider cut.
Troy-Bilt walk-behind mowers have cutting decks that are stamped in a symmetrical circle and made of a smooth surface that creates a powerful vacuum effect to allow grass clippings to circulate freely. Bottom line: That produces better mulching and enhanced discharge. All these TriAction features work together to produce an outstanding mowing job every time, and again, the feature comes standard on all Troy-Bilt walk-behind mowers. Not too shabby.
There's more to rave about regarding the overall performance of the TB490, so read below to get a sense of what this mower can do.
Ease of Use
Even lawn-mower novices should be able to get the Troy-Bilt TB490 up and running in 10 to 20 minutes after getting it out of the box, provided they have fuel. The kind folks at Troy-Bilt provide oil with their stellar TB490, so you don't need to worry about purchasing that. This is an outstanding mower for any type of yard, but if you've got grass within difficult terrain that's hard to navigate for whatever reason, the TB490 is an ideal lawn mower to have.
The TB490 runs for a long time over any type of terrain, and the self-propelled option makes mowing a dream. Just figure out the running adjustment you want or need and let the TB490 take care of the rest. It's an absolutely ideal mower for those who have to deal with slopes in their yard.
Cut Quality & Options
Take note, you're going to love this beast after starting it on the first pull of the cord and feeling the pull of the 4-wheel drive kicking in. It tackles hilly inclines with no problem, and on flat surfaces, well, let's just say you're on autopilot the entire time thanks to the self-propelled function. Granted, it's not like you're jogging behind the TB490, but the thing has some kick to it, allowing you to get your chore done in an extremely efficient manner.
The height-adjustment option is easy to set (from 1.25 inches to 3.75 inches), and the TB490 can maneuver pretty well around large gardens and most obstacles. The bumper guard in front comes in handy as a protector of the mower's parts when dealing with immovable objects such as trees. The wide 21-inch cutting deck is also a bonus.
Maintenance
One of the things I love about this mower is the clean-out connection that just requires a quick-connect attachment with a garden hose. You just hook up the hose and let the water do the work as it cleans out the area around the blade.
You'll need to lubricate pivot points of the mower once a season with light oil. The transmission is pre-lubricated and doesn't require service. Cleaning the underside of the deck after each use prevents buildup of grass and debris. As for the engine, be sure to:
Maintain the oil level
Service the air cleaner after every 25 hours of use under normal conditions
Clean the spark plug and reset the gap once a season
Clean the engine regularly with a cloth or brush
Treat the engine with a gasoline stabilizer if the mower is stored and not used from 30 to 90 days
Maintain blade and belt care as needed
Safety Features
The sturdy front bumper protects the mower itself, while the top bar of the mower has to be pushed down to run or start the TB490.
Special Features
The Troy-Bilt TB490 is a topnotch mower with some notable special features. The reliable engine can run in front-, rear-, and all-wheel drive, giving mowers options over normal terrain or yards that are a bit tricker. If you've got hilly terrain, the TB490 will roll up and down it with ease in four-wheel drive.
The dual-lever adjustment 21-inch deck has six cutting heights, 3-in-1 mowing capabilities (mulching, discharge, or bagging), and a cutting-edge Troy-Bilt Action system for a clean and amazingly even cut every single time. No matter your height, the TB490 will accommodate with its adjustable comfort-grip handle that allows you to select from three different height positions. And the sturdy wheels (8 inches in the back and 11 inches up front) provide outstanding control even when mired in tough terrain. Better yet it has side discharge automatically included with the base model
Cost Effectiveness
Perhaps the most economical aspect of the TB490 is how it saves you time. Sure, there's maintenance involved, as is the case with all gas-powered mowers, but once you're out mowing, this thing does the job practically on its own … you just walk behind it and easily control it as needed. Additionally, unlike some electric mowers and even junky gas-powered ones, you're not going to have to deal with multiple passes over certain sections of your yard. That's largely thanks to the TriAction cutting system that puts the TB490 a cut above. The TB490 comes with oil.
PROS
Easy to assemble
Powerful
Comes with oil
Self-propelled
Quality engine
CONS
Not always ideal for narrow spaces
Maintenance required
Emissions
Add your review

Troy-Bilt TB490 XP 21″ 190cc 2-in-1 4×4 Self-Propelled Mower Review